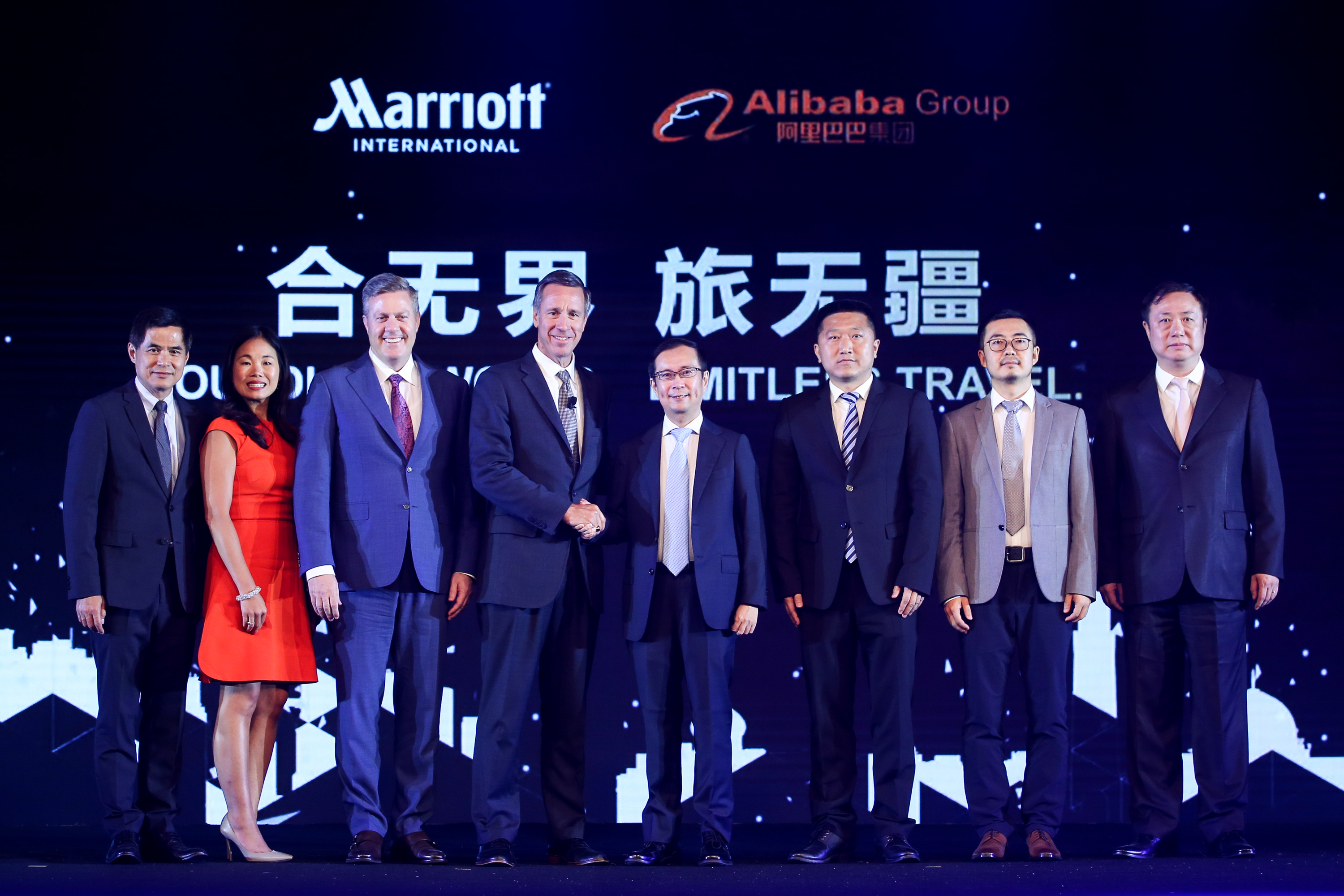 Internet commerce giant Alibaba has set up a joint venture with Marriott International targeting China's huge outbound travel market.
The joint venture will open up Marriott's hotel portfolio and offer high quality travel experiences to more than 500 million mobile users who are active across Alibaba's digital retail platforms.
Drawing on resources from both Marriott and Alibaba, the joint venture will manage Marriott's storefront on Fliggy, Alibaba's travel service platform. It will also market directly to Alibaba's customer base, provide a link between loyalty schemes operated by Marriott and Alibaba, and support Marriott hotels globally with content, programmes and promotions customised for the Chinese traveller.
Among other services, Alibaba users choosing Marriott though its platforms will also be able to access:
Personalised and VIP experiences: Marriott will offer access to private concerts or court-side seats at sporting and other events through its Starwood Preferred Guest (SPG) Moments or Marriott Rewards Moments. Eligible members from Alibaba's loyalty program will benefit from personalized hospitality programs and Marriott's award-winning SPG ambassador programme.

Wallet-free Travel: Alipay will be accepted at Marriott hotels in select global markets with further expansion expected around the world.

Next-Gen Loyalty: Marriott Rewards, The Ritz-Carlton Rewards and SPG will be linked to Alibaba's huge consumer reach to establish a new benchmark for the next generation of loyalty schemes.
"We have long admired Alibaba's digital expertise and deep understanding of Chinese consumers' needs and behaviors," said Arne Sorenson, president and CEO, Marriott International.
"By forming this partnership, we are pairing our hospitality expertise with Alibaba's digital travel platform, retail expertise and digital payment platform, Alipay, and driving membership to our loyalty programmes. With the growing number of Chinese consumers exploring new destinations, this venture will introduce our hotels worldwide to this new and growing travelling class."
China's travellers are expected to take an estimated 700 million trips over the next five years, according to Marriott. The hotel group's owners and franchisees globally are expected to benefit from the joint venture by capturing a greater share of this growing Chinese travel market and lower distribution costs associated with the joint venture.
"Together, we are elevating and redefining the travel experience for Chinese consumers to be more seamless and personalised as they embark on adventures to discover the world," says Daniel Zhang, Alibaba Group chief executive.
Read more about Marriott International in Asia
Main picture: From left, Stephen Ho, CEO Greater China, Marriott International; Peggy Fang Roe, chief sales and marketing officer, Asia Pacific, Marriott International; Craig Smith, president and managing director, Apac, Marriott International; Arne Sorenson, president and CEO, Marriott International; Daniel Zhang, CEO, Alibaba Group; Li ShaoHua, Alibaba vice-president and Fliggy president; Jiang Fan, Alibaba Group, head of mobile, Taobao; David Chai, Fliggy vice president