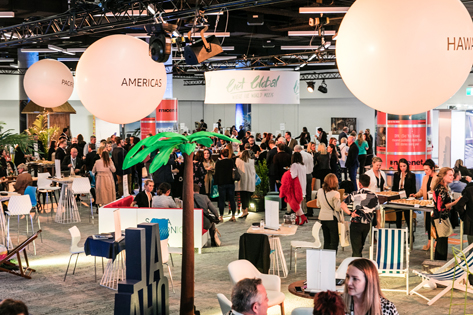 ORGANISERS of a one-day trade show crowned as best exhibition by Meetings Events Australia in 2018 say airlines are overlooking the benefits of reaching out to MICE groups.
Get Global opened its third edition at ICC Sydney on July 26 "slightly down on exhibitors" but the shortfall was countered by 40 per cent of sellers being "new product". There were 340 registered buyers and 120 exhibitors, according to the organisers.
Gary Bender, co-founder of Get Global, said airlines appeared to be focusing more on competing in the consumer market while overlooking the benefits of large groups that need to travel to business events. Carriers represented at Get Global 2019 were Cathay Pacific, Hawaiian Airlines, Air New Zealand, Qantas and Malaysia Airlines with the Kiwi stand size smaller than at the previous two editions of the show.
The southern Korean port city of Busan, where three major venues suitable for events are being built, was also exhibiting at the show for the first tme.
The opening press conference, held at Hyatt Regency Sydney, heard that a stronger Australian dollar were among the hopeful signs for Get Global 2020.
Bender said he and co-founder Donna Kessler were also encouraged by the number of senior managers at the informal booths across the show floor. "We truly believe Get Global is about senior people," he said.
More: Airlines and meetings industry finds new altitude
North American destination representatives and suppliers from Las Vegas, Santa Monica and the Rocky Mountaineer railway in Canada joined Latin America Alliance as the new exhibitors at Get Global 2019. The southern coastal city of Busan, South Korea, where three large venues suitable for events are being built, was also represented for the first time at the show.
Buyers at the show said it counterbalanced larger annual events such as AIME, in Melbourne, and IMEX Frankfurt.
"It's like a more mini, compact AIME – but the show fulfils and still meets my expectations as a buyer and organiser," said Denzo Guiney, general manager with DM Events.
"There is a friendliness here and you don't feel intimidated to get to the next meeting with timetables and bound by the bell."
Get Global emphasises an informal approach to buyer-exhibitor meetings with a more open floor-space without panelled booths.
For first-time exhibitor Priscila Mills, managing director of New Zealand-based Latin American Alliance, the show format meant buyers "come to see you because they really want to".
Cathay and Tourism Australia team up to target China
"I've attended IMEX, but it's interesting to experience a smaller show," said Mills, who believed the seven-day itineraries offered by Latin America Alliance met the interest of groups seeking newer destinations that also provided quality hotels and services at good prices.
Another buyer who compared the show with its larger rivals was Oscar van Elten, a director at Event Management Professional, who was seeking ideas for groups interested in Europe and North America.
"I have been to IMEX Frankfurt and I think this is a good start. Every company expects to grow a show overnight, but if we have businesses that have a sense of community – like we have here – then we'll all grow," said Van Elten.
First-time buyer at Get Global, Rosie Buckley, business development manager, Conference Resources, said: "I liked the casual feel of the show. You could meet with whomever you pleased."
While John Kovacevic, sales director, Motivforce, said: "I enjoyed the layout and the fact buyers weren't speed dating, which meant the conversations weren't limited by time."
Jennette Kam, an event consultant with Amway Australia, said: "The exhibitor flow was easy to navigate. They were well placed throughout the venue, and the whole show had a great vibe."
Saxton Speakers also organised talks on leadership, future insights, mental health and motivation, and inspiring stories at this year's show. Speakers included celebrity fitness trainer Michelle Bridges and Four Pillars Gin entrepreneur Matt Jones.
After the show closed, Gary Bender said: "We've grown drastically in the last three years and are immensely proud of our show and the amount of support we've received from the meetings and events industry."
Donna Kessler added: "I know when I attend a tradeshow I like to learn… meet great people and have the opportunity to network. Which is exactly what we delivered this year.
"We are in constant discussions with our exhibitors and buyers and are always going to tweak our format to stay current and relevant to our dynamic industry.
"However, first and foremost, Get Global is about delivering on expectations and ROI, for both exhibitors and buyers. This is where our focus lies, we look forward to speaking to those who attended Get Global over the next weeks and months and incorporating their feedback to further enhance next year's show," she said.
Get Global 2020 will be held in Sydney on July 22.
Picture: O'Neill Photographic