KOREA'S southern port city of Busan is pioneering a campaign to place sustainability at the heart of meetings, incentive and business events and is reaching out to the global community of MICE organisers to achieve this aim.
The Green MICE Green Busan campaign highlights the economic benefits of business events while bringing people together to apply eco-friendly methods and ideas to each stage of the event-planning process.
Busan Tourism Organization selected four teams who took part in a contest among the city's MICE Alliance members to find new eco-friendly ideas that would benefit the environment and could be used by organisers and venues.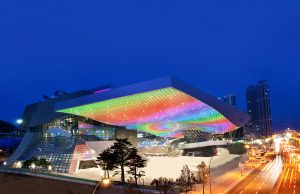 Air quality with Busan Cinema Center
Busan is famed for its international film festival and the Busan Cinema Center is one of the city's unique venues. Teams at the venue had a device placed on its roof  to measure levels of fine dust particles in real time.
Depending on the concentration of particles, images on an LED screen that forms part of the building's canopy  change colour and alert people to any changes in the locality's air quality.
This shows how Busan Cinema Center is not only catering to cinema enthusiasts but also has a commitment to a greener city that welcomes international MICE as well as film-festival attendees.
Sustainability with Manmanhan Nyeoseokdeul events hire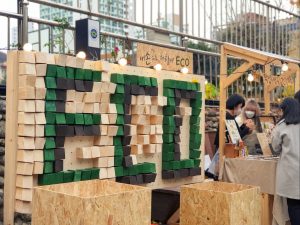 The supplier of furniture to event companies in Busan has long promoted sustainable design in its products.
Manmanhan Nyeoseokdeul even has a brand called Table Times that recycles materials and minimises wood waste when providing fixtures and furniture for events.
For the Green MICE Green Busan campaign, Manmanhan came up with the idea of a "daily tumbler" that people can use in a competition to collect recyclables.
The contest gave Busan's MICE Alliance members an opportunity to find sustainable ideas from different sectors that they could work with – and have fun along the way.
Eco-themed movies with Korea Green Foundation
Busan is recognised for its coastal beauty and the city is keen to raise awareness and prevent marine pollution.
One of the many ways of getting the anti-pollution message across to a wider audience is through movies. Green Cinema is a collaboration with the Korea Green Foundation to present screening of two award-winning documentaries that warn of dangers to our world's oceans and environment.
Join together!
Online events to raise more awareness of how to create an eco-friendly environment for the MICE industry and people in Busan are also scheduled.
Businesses in the Busan MICE Alliance are also pledging to put sustainability at the heart of their event planning with Green MICE Green Busan promoted internationally and domestically
The purpose of the sustainable MICE campaign at the city level is straightforward: "Sustainability" means a positive "future" based on the participation and effort of all.
This will reinvigorate Busan as an eco-friendly MICE City with a commitment that cherishes the future as well as the present.
Check out the new website created for Green MICE Green Busan campaign to follow updates.
Blue – the Tide has Come for Change, highlights the perils of plastic pollution, overfishing, destruction of marine habitats and more. Director Katrina Holden shows interviews with passionate advocates for saving the oceans in a film that also lets audiences know how they can help.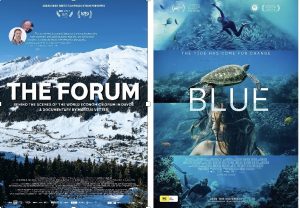 The Forum takes viewers behind the scenes at the World Economic Forum (WEF) in Davos, Switzerland, where world leaders gather each year to discuss challenges facing the global community.
Economist Klaus Schwab, the 81-year-old founder of the WEF, gave director Marcus Vetter exclusive access to the gatherings of those who make decisions on the future of our planet. Schwab was known to be concerned about how WEF,  known as Davos, was straying from its original intention of improving the world through dialogue. The Forum takes a dramatic twist when teenage environment campaigner Greta Thunberg and other "green" voices are heard.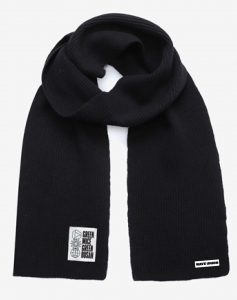 Keeping warm with Wave Union
Wave Union is a fashion brand based in Busan much admired for its trend-setting clothing designs. The brand has also joined the campaign against marine pollution and is doing its part to combat the most common source of ocean litter, non-biodegradable plastics, which do severe harm to sea creatures and their habitats.
Wave Union is committing to reducing the amount of waste plastic by making more products from recycled materials including a muffler just in time for Korea's winter!
The muffler is in production and being made from 100 per cent recycled polyester obtained from discarded plastic bottles. The production process also reduces the amount of waste and energy consumption leading to zero carbon emissions.