MIX: Did you ever think you'd be working on events at a Disney resort when you first started out in your career?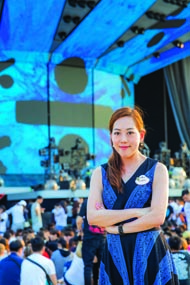 Karen Kwan: My career has always been in the events business. I managed everything from hotel banqueting events to exhibitions, concerts and special events with the Hong Kong Convention and Exhibition Centre from 2001-2005, and then joined the Asia-World Expo from 2005-2015, during which time I had worked with a lot of brands, media partners and concert promoters on various types of events, including fashion shows, movie premieres, product launches, carnivals and many local and international concerts and entertainment.
In June 2015, I took on the position of business solutions and event director with Hong Kong Disneyland Resort, focusing on the sales and services of all MICE, corporate, social catering events and weddings held at the resort, as well as the development of the Disney Youth Programme.
So far the outcomes have exceeded the expectations of myself and HKDL. We make magic happen when we successfully stage world-class concerts here at the resort. It's an amazing journey for me, from concept to execution, and to gain the trust from co-workers and senior management including our global teams in the US.
Events – especially the outdoor variety – are prone to weather risks, as was the case with one of the Ed Sheeran concerts. How did you and your team manage?
Organising and running outdoor events is always a double-edged sword. A successful concert in nice weather can be an absolutely amazing and a beautiful experience for the performers and audience.
When it comes to risks, though, we can never truly predict what the weather will be like. While we don't let the risks and complications stop us organising outdoor events, we get ourselves well prepared and do everything we can to mitigate the risks or issues when they arise.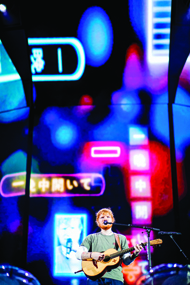 With the Ed Sheeran concert, the first night on April 17 went ahead perfectly. It was the first time for him to perform at an outdoor venue with the biggest crowd in Hong Kong. His performance was superb. His beautiful voice, the high-quality sound, great venue, lovely weather and awesome crowd and atmosphere throughout the night made the concert truly remarkable.
Ahead of the second concert on April 18, the preparation work, communications and contingency plans were all in place, and a tabletop exercise was also conducted with all the key parties before the show crew moved in.
Disposable raincoats were distributed to each concert-goer as they entered the venue. Both HKDL and AEG Presents (the concert organiser) are professional companies that put safety as top priority. With the support and cooperation of all stakeholders, including police, fire services, MTR, bus companies, the security company and the production company, we managed a smooth dispersal of a 20,000 audience after the show was cancelled at around 9pm.
We were grateful that everyone was safe and things were executed well and in a controlled manner.
Besides Sheeran, have there been any other notable events that you can share with readers?
I'm particularly pleased that the Taiwanese band Mayday returned for their second series of six concerts in May. It is a clear sign that the success of the first series of outdoor concerts in 2018 gave them the confidence to repeat the act this year.
Since the successful staging of the Mayday concerts in May 2018, the enormous appeal and viability for staging outdoor concerts at the resort's Fantasy Road Outdoor Avenue became apparent to concert organisers. This helped seal the deal for the Ed Sheeran concert as the organiser AEG was looking for a unique venue for Sheeran's first concert in Hong Kong.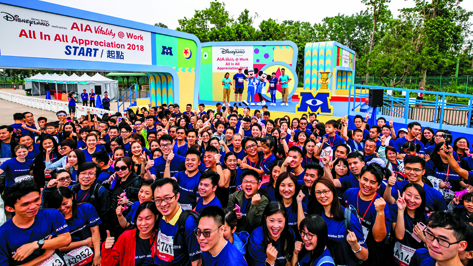 Another area that I'm personally proud of is expanding the event upsell of the resort's popular "10K Weekend" running event. In 2018, AIA Hong Kong leveraged its sponsorship of the event with a park buyout and a dedicated 3K run, the AIA Challenge Cup, on November 2, the night before the "10K Weekend" got underway.
Disney Halloween Time attractions were extended especially for the buyout experience. AIA engaged close to 6,700 staff, business partners, clients and their families, as well as about 100 guests from underprivileged families, through the event.
For me, it was another game-changing moment. My team and I were able to think outside the box and combined the sports event with seasonal experiences to provide a unique buyout opportunity.
What do you think lies ahead now in terms of business events at theme parks?
Integrated theme parks with attractions and accommodation are key MICE assets for any event destination.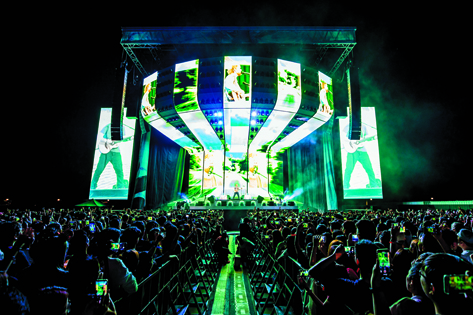 For theme park resorts to be primary choices for events, they must have the capacity in venues and hotel accommodation catering to groups of all sizes. There should be diversity in the range of experiences for incentive programmes, teambuilding, corporate training and networking events. There also must be a dedicated events team with the expertise and creativity to develop impressive, professional and results-oriented MICE experiences.
Karen Kwan is MICE & event business director at Hong Kong Disneyland Resort. She was interviewed via email by Martin Donovan