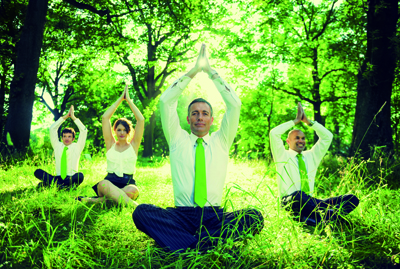 In recent years, the events and incentives sector has been keen to flex its environmentally friendly credentials, not only as a laudable exercise in corporate responsibility but also to show that it's keeping up with the times. And while in some cases this can be discredited as another example of "greenwash" – an insincere shot at being seen to be green through mere posturing – the sheer size of this sector at an estimated US$1 trillion-plus globally in 2013 means that the drive has to be given serious consideration.
Naturally, the demand for going green has brought about opportunities in terms of service provision, such as the formation of green-accreditation groups, and for hotel companies who, as hosts of large events, need to ensure that their green credentials are up to scratch, whether they are for energy-saving measures, transportation facilities or off-site activities that form part of a firm's corporate social responsibility (CSR) programme.
Roger Simons, sustainability director for global communications and events management company MCI, says that many organisations are now seeking to ensure that their conferences and exhibitions are conducted in a green way.
"MCI is finding an increasing number of clients are seeing both their business travel and their events as a key contributor to environmental impact," says Simons, who also sits on the board of the Green Meeting Industry Council. "Many companies are looking to develop strategies dealing with this while reaching out to a more conscious consumer who wants to know that companies are 'doing the right thing'."
And while it is tempting to imagine that it's the NGOs and hip start-ups that are in the vanguard, this is far from the case. "Leading companies that are looking to bring their commitment to sustainability to life through events include Symantec, BASF and Procter & Gamble," says Simons. "They are doing so through such things as a strong focus on recycling, responsible materials and actively engaging the community. Companies now understand that issues such as rising sea levels, the cost of oil and food and resource scarcity are a real risk to their business and in some cases an opportunity. Leading corporations now have strong teams focusing on these challenges and protecting them from risk and driving innovation."
With opportunities come challenges of course, one being the array of choices a corporation faces when deciding on which venue to head to for their conference. There are numerous green-accreditation standards, and while these differ from region to region, there are trusted international benchmarks in place that set environmental standards across the board. Two examples are the ISO 20121 Event Sustainability Management System, which was developed from an earlier British standard in time for the 2012 London Olympic Games. In short, ISO 20121 aims to make events financially successful yet more socially responsible, all the while reducing the environmental footprint. Two other international standards of note are Global Reporting Initiatives' Event Organizers Sector Supplement (GRI EOSS), an event methodology and reporting framework, and the Convention Industry Council's APEX/ASTM Environmentally Sustainable Meetings Standard. It's important to note that the environmental credentials of an events venue must be measured for all involved, including third parties such as suppliers.
Some national governments and their agencies have also introduced their own structures for green meetings. Singapore Tourism Board, for instance, has a set of sustainable business events guidelines for those looking to conduct a convention or similar event in the city-state.
Whichever venue is chosen, Simons says that a vital part of the process is monitoring and feedback. "The sustainability movement is very much focused on transparency, as this is the only way to discern 'greenwash' from real sustainability. Companies are now expected to disclose publicly what they are doing, what their goals are and how they are faring," he says. "Events are not separate to this movement. The Global Reporting Initiative put together EOSS, which provides guidelines on what events should disclose. Major sustainability reports for events such as the Olympics and the World Cup are now a must, and more and more smaller events are taking up the challenge."
An interesting case study is last year's Responsible Business Forum (RBF) held at Singapore's Marina Bay Sands integrated resort complex. This event drew more than 500 delegates from industry, government and NGOs to study policy frameworks and cross-board cooperation aimed at a more sustainable future. It looked at six sectors, namely: agriculture and forestry; palm oil; consumer goods; financial services; building and urban infrastructure; and energy. Naturally, an event with such a title would be expected to have its own high environmental standards, as indeed it did: it achieved a 100 per cent carbon-offset status while Marina Bay Sands became the first convention facility to adopt the aforementioned Singapore Tourism Board's business events guidelines. On the ground, this translated into initiatives across four broad areas: set-up and environmental setting, which included energy-saving measures such as in-room lighting sensors and temperature control; food and beverage, including sourcing products locally and the serving of condiments in bulk (eliminating sachets); waste management, including recycling, reusing materials, and composting of food waste; and helping the community. The latter included the collection of unused hotel bathroom soaps and shampoos for those in need, and the distribution of unused food to sectors of the local community.
"It was great to see sustainability being embedded in every detail at RBF 2013," says Ynse De Boer, partner and managing director, Accenture Strategy & Sustainability (ASEAN), and a delegate at the event. "There are so many touch points during such an event and in such a venue that, regardless of the collective quantitative impact of all the initiatives, the impact in terms of raising the awareness is very significant. Take the water dispensers and glasses: who is not uncomfortable with the hypocrisy of talking about climate change while sipping water from a Styrofoam disposable cup? Taking an end-to-end and holistic approach between organisers and Marina Bay Sands makes an impressive impact in terms of communications and awareness."
MCI's Simons estimates that the greening of the business events sector began in earnest some ten years ago. One country in the Asia-Pacific region that has been at the forefront of the movement is Australia. The country offers a good choice of expo and conference venues, one being the Brisbane Convention and Exhibition Centre (BCEC), which will host this year's G20 summit.
"The centre has a very strong Social Responsibility Programme that encompasses an environmental component and community engagement component, which are overseen by a Social Responsibility Task Force made up of staff members from all departments, including the general manager, who is one of the driving forces behind the programme," says a spokesperson for the centre.
"BCEC has received a number of international and national sustainability awards and for two years in succession has been awarded the National CSR Award for the Meetings and Events Australia Association," the spokesperson adds. "It has also won the Green Table Award for sustainable excellence from Restaurant and Catering Australia."
Among the recent initiatives at BCEC were a decreased energy consumption equivalent to 212 four-person households per year over the last 12 months; a decrease in greenhouse gas emissions equivalent to 400 cars' worth of annual emissions; and a decrease in portable water consumption equivalent to four Olympic-sized swimming pools. Ongoing projects include composting organic waste, the recycling and reuse of other waste, the installation of movement sensors on escalators, digital signage, organic menus, local sourcing of food and the solar heating of water. Working in tandem with the BCEC is the Brisbane Convention Bureau. Director Annabel Sullivan says that it works closely with industry partners to attract business events and congresses to Brisbane. "It is not unusual for the bureau to field inquiries from clients about ways in which they can conduct their meetings and events in a more environmentally sustainable fashion," she says. "Bureau staff are highly experienced with unmatched local knowledge, extensive networks of business stakeholders and service providers and the ability to guide conference organisers through every stage of their planning, free of charge."
While some events venues offer an all-inclusive package – conference hall, exhibition spaces, accommodation, food and beverage and transportation – for many companies the focus will be on the accommodation itself, which may well be off-site. And integrated resorts and expo centres are not alone in their keenness to stress their environmental credentials: hotels have long been in the game, but these days they go a long way beyond asking guests to leave their towels on the rack as a sign that they don't require fresh ones. Every aspect of a hotel's operations now comes under scrutiny, from housekeeping to food and beverage and from transportation to recreational facilities.
Hong Kong-based Shangri-La Hotels and Resorts, for instance, is one group that has its eyes fixed firmly on this increasingly important aspect of the hospitality sector.
"Shangri-La goes beyond simply putting recycling bins in meeting rooms and doing away with plastic bottles," says Christina Sham, public relations coordinator for the group. "We understand that to truly make an impact, our corporate accounts/MICE guests value learning about eco-friendly trends but also experiencing what it is like to run responsible meetings. We have enhanced our global meeting and event offerings with a new "Experience It" programme featuring engaging and inspiring activities tied to hotels' corporate social responsibility and sustainability initiatives."
The group is ever mindful of specific customer needs and designs events in accordance with the wishes of its customers. "One example of a 'green' request received by a company was made by China WTO Tribune for their sixth international conference, held at Shangri-La Hotel, Beijing last December," says Sham. "The organisers were interested in Shangri-La's idea of 'reduce the used', 'repeat the used' and 'recycle the used' as the crucial campaign purpose for this symposium and asked the hotel to implement this idea into the coffee breaks and meeting setup for the conference.
"Examples of 'green' aspects incorporated into the conference included reducing the usage of plastic products and carbon emissions; providing paper and appliances according to necessity; and placing energy-saving lamps in the conference rooms," she adds. "In addition, the conference rooms were decorated with ornaments made from environment [friendly] cartons to replace fresh flowers. The hotel used local food ingredients to reduce overseas import and transport cost, while organic vegetables and poultry meat were carefully selected to avoid using processed food ingredients."
The InterContinental Hong Kong, meanwhile, was the first hotel in Asia to offer CarbonCare Event solutions for its meeting and events customers, in partnership with CarbonCare Asia, a carbon strategy and sustainability outfit. Upon request, it can provide the hotel's clients with a variety of carbon-care solutions and packages including a simple event assessment, carbon measurement, suggestions for ways to reduce carbon , as well as carbon off-set options. The hotel was also the first in Hong Kong, and the first of the global group's properties, to achieve EarthCheck Gold Certification in 2013. EarthCheck is a well regarded and highly rigorous environmental management programme designed specifically for the travel and tourism sector.
Most conventions have a programme of activities that run parallel to the main event, designed not only for delegates but for their friends and family. These are often off-site, such as the InterContinental Hong Kong's team-building activities at the New Life Organic Farm and the New Life Psychiatric Rehabilitation Centre. However, CSR activities are not necessarily far from accommodation. At Four Seasons Hotels and Resorts' twin properties in the Maldives, guests can get involved in artificial reef creation and sea-turtle conservation just a stone's throw away from their luxury villas.
Ultimately, while the choice of a venue is very much the call of a few key individuals in a company, the fact that a choice is being made in the first place may have far-reaching implications not only for the health of the planet but also the business in question. "Sustainability isn't a choice," says Simons. "If you want to survive as a business, you'd better pay attention to global trends
and challenges."