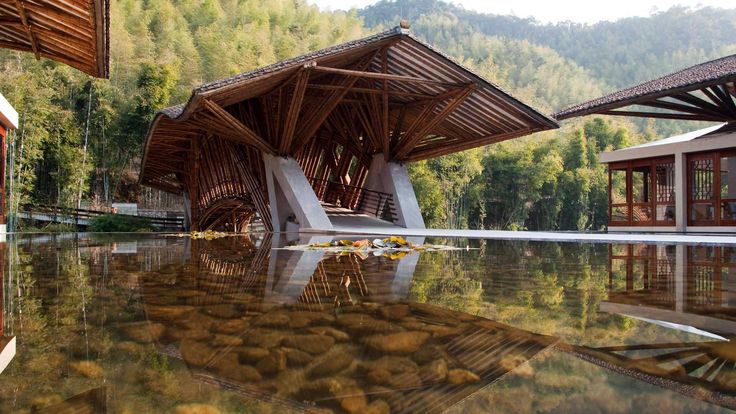 Ecotourism and green travel are all the rage these days with the sustained spotlight on global warming in the past few years – Al Gore's winning of the Nobel Peace Prize underlining the message.
Asia's undulating terrain of rugged mountains and lush plateaus as well as its rich biodiversity are magnets for the environmentally conscious organisers of corporate incentives and offsite meetings. Studies by the World Tourism Organisation have shown that eco-tourism is growing three times faster than mainstream travel and a primary growth area for the global travel industry in the next 20 years.
But the impetus for green travel covers the whole of the industry – not only the specialist players targeting nature and adventure travellers who have a natural affinity to the great outdoors.
While it might have been true that Asia lagged behind Western public opinion on the importance of the environment in the past, this is changing rapidly. Climate change and urban pollution are now increasingly debated topics.
Companies are clearly catching on the need to be environmentally conscious in the business dealings and that extends into their events programmes.
Fairly or not, a particular focus of environmental activism has been on the carbon footprints left by humans as a result of air travel. However, this is not the only area of concern, waste from events mounts up. As incentive companies seek to offer the freshest, newest destinations, hitherto untouched and unspoilt areas of the planet are now appearing as incentive hotspots for precisely that reason.
Yet, with a bit of thought, event planners can put together rewards programmes that do a great deal to minimise environmental damage and through a number of projects can even find ways to help offset the environmental cost.
The key is to make environmental issues part of your preparatory checklist, when choosing destinations, accommodation, transport and activities.

Balance
Low environmental impact is a catchphrase on everybody's lips today. A cursory peek at environmentallyfriendlyhotels.com, a website that lists down the best "green hotels" in the world, however, reveals that the bulk of upmarket accommodation in Asia is ranked by reviewers at the lower-end of the six-point environmentally friendly scale. Obviously, there is a serious need to ramp up activity beyond reusing bathroom towels. It appears the material comforts that keep us in the lap of luxury are preventing upscale establishments from fully signing up for the green campaign.
"It is a matter of behavioural change. You can practise the green way and still pamper the high-end market," says Madeline Regis, managing director of Borneo Passages in Sabah, Malaysia, adding that two premier Shangri-La hotels in the territory are doing just that.
But does proximity to nature have a direct influence on a hotel's sustainable travel advocacy – it pays to be green when your main draw is all about being blessed with nature's bounty.
Of the more than100 lodges, hotels and resorts – many of them located Asia – accredited with the travel industry's "Green Globe" certification programme, a large number are located on verdant areas in remote places outside major cities such as Conrad and Intercontinental hotels in Bali and Cross Waters Eco-Lodge and Spa in Guangdong, China.
Local establishments in these nature destinations are the most passionate in keeping unabashed tourism in check. Aware of how the fragile ecological balance can be easily upset, they are also openly proactive in their green initiatives.
El Nido Resorts in the Philippine province of Palawan took a step further than normal in eco-friendly practices, having completed the installation of a solar energy system for its Entalula Beach Club. The 120-watt peak panel yields free and reusable electricity, reducing the need for fossil fuel. The resort has its own sewage treatment plants that convert wastewater into clean water for flushing and irrigation and desalination plants as source of freshwater. The resort conducts regular refresher and training courses with staff on efficient property management to ensure minimal environmental impact.
But big hotel and resort chains that have set foot in Asia's tropical paradise are getting into the act and have joined community wide campaigns in their area. One good example is JW Marriottt Phuket Resort & Spa, which has been raising funds for the preservation of the endangered leatherback turtles nesting along the local coastlines. The hotel launched the Khao Marine Turtle Foundation in March 2002 and has raised over US$100,000 for this worthy cause.
These initiatives will prove to be prudent business investments for hotel and venue providers as various surveys done in recent years have shown that many companies are now including green policy in their criteria for venue selection.
Incentive travel organisers in some parts of the world have started asking for a green checklist as part of their RFPs. This checklist may include the following: use of compact fluorescent lightbulbs, linen reuse programme, smoke-free policies, use of low-flow shower heads and toilets and other water conservation methods, waste-management procedures, including recycling efforts, conservation efforts such as soap or shampoo dispensers instead of individual bars/bottles, use of organic and/or sustainable products in food and beverage operation; and, partnerships with community or other nonprofit environmental groups.
Conservationists get into act
Lijiang in China's Yunnan province is known as one of the few places in the world where environmental, social and cultural preservation took root nearly 20 years ago, before the onset of tourism and economic development.
Sitting 2,416 metres above sea level, Lijiang has turned into an upscale nature and resort destination where the combination of centuries-old Naxi cultural heritage, fresh air, cool climate and rich vegetation and diverse wildlife are drawing the well-heeled from Europe and Asia.
"Tourism has always been an opportunity and a challenge to a conservation site. We look at the tourism industry as a fire – it enables us to cook food, but if we lose control over it, it can burn our house," says Rose Niu, China programme director of nature conservancy, a leading global conservation organisation whose many projects in the Yunnan province include Yunnan Golden Monkey Project, Green Building Project and Alternative Energy Project.
One of China's first national parks was developed in Lijiang. The Nature Conservancy was brought in early with the directive to protect the natural and cultural resources for long-term sustainability rather than looking at current, short-term economic benefits.
First on the agenda is conducting an environment protection process.
"We look at national parks, nature reserves and small tourism destinations and determine what are the ecological process and plans you need to protect specific places. We look at the needs of these conservation targets and then we design the management and facility development. We help them design their infrastructure carefully to not negatively impact conservation targets," Niu explains.
She says it is important to get all parties together – both from the government and private sectors – to give any venture towards conservation ecotourism and green travel every chance of success.
The preservation and survival of the local ethnic culture is essential in making these nature destinations unique. And its achievement on this front – particularly its recent recognition as a UNESCO Heritage Site – is one main reason Niu gives Lijiang a high seven out of 10 points in the success scale.
"I don't know of any example in the world of tourism that has done a great job in avoiding any negative impact on the local community, but the tourism industry helped the revival of the local Dongba culture in Lijiang. People did not appreciate their own culture. We were already losing it for years until backpackers from Western countries came and have shown interest in local culture. They brought it back," Niu says.
Tips for "Green Incentives"
Consider off-setting the carbon emissions produced as a result of your event through an accredited company such as The myclimate Foundation (www.myclimate.org).
This means that for a set amount, calculated against your average carbon emissions, you can fund one of the myclimate projects such as the Biomass Power Plant in Bihar, India which helps rural communities to turn biological waste from agriculture to generate clean electricity.
Preparing for your event
• Try to communicate with your participants via email or telephone to save paper and transportation of mail.
• Do not over-produce material. You can always photocopy some more should extra delegates arrive.
• Send out meeting materials and presentations electronically to avoid wasting paper.
Today your handy thumb drives are used more and more to store event information and notes in electronic format.
Getting around
• Use public transport, car share or other means to get to your event. Some cities in Vietnam and China have a robust biking culture. Consider some non-motor transport alternative.
• Walking, of course, has the least environmental impact – one good reason why organisers should try to have venues and hotels close enough to each other for delegates to exercise some foot power.
To make the short trek interesting and a memorable start to the day, consider a guided city tour between the hotel and venue.
Catering
• Consider drinking straight from the bottled liquids to avoid excessive glass washing which uses chemicals and energy.
Alternatives to flying
Air travel releases most carbon dioxide into the atmosphere among various modes of transportation. A group of 100 people on return flight from Singapore to Bali covering a stretch 1,689km gives out 254 tonnes of CO2 emissions. But reality is taking a plane ride is simply inescapable especially for long-haul travel.
Nonetheless using land or water routes, where possible, have less environmental impact. What's more, it spices up the whole trip and elevates the event to a whole new experience.
Take a train
In September 1993, the Eastern & Oriental Express made history as the first-ever luxury train to transport passengers directly from Singapore and Kuala Lumpur to Bangkok.
Onboard journey can be an experience in itself. E&O Express is available for private charters which make it ideal for unique corporate events.
Groups have been known to embark on an enchanting four-day/three-night private charter, travelling from Bangkok to Singapore with stops en route at the historical River Kwai at Kanchanaburi in Thailand, and at Penang in Malaysia where many of the guests spent an afternoon in colonial Georgetown and another group of guests enjoyed specially-arranged access to a golf and spa resort.
The E&O Express has also launched return journeys through northeast Thailand to the picturesque capital city of Laos, Vientiane and three trips are planned for 2008 which will take guests on off-train excursions to the World Heritage site of Phimai and a vineyard where guests can taste "new latitude wines among others"
For details, log on to orient-express.com
Book a boat
In Bangkok, longtail boats can cut hours off a traffic-jammed trip across town, while the Mekong river offers a thrilling route for groups moving around short distances in parts of Vietnam or Laos.
For longer distances, why not try a cruise? Star Cruises is the third-largest cruise line in the world and it dominates the Asia-Pacific market. It takes passengers to countries such as Malaysia, Thailand, Vietnam, Singapore, Japan, China, Taiwan, Hong Kong, Cambodia, Indonesia and Australia.
Star Cruises is available for group bookings with a minimum of 15 cabins. Meeting planners might like to have a few of their team-building activities onboard. An Away At Sea incentive trip sounds fabulous. A floating resort complemented with all the amenities you could ever dream of, away from it all.
But the debate of whether cruising is eco-friendly has yet to be settled.
Planes vs. Trains and Ferries
Studies made in Europe and North America in recent years show why green travellers are going for alternative forms of transport.
A Eurostar study revealed that CO2 emission per passenger is about 10 times lower for train travel. On the other hand, an independently verified study by National Express, a coach operator in the UK, showed that using coaches and ferry from London to other European capitals has six times lower CO2 emissions person than flying.