Ditching the boardroom for an event in a public space such as a park or riverbank can make for a more thought-provoking event that delegates are more likely to remember. Opting to go public, however, is not without its problems: instead of simply sending an email or making a call to reserve a conference room, planners may need to apply for an event permit, work with public agencies in order to follow the correct protocol and also take into account external factors that can't be controlled, such as the weather.
If you are having live entertainment, you also need to consider noise restrictions. Another problem is possible intrusion from the public – it is their space after all – which means heightened security and possibly a guest list.
That said, once the challenges are overcome, the payoff will make it worthwhile: delegates will enjoy the greater sense of freedom and fun atmosphere that a public space evokes. And if you're lucky, your group may even get to enjoy some sunshine.
Facing public space challenges
Global brand activation company Pico has organised many events in public spaces, including iLight Marina Bay 2014 in Singapore for the Urban Renewal Authority, a sustainable light art festival with installations incorporating recycled materials and energy-efficient lighting technologies. In addition to the installations, the festival featured complementary activities like guided tours and boat rides, while seminars kept the focus on the topic of sustainability.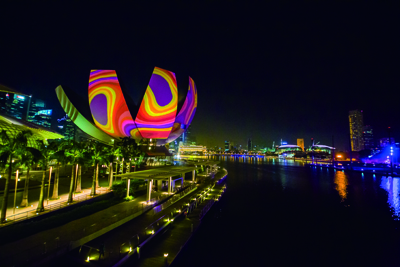 One of the biggest challenges Pico faced was the weather, as the three-week event took place at a time when Singapore was experiencing dangerously high levels of air pollution. "We put in place a contingency plan where daily monitoring of the Pollution Standard Index (PSI) was conducted. Should the PSI level hit the unhealthy level of 200, a decision would be made to cancel all guided tours," says a Pico spokesperson. Rainfall was also a challenge, both in terms of ensuring public safety and preserving installations. "Three dedicated onsite team members were tasked with carrying out checks across three zones to prevent wear and tear to the installations, while daily checks were carried out before the festival opening to ensure that the area was safe to walk around and engage with the interactive portion of the installations," adds the spokesperson.
Safety of the public is also a concern, especially during the set up and teardown period. For iLight Marina Bay, this was made even more complicated, as the entire Marina Bay area is in the centre of Singapore's financial district, where traffic is especially high. Reinstatement of the original space was also an issue, as with events of this length, installations can often leave a shadow or outline on the ground after they have been dismantled. "We faced limitations on how we could reinstate the space, one example being restrictions on the type of cleaning detergents we were allowed to use to remove dirt: the water of the bay area needs to be kept pollution-free, so special care had to be taken to ensure that all cleaning detergents used were non-toxic and yet still able to remove dirt and stains," a spokesperson explains.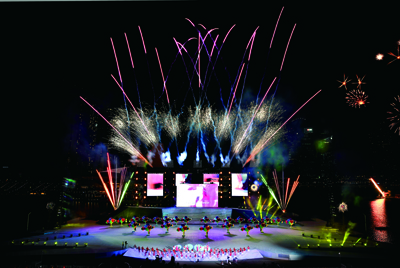 When organising the Singapore National Day Parade, Pico had to be equally adaptive when providing technical design and building services. "The sound and visual objectives to be met required more space than was available at the venue, so we used a floating pontoon to create more space. Numerous other challenges needed to be solved, requiring our teams to install eight trap doors within the stage, build an "actor bridge" and a fireworks platform, make a flag podium, construct front-of-house scaffolding platforms and fabricate central control observation posts," says the spokesperson.
Pico was also involved in Audi's Land of Quattro launch campaign, which took place within the Shangri-La area in China's Yunnan province. The 15,000 sqm site was at an elevation of 3,200 metres and environmental considerations required the building of a large stage to protect sensitive grasslands and the use of solar panels to generate electricity on site, lowering the demand for other power supplies. "From any perspective, this was a tricky and difficult site to work with, but creative thinking and hard work made this event one of the most striking we have ever participated in," says the spokesperson. For another auto client, it designed and fabricated the Audi Experiential Centre as part of Audi Experience Week in public spaces across Guangzhou, Shanghai and Beijing.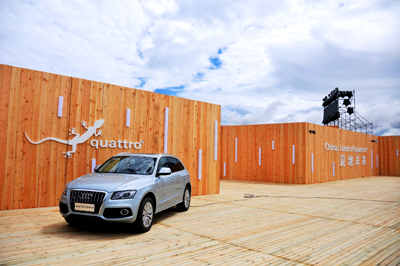 Marina life in Singapore
One of the most stunning public space locations in Singapore is Marina Barrage, a dam built across the 350-metre wide Marina Channel to keep out seawater from the city's first reservoir and prevent flooding in low-lying areas. As the water is unaffected by the tides, its level is kept constant year-round, making it ideal for team-building activities such as boating and windsurfing.
Situated in Marina South, a peninsula adjacent to the city's central business district, there are seven different spaces for hire, including the Green Roof – about the size of four football fields – and the Courtyard Room, which has its own foyer and lift and is ideal for seminars, corporate presentations and press conferences. However, outdoor spaces are most popular for corporate events, according to a Marina Barrage spokesperson. This is perhaps because planners booking the indoor rooms are required to complete their own seating arrangement and food and beverage consumption is not permitted inside. Nevertheless, the Courtyard Room – which has room for 120 seated or 200 standing – comes with audio and visual facilities at no extra cost.
Business meetings at Marina Barrage are booming, and a spokesperson says most of the venues are booked up around three months in advance. "Many who book hear about the location through word of mouth and existing clientele's recommendations, but Marina Barrage isn't a commercial outfit. The main objective of the venue is to bring people closer to water and to enjoy the beautiful space and learn about the Singapore Water Story." This sentiment – enabling people to connect with the natural environment – is arguably the best reason for holding a meeting in a public space.
Popping up in Melbourne
Melbourne Convention Bureau (MCB) recently hosted the Asia-Pacific Incentives & Meetings Expo (AIME) 2014 Welcome Reception in Melbourne along the Yarra River at Birrarung Marr, an inner city park favoured for its accessibility and versatility: the site has previously hosted Ellen DeGeneres and her 5,000 fans during a trip to Australia, and Melbourne's ArtPlay, an ongoing art programme attended by Crown Princess Mary and Crown Prince Frederik of Denmark. The convention bureau faced numerous challenges, from accommodating 2,000 guests to the logistics of getting furniture and stage equipment to and from the venue.
Event manager for MCB, Rebecca Russell, says: "As it was an outdoor event, one of the main challenges was accounting for the weather. To manage this, we had an indoor contingency plan developed by local event organiser Peter Jones Special Events to ensure the theme would stay true to the concept regardless of the weather."
MCB's aim was to replicate Melbourne's proliferation of pop-up culture to create a authentic experience, and key elements of the event included mobile food trucks, the latest craze in the city's dining scene. To deliver a festival feel, stilt performers, break dancers, food wheelbarrows, buggies and ice cream carts were employed as attractions.
"On a daily basis, quirky restaurants, bars and festivals pop-up in unexpected locations across the city to create an atmosphere of unpredictability, excitement and a discovery around every corner. The AIME Welcome Reception was a perfect example of how Melbourne can transform non-traditional event spaces into unique venues," says Russell.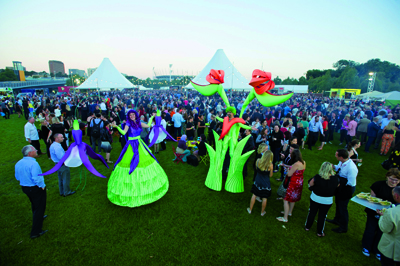 The year before AIME's Welcome Reception, 'Melbourne LIVE' paid tribute the city's festival scene, and was held at the riverside dining precinct of South Wharf Promenade. "For the 2013 and 2014 AIME Welcome Receptions, in addition to wet weather contingency plans, we had extra security surrounding the venues and staff managing the entrance to attend to the guest list and ensure arrivals ran smoothly. We also had to ensure our bump in and out plans were extremely tight and well prepared for minimal disruption to surrounding public walkways," says Russell.
Based on experience with international incentive groups, Russell has found that venues and spaces that are adaptable to a particular theme are most popular regardless of whether they are fully outdoors or have an outdoor component. "In Melbourne and greater Victoria, we have a number of readily available outdoor venues that can translate a range of themes with ease. For example, the iconic Melbourne Cricket Ground was recently used by the largest Indian incentive group ever hosted in Australia, the Amway India Leadership Seminar, for a cricket match starring Australian cricketing legend Adam Gilchrist and a Bollywood performance."
Other popular meeting venues in the city include the Melbourne Zoo with its indoor and outdoor spaces surrounded by the sights and sounds of Australian native animals. The zoo provides catering, equipment, furniture and accessories to create unusual events during the day or night and can be designed around its Twilight Zoo programme, which features a series of live concerts every January. Events can also be held in Melbourne's renowned labyrinth of laneways, in the Royal Botanic Gardens or in one of its many rooftop venues, notes Russell.
Beach life in Hong Kong
Hong Kong-based Corporate Adventures has been organising meetings and events for a roster of high-profile clients since 1996, with many functions held on Pui O Beach on Lantau Island, where the company is based. "We run a yearly management trainee induction programme for two well-known Hong Kong conglomerates and a bank. By chance, all three incorporate an Urban Great Race on Cheung Chau, followed by a meal and targeted team initiatives on the beach. My favourite is the one that ends with a Champion Chef Cooking Challenge in teams – cooking together is a wonderful bonding experience for a group and the creative variation in the dishes gives everyone something to talk about," says business manager Monica Guzkowska.
Corporate Adventures also hosts the annual Christmas lunch for an international architecture firm at its base on the beach. "This event is quite different from our usual highly structured programmes in that the focus is the feast on the beach. There is a beach volleyball court, football pitch, kayaks or stand up paddleboards to take out, as well as card and mahjong tables."
Like MCB's Russell, Guzkowska says weather is the most obvious challenge. "You don't want to cancel a terrific day for a passing shower, but you need to know that should you be unlucky, an operator can enact a backup plan at short notice to deal with a heat wave, thunderstorms or the occasional typhoon signal while meeting client objectives for the programme."
Despite site visits and careful checking, Guzkowska notes that a public space can change without your knowledge or control. "On Corporate Adventures urban races, a passageway may be blocked or a well-meaning city worker may remove a clue card secured to a public bench, which can add an element of positive unpredictability or challenges for teams. In addition, another group, or even unusually large crowds of passers-by, may fill a park space that looked ideal for your group."
Asked what kind of public spaces work best for corporate events, Guzkowska says it depends on the nature of your event. "Size is also a significant factor – a group of more than 300 people in Hong Kong on public sidewalks, street and footpaths requires a permit and police traffic control, so it's best to look for a larger space that provides enough room and versatility so your group can be out of the way of passers-by," she points out.
Bank of Melbourne World's Longest Lunch
In late February and early March each year, the Melbourne Food and Wine Festival sees food and wine lovers in their thousands eat their way round more than 200 events that fill the city's labyrinthine network of restaurants, laneways, basements and rooftops as well as spilling into regional Victoria. This year, the festival organised the World's Longest Lunch for the fourth year running. Presented by The Bank of Melbourne, around 1,500 guests dined at a 530-metre long table in Alexandra Park along the city's Yarra River.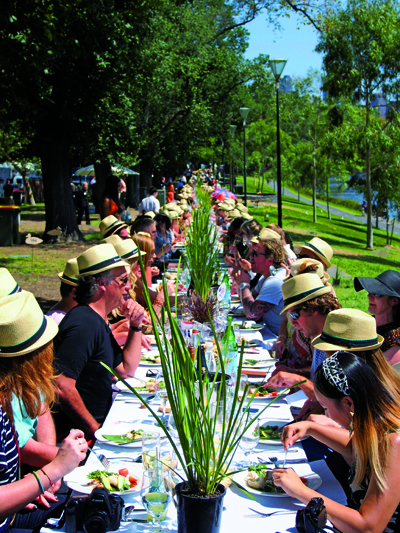 Diners tucked into a three-course menu created by some of Victoria's most esteemed chefs including Stefano de Pieri (Stefano's, Mildura), Adam D'Sylva (Coda and Tonka) and Jacques Reymond (Jacques Reymond), all of which was overseen by Peter Rowland Catering. The menu featured wine pairings chosen by Australian winemakers Seppelt.
To reflect the natural surroundings, the tables were simply decorated with starched white tablecloths, with rustic plant arrangements by Georgeous and Simply Gorgeous Occasions. melbournefoodandwine.com.au