TOGETHER with MICE Show Asia and the inaugural Travel Tech Asia, ITB Asia 2020 Virtual will be hosted on ITB Community in Asia (ITB Community), a unique platform of its kind for the travel trade industry.
ITB Asia's global database of travel suppliers and buyers will make it possible to virtually continue their conversations and to contribute best practices and content for the travel trade to navigate the recovery of tourism.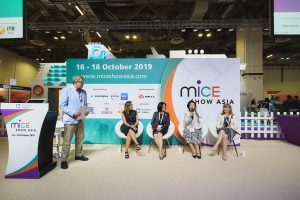 In these challenging times, how important is it for industry professionals to stay abreast of trends and ideas?
Martin Buck: Our industry is experiencing the worst crisis in its history. Staying ahead of trends and ideas is more important than ever. There is a huge desire to exchange views. That is why, at the forward-looking events of ITB Asia 2020 Virtual, leading speakers will be discussing how Asia's travel industry can harness intelligent strategies to make sure it remains future-proof even in a challenging environment.
In the wake of the latest developments, discussions on how the industry can navigate through recovery will play a key role. The challenges facing our industry are global, so it is all the more important to interact with others across borders.
How will ITB Asia be different to other "virtual" events we are seeing these days?
MB: Our newly developed platform, ITB Community in Asia, one of its kind in the travel trade industry, is an all-encompassing avenue for engagement between buyers, suppliers, and industry players.
Attendees can look forward to hearing from a line-up of more than 160 expert speakers from across the travel industry in over 100 high quality conference sessions and will have access to exclusive videos.
As countries and destinations in Southeast Asia have gradually moved out of different phases of their Covid-19 lockdown, plans are emerging to ease border restrictions by establishing safe "green lanes" for travel
What is the sentiment like in Southeast Asia and the broader region at the moment?
MB: The coronavirus crisis has hit tourism in Asia hard. With borders sealed and many flights grounded, the travel industry in Southeast Asia had to focus on domestic travel. However, as countries and destinations in Southeast Asia have gradually moved out of different phases of their Covid-19 lockdown, plans are emerging to ease border restrictions by establishing safe "green lanes" for travel between countries and destinations.
What will the highlights of the show be?
MB: ITB Asia 2020 Virtual will focus on ways to "Reinvent travel in the new normal". Our Keynote sessions this year will highlight the emerging trends the travel industry should consider as they continue to navigate Covid-19 and prepare for the industry's recovery.
More… 'Virtual allows us to build ITB Community'
Speakers will also address industry's best practices, business innovations, industry know-how and professional tips on how to adopt the mindset of industry leaders when navigating through challenges. Industry-leading keynote speakers this year include: Angel Llull Mancas, VP and managing director, Asia Pacific, Booking.com; Hermione Joye, sector lead for travel and vertical search APAC, Google;  Deep Kalra, chairman and group CEO, MakeMyTrip; Axel Hefer, managing director and CEO, trivago; and Ben Drew, President, Viator.
Also look forward to top-level sharing by the world's leading organisations: Alexandre de Juniac, director general and CEO at International Air Transport Association (IATA); Maribel Rodriguez, senior VP, at World Travel & Tourism Council (WTTC), Anita Mendiratta, Special Advisor to Secretary General at The World Tourism Organisation (UNWTO).
How do you think the ITB shows are helping to move the industry in the right direction?
MB: With the pandemic accelerating the digitalisation of the industry, technology provides us a way to demonstrate our agility and ability to innovate.
With ITB Berlin and its three successful international editions in Singapore, Shanghai and Mumbai, Messe Berlin contributes decisively to shaping the global travel industry. It is constantly examining the latest challenges and trends and ensures that the industry's players are able to engage in a constructive dialogue.
ITB Community in Asia, being one of the first of its kind to be implemented in Asia's travel industry, has seen an overwhelming positive response and engagement on the platform and we hope to welcome more users as the show draws closer. We're delighted to have more than 5,000 ITB Community Members using our exclusive platform. ITB Community in Asia is a new, virtual space where travel buyers, sellers, media, and trade professionals alike can come together to access all of the latest information about the travel industry.
Dr Martin Buck is senior vice president, travel and logistics, at Messe Berlin. This is an edited version of an article first published on the ITB Asia website