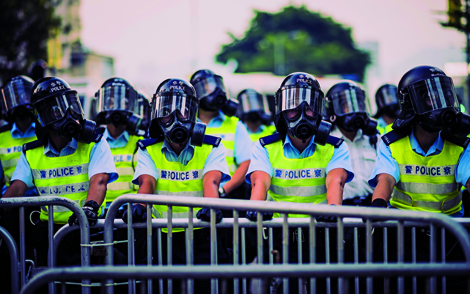 Security has always been a major concern at events and venues, but recent social unrest in Asia and the increasing number of warnings about possible terror attacks throughout the world have brought the issue into even sharper focus.
Political unrest followed by a military coup in Thailand and the Occupy Central democracy protests in Hong Kong are just two examples of situations that have affected decisions made by events organisers, as MCI's Luther Low knows only too well.
Low, Director of Meetings and Events in the Hong Kong office of the global communication and events company, has faced clients' security concerns over situations in both Hong Kong and Bangkok last year.
"Political protesters were out on the streets during one of our planned events in Bangkok so we moved it to Vietnam," he says. "But then anti-Chinese protests broke out there so we moved it again, to Bali."
Occupy Central
Low says the client had used Bangkok for a number of years "because of hospitality and price" and chose Vietnam because the event would still be cost-effective. The move to Bali solved the security problems but produced "budget challenges" which had to be managed.
The Hong Kong event saw a Singapore client booked at the Conrad Hotel in Admiralty in October, near to the main Occupy Central protest site, and there were security concerns about the demonstrations and getting to and from the venue.
"We told the client the situation was safe, but we came up with an alternative route and a back-up plan to move people out if anything happened," Low says. "There was no violence during that period so our concern was not so great. Being in Hong Kong we could see the real situation, whereas the client was watching it on TV. Everything was fine in the end."
Low stresses the importance of assessing security situations on the ground. "We have a network in China – MCI Shanghai and Beijing – so if we are not familiar with the ground or have security concerns, we will consult with our local offices," he says. "We don't have an MCI office in the Philippines but we have a strategy partner -there – Ovation – which can give us an insight if we have any concerns. We have 57 offices in 30 countries and Ovation has 70 partners."
Prevent or disrupt
John Bicknell, Emergency Preparedness Manager in the security department at the Hong Kong Convention and Exhibition Centre, says large-scale public protests "cause both an immediate adverse threat to a venue and also consequential damage" and that "where the venue itself is the target of protests, analysis of the fundamental objectives is the key to the response".
"Prior knowledge of the scale of the intended disruption is crucial as this may indicate the possibility of defusing it by, for example, negotiation or the acceptance of a petition," Bicknell, who was a deputy regional commander with Hong Kong police, says.
"The fundamental objective of a protest is to prevent or disrupt while attracting as much publicity to 'the cause' as possible. It follows that venue security should aim at defeating these key objectives, containing the protest and diverting guests or attendees around it, doing nothing to attract the media frenzy the protestors hope for, while striving to minimise the impact on events.
"Every effort should be made to continue the normal operations of the venue and nothing, such as early or aggressive attempts at eviction should be considered. Any action by management that may attract more dramatic media attention, or extend the duration of the disruption should be avoided," he says.
"The venue must project professionalism and confidence without making unrealistic promises.  Most importantly, if something adverse does happen, have an alternative to minimise the impact on the event."
Bicknell says trained staff are essential to handle security issues. "We live in a fast-changing and unpredictable world. This is especially true in the security industry. Those who would try to disrupt an event are increasingly innovative and imaginative in their tactics. Training is the wisest investment of all, and this includes 'what if' scenario-based awareness sessions to explore even the most unusual possibilities.
"The most fundamental concerns from a security point of view are the availability of suitably qualified, trained and equipped staff. Frontline manpower is the key to successful security and the most valuable asset available to managers."
Bicknell says there can never be security guarantees, but that it is vital to have good communication with event organisers where issues, such as access control, are concerned.
"This communication must be open and frank. There must be no 'false expectations' and both parties must understand the level of tolerance expected by the organiser and the degree of control that can reasonably expected of the security team," he says. "If the organiser says, 'no-one comes in without a badge', they must understand that the CEO will also be stopped if he is not wearing one."
Fire safety
Venues must adhere to strict regulations in order to maintain operating licences and meet insurance requirements, but it falls to event participants, especially at exhibitions, to follow additional guidelines when it comes to fire safety.
Cartes Secure Connexions, which holds its next event at HKCEC on March 18 and 19 this year, stipulates the following fire safety regulations for its participants.
•    Fire, sparks, welding works and flammable/explosive materials are prohibited in the venue
•    Exhibitors displaying exhibits which require chemical/foam/CO2 fire extinguishers must provide such equipment in their booth, at their own expense
•    Aisles and the exhibition hall perimeter must not be used as storage
•    Emergency exits and access to fire-fighting equipment must not be obstructed
•    Smoking is prohibited in all areas of HKCEC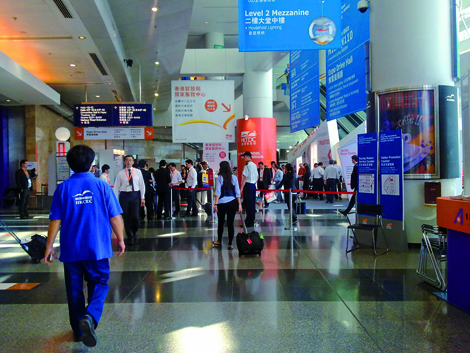 KEEP YOUR VENUE SECURE
Hong Kong Convention and Exhibition Centre Emergency Preparedness Manager John Bicknell gives some additional pointers on venue
security measures:
THE UNEXPECTED: Contingency planning and preparation are essential. When a VIP arrives and the elevator suddenly stops working, a "Plan B" that has been practised and can be implemented immediately is the mark of professional venue management.
ILLEGAL RECORDING: Modern technology is extremely advanced. The days of bringing a shoulder-held camcorder into the premiere screening of a new movie are long gone. Almost everybody now has a smartphone with a powerful camera, and even legitimate, invited guests at a private event will take "selfies" to record the happy event. The degree to which this can be effectively prevented is a matter for the organiser to determine. In the most extreme circumstances the organiser may require that guests be searched and leave cameras, phones and other recording devices outside.
CROWD MANAGEMENT: The build-up, movement and eventual dispersal of large numbers of attendees are inherently dangerous and must be the subject of constant review and positive, co-ordinated management.
SPELLING IT OUT: Signage is very important. Attendees must be given clear prior warning of the rules of the event, and penalties (such as membership suspension, etc.) for offenders must also be made clear.
EVENT ORGANISERS: Organisers play a very important role in the security of their own event. However, some have little or no awareness of security and threat issues. It is always helpful if organisers appoint a single specific person for security liaison and a meeting and "walk through" are arranged to appreciate the challenges. Venue security teams at well-managed venues are always available to offer advice and practical suggestions to ensure minimal disruption. Organisers should accept this advice. Late changes to a programme are often difficult to accommodate and should be avoided.
Experts say event organisers play a vital role in the security of their events, and William Besse, Vice-President of Consulting and Investigations with security firm Arrows International, together with physical security consultant Dan Finger, offer 10 tips on offsite meeting security. Quoted on the security website CSO online,
they say:
TIPS
•    Get to know the venue, inside and out, well before the event
•    Determine local emergency medical capabilities
•    Know what proprietary information is at stake
•    Have a solid access-control strategy
•    Make sure credentials are visible and clear
•    Figure out your signage
•    Scope out possible hiding spots for recording devices
•    Check in on venue staff (vetting may be necessary)
•    Decide on vehicle access
•    Plan your parking arrangements
INSURANCE ISSUES
When it comes to their own security, event organisers have a range of insurance options.
Liam Morarjee, director of Hong Kong-based Village Insurance, says public liability and third-party policies are usually contractually obliged but that they don't cover financial risks such as additional expenses, contractual liabilities, lost revenue and ticket refunds. "That is what contingency insurance can cover."
Morarjee says an all-risk policy can offer an all-encompassing solution, with each level of cover included or excluded as the policyholder sees fit. A "standard event package" can include:
•    Cancellation of the event
•    Inclement weather
•    Non-appearance of an artist or keynote speaker
•    National mourning cover
•    Strikes announced after inception
•    Terrorism attack at location
•    Withdrawal of authorisation of a permit for an event
•    Extra costs to put an event back on track
•    Mitigation expenses to ensure an event happens
•    Public liability, entrusted property and third-party property liability
•    Equipment and facilities
Morarjee says policies don't cover cancellation due to poor ticket sales as this is a business risk, and known circumstances that could impact an event are often excluded if they have already taken place.
He adds it is important to buy insurance from a qualified and experienced broker.
liam.morarjee@villageholdingsinsurance.com