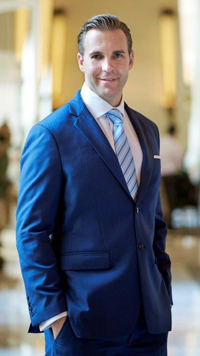 What experience have you had of organising corporate retreats?
During more than 20 years in international hospitality, I have been a part of the planning and administration of corporate retreats across the hospitality management spectrum, from F&B and rooms divisions to event sales and ultimately as general manager. Many of these corporate retreats were a complete buyout of the hotel and involved royalty, heads of state, superstars and the who's who of captains of industry.
What makes for a successful corporate retreat?
For the client: a well-oiled hotel management team that can offer a one-stop-shop service with people who are experienced in and understand the complexities of arranging and managing an event across international borders, from contractors and customs control to cultural diversity, all while being sensitive to and respecting the client's corporate image. In some cases anonymity is preferred in a world where extravagant and expensive corporate retreats can be frowned upon.
For the delegates: everything that one expects, anticipates and looks forward to on an all-expenses-paid holiday. For the hoteliers: a nice big budget!
What's the best way to keep delegates focused – after all, there must be a vague temptation to switch off completely?
As Paul Simon reminds us, one man's ceiling is another man's floor, and it is of course up to the client to present a programme in the meeting rooms that keeps all delegates interested and focused.
But the hotel, too, has an important role to play during the formal proceedings, such as offering extraordinary coffee breaks and dining experiences in between meetings that refresh and awaken, or at the very least distract delegates from the sometimes mundane meetings or presentations.
Or the hotel can provide meeting spaces that offer a change of scenery and are out of the ordinary. A balanced work-play programme is key to keeping delegates focused, and I always recommend at least one full day of free time.
Can the menus make or break a corporate retreat?
Dining while travelling, especially in a new destination, is a part of the exciting and often once-in-a-lifetime exploration experience, and is all about a balance between the exotic unknown that one probably cannot prepare in one's own kitchen, and the fulfilling familiar. Razzle-dazzle them with food that's Instagram-worthy and it will be the table talk at dinner parties for years to come.
Would you recommend adding a fun element?
The more, the merrier! For instance, at Anantara Siam Bangkok we suggest our clients take tuk-tuks one night rather than a bus transfer. The delegates are told that their evening's entertainment entails a tour of Bangkok enroute to the restaurant where they'll have dinner, but when they arrive at the porte-cochère they find a fleet of two-dozen tuk-tuks revving up in the driveway.
Patrick Both is the general manager of Anantara Siam Bangkok Hotel. He was speaking to Ed Peters