Many event organisers come from a theatrical production background, but you come from what is for so many the most electrifying live-event experience: rock music. You weren't simply part of a band, but the frontman. What caused a lead singer to become a leader in the corporate events world?
When I finished touring as the singer with INXS I was asked by a friend in business to speak at his financial company conference. Soon after I was approached by Melbourne-based speakers bureau Saxtons and I started working a lot in Australia and New Zealand.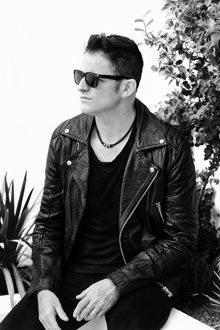 After doing a few events as a speaker, I realised that I wanted to incorporate music into my presentation. I started to invite audience members to perform with me on stage and start creating songs together. I experienced a lot of this at Irish house parties called sessions when I was very young. At a session everyone in the house would sing or dance or play a jig or a reel.
After developing my performance I started the company Rock and Roll Team Building. Things really took off when I partnered with Nicole White who was leaving her role at BI Worldwide in Australia. Nicole had many years experience working in all aspects of corporate events and over the past three years we have been delivering events for major clients all over the world.
It has always been about making the experience fun… and I could see from the positive reactions at the events that there was a real need for working with music in the conference environment.
Teambuilding brings to mind indoor and outdoor activities often involving games. What role does rock music play?
Music has often been described as the universal language. I have never met anyone who has not been moved by music. So working with music as a form of teambuilding is a fun way of bringing people together. It's almost like magic how it moves people and lifts a crowded room. Music has a direct connection to the soul.
It's wonderful to see faces light up when we get a team to sing in three-part harmony at events, or see the response when a CEO hits a high note on stage when dressed as a rock star.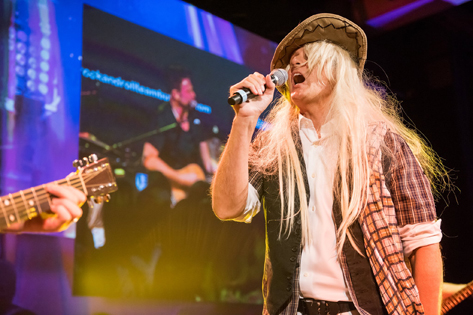 Creating original songs as a teambuilding experience and performing them with a live band is my favourite part of what we do with Rock and Roll Teambuilding. It's always nice to incorporate the theme of the conference into fun original songs.
A lot of teambuilding is competitive, but we believe that it shouldn't be. Music should always bring people together and that's what we always try to do with Rock and Roll Team Building.
What else do you bring to the table when it comes to pitching?
I try to focus on creativity when working with clients. I always speak to the client before each event to get a good feel of their culture and what they really want from the experience and I tailor each event to suit individual clients.
Recently in Monterey, California, I worked with delegates and intertwined music into the three-day event. Using the key messages of the six speakers at the event I composed a song and performed it live to close the conference. This is a unique and positive way for a client to incorporate and communicate important business messaging within the conference content.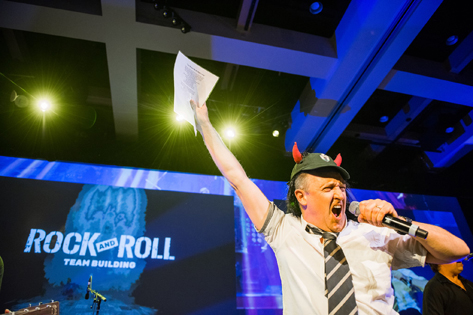 Corporate events and conferences often borrow from the world of TV and theatre to create better plenary sessions. Do you think a balance needs to be struck, does music have its limits at these events?
It is about finding the right balance, but in my experience I think music is very under utilised at corporate events. Used wisely, music can have a massive effect on the atmosphere and energy in the room.
There is no better way to launch a plenary session than with live music. If the performer is on fire it can really engage the audience and set the event up as something special.
Sometimes at conferences there is a lot of content and it can be a real struggle to hold an audience with speaker after speaker. Using short pieces of music between speakers, or a live band playing songs, can be a great way to keep the flow of the event positive and hold the attention of the attendees.
Can you share some of the highs and lows of your career and any rock legends you worked with?
Being a musician isn't really a job, it's been described as a vocation but it's not for the faint of heart. For many years I struggled with the fact that I was a musician and didn't have a 'real job'. There have been many times when I couldn't pay my rent and felt like giving up and doing something else, but I simply couldn't give up.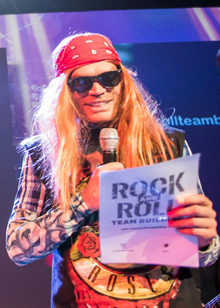 Even in my darkest days when I couldn't get a gig I never lost the dream that I would get my chance to stand on the big stage or work with major stars. I wrote my first song at six years old and have been performing professionally since I was 15.
To stand on stage with INXS was a life-changing experience. I grew up loving the music of INXS and I will never forget my time singing all those great songs.
To see Al Pacino in the movie Danny Collins sing a song I wrote was a surreal moment. But possibly my favourite was hearing Madonna sing the song I co-wrote with her and [DJ] Paul Oakenfold. Celebration became the title track of her third greatest hits album and my first big break.
I've been performing professionally for over 25 years and been on stages like the Sydney Opera House to ATT Park in San Francisco to a pub in Cork with some fantastic musicians and artists. Maybe it's because I'm a little older and slightly wiser now – but I enjoy working with music now more than ever!
What next for Rock and Roll Team Building?
In Australia we are delighted to have teamed up with the amazing Indigenous duo Apakatjah, who deliver our workshop "Rock with the Culture of Indigenous Australia". Award-winning singer/songwriter Wes Carr has also joined the Rock and Roll Team Building family. We are also about to launch a new Rock n' Roll Karaoke product for evening events and a corporate songwriting initiative for large-scale conferences.
In the USA we launched a workshop for the Hawaiian market called "Rock with the Spirit of Aloha". We're also heading to IMEX America again and this year will be a partner on the San Francisco Travel booth, which is where our base is in the United States.