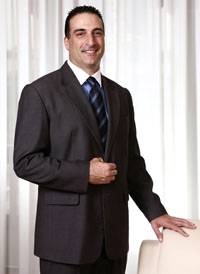 FROM humble coffee to high-end Champagne, Gene Cap-uano (left), vice president of convention and exhibition operations for Sands China, has helped broker a variety of sponsorship deals. He explains:
"In our recent G2E Conference we were approached by a company from Hong Kong who does gourmet coffee in a café-style set up. It is a three-day tradeshow and conference, so having coffee is a must."
Capuano says the company offered its product and services free, while allowing The Ven-etian in Macau to charge for the coffee. In return, it requested accommodation for its staff and marketing exposure.
"The café corner was set up as a lounge-style setting, and the gourmet coffee was sold along with pastries and other snacks. This enhanced the show, created revenue for us, and the company received exposure and made further business prospects with the attendees. This was a win-win sponsorship for both parties."
Capuano says more "generic situations" involve beverage sponsors, with Champagne companies among those wanting to be part of high-end company launches and events.
"We frequently see events like fashion shows that have beverage sponsors, mainly using Champagne."
Champagne and high-end fashion often cross paths. "It makes sense to try to partner up."
This column is part of MIX's August-September Spotlight feature – click here for the full story and more from Gene