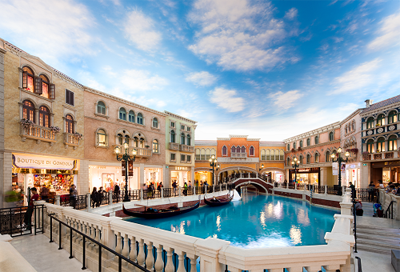 It's difficult to discuss the Venetian Macao without reaching for a thesaurus to find a supply of superlatives to describe it.
The sheer scale of the project on Macau's reclaimed Cotai Strip almost beggars belief and while the Venetian Macao is very much the pioneering flagship, it will soon be joined by most of the big global names in hospitality, leisure and entertainment as the Strip becomes one of the world's grandest integrated resorts.
With 100,000sqm of function space, the complex is one of the biggest of its kind to be found anywhere on the planet.
Modelled on the Venetian Las Vegas, the complex takes its name and main theme from the northern Italian city of Venice. Perhaps fittingly, Venice was the birthplace of the trader, adventurer and explorer Marco Polo. Today's Venetian Macao is certainly a destination sought out by those who seek their fortune, with its cavernous gaming rooms.
The complex includes replicas of Saint Marks' Square in Venice, which can also be hired out as an unusual indoor-but-feels-outdoor venue. Then, of course, there are the gondola rides on the Grand Canal, where your delegates can be serenaded by singing gondoliers. Street entertainment also has an Italian feel, with hourly performances from Carnivale performers belting out familiar operatic arias.
However lucrative the Venetian's gaming operations prove to be, the property has a vision as a meetings and incentives venue that goes well beyond the diversions of blackjack and roulette.
A 15,000-seater Venetian Arena can handle the largest of congresses as well as ensure a suitable venue for world-class performers. Already Celine Dion, The Police and Beyoncé, to name a few international stars, have already taken to the stage.
The stadium can also be given over to sporting events, such as basketball and other indoor sports.
These live entertainment and sporting elements provide a perfect opportunity for companies to provide corporate hospitality for key clients or suppliers, a reward for top-achieving staff and their families, or simply as an additional entertainment option for conference delegates to enjoy after the day's discussions.
A permanent entertainment option will include shows by Cirque du Soleil, a Quebec-founded troupe, whose spellbinding shows have captured world attention wherever they have gone, and are sure to become a major attraction.
The V Spa allows organisers to arrange programmes for delegates that combine elements of wellness and relaxation treatments all under one roof. According to the property, the aim is to combine the tranquillity of a Tuscan valley with an Asian ambience. There is also a V Gym for those who want to work out and maintain, or start, their personal fitness regimes.
Even golfers don't go unserved. The Grado Golf course is an 18-hole putting green, offering groups the chance to include a mini-golf tournament in their programme.
An in-house wing, Venetian Travel Limited (VTL), offers a one-stop shop for meetings and incentives organisers with a full service for all kinds of business events.
Wolfram Diener, vice-president, convention and exhibition of the Venetian Macao, says: "The Venetian Macao also hosts more than 200 groups a month since opening in August with the size of our groups and length of stay steadily increasing. We're also experiencing strong repeat business for corporate meetings, with many organisations coming back every month. We're confident that as the Cotai Strip continues to develop there will be no destination in Asia that can rival our scope of business facilities, entertainment, dining and professional service.
"We recently had a group that wanted to encapsulate the excitement of their upcoming Beijing Olympics sponsorship.We organised a gala dinner for 1,100 people in our arena. Representatives from each country wore their national costumes and were announced on our arena PA system as they entered the arena to the cheers of their colleagues. We have 160 full-time performers on the property that we make available for corporate meetings to enhance the atmosphere and entertain guests."
The Venetian has a broad range of dining experiences, from Irish-style pubs and chic bars to Japanese, Italian, Cantonese and French restaurants dotted throughout the resort. For the more exotic palate, there are Brazilian, Portuguese and Spanish tapas outlets. The wining and dining experience is backed with some familiar names such as the Blue Frog Bar from Shanghai and Morton's of Chicago steakhouse.
A firm favourite on programmes for any Asian incentive group is the shopping experience. In the past, Macau had little to offer beyond handicrafts and trinkets, great value wines from Europe, and shoes and leatherware.
The Grand Canal Shoppes, which houses 350 high-end stores offering a whole range of luxury goods and international brand names, will provide delegates with an array of choice to suit their tastes and budgets.
KEY FACTS
GUESTROOMS: 3,000 all split-level suites, of 70sqm or more. The top-of-the-range Rialto Suite is 170 sqm in size
MEETING SPACE: There are three ballrooms on the lower ground level of the Convention Centre, Verona, Torino and Capri. Each can be subdivided into 10 or 12 smaller spaces, offering great flexibility for breakout rooms.
The ground level offers exhibition space along with four ballrooms; Da Vinci, Casa Nova, Galileo and Marco Polo. Again these ballrooms can be subdivided offering up to 56 individual rooms.
On the Upper Level is the huge Venetian Ballroom, a 6,500sqm space, which can hold 7,760 people for a major conference or can be subdivided into a dozen smaller units.
Exhibition space is located on the ground and upper levels, with over 37,000sqm of space. Ideal for those combining conferences with some element of trade shows.
The 15,000-seater Venetian Arena can be accessed from either the ground or upper levels.
ACCESS
By air: 20 major airlines connect directly to Macau International Airport from Mainland China, Taiwan, Korea and Southeast Asia. A Venetian shuttle bus operates from 11am to 9pm daily and leaves the airport every 10 minutes.
There are regular helicopter connections between Hong Kong and the heliport at Macau's main ferry terminal.
By land: there are regular shuttle buses at key border crossing points from Mainland China, such as the Lotus Bridge in Zhuhai and the Gongbei border gate.
By sea: there are regular shuttle buses from the main Macau ferry terminal that connects with Hong Kong island, Kowloon and Shenzhen. However, after a slight glitch The new Cotai Strip CotaiJet, offers a direct route between Hong Kong Macau Ferry Terminal and Macau Taipa Temporary Ferry Terminal. This offers three classes of travel, regular Cotai, Cotai First and Cotai VIP private cabins.
There is a regular shuttle bus to and from the Venetian's sister resort, the Sands Macao.