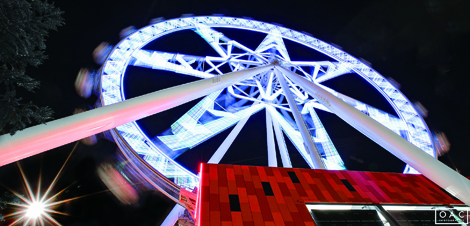 MELBOURNE STAR OBSERVATION WHEEL
Location: Visible from most parts of the city, the 120-metre wheel is on the banks of Melbourne's central Yarra River at 101 Waterfront Way. The observation wheel's 21, climate-controlled, floor-to-ceiling windowed pods have 360-degree views of Melbourne and beyond including the Docklands, Port Philip Bay and Mount Macedon.
What's it like? Private cabins cater for up to 20 people, and can be modified to suit individual needs. Special Star Experience Packages offer gourmet food and beverages, a host, and a personalised photo folder to commemorate the event. Specific corporate audio messages and music can also be streamed into privately booked cabins.
Décor: Minimal, the view speaks for itself.
Price: Prices vary depending on function type, number of guests or selected experience package. A two-hour cocktail reception in the Star Room starts at A$84 (US$68) per person.
Contact: Tel: +61 (0)3 8688 9688
Email: contactus@melbournestar.com
ABBOTSFORD CONVENT
Location: This former convent, 4km from Melbourne's CBD in the east of the city, has catered for special events since 2011. Surrounding the five historic convent buildings are the landscaped lawns of the Heritage Gardens with large old oak trees and festoon-lit courtyards making unique spots for brainstorming or teambuilding sessions.
What's it like? The buildings date from the 1900s-1950s, and rooms range from the intimate interior of Bishop's Parlour, to the grand gothic proportions of the Community Room. Abbotsford Convent is popular for large conferences and trade shows.
Décor: The room inventory is vast, but most of the venue's indoor spaces are Baroque Revival. The Rosina Function Space features original leadlight windows, high ceilings with exposed trusses, and architecturally designed lighting. The venue also offers quirky activities such as laughing classes and ukulele sessions.
Price: Prices vary according to number of rooms booked, catering and extra classes. Contact Bursaria for quotes.
Contact: Tel: +61 (0)3 9415 3600
Email: lauren@bursaria.com.au
MELBOURNE CITY MISSION
Location: The charity's meeting and conference space opened in early 2013 along Sturt Street, close to Crown Casino and the Arts Precinct.
What's it like? The City Mission has a large main room which holds 140-theatre style with two partitions, four breakout rooms that can accommodate between eight and 20 people, an on-site lunch area and outdoor decking.
Décor: Simple, with no theme as such. The special feature is the charity behind it, and the cause your company supports when making use of the facility. Melbourne City Mission is the city's oldest charity, and is helping improve the lives of disadvantaged people in Victoria. The conference facility was established as a social enterprise to support the mission's cause and the work they do.
Group size: With all rooms in use, maximum capacity is 200 people.
Price: A group of 50 theatre-style and booked all day costs about A$1,000-$1,250 (US$830-1,037), exclusive of catering or AV requirements.
Contact: Tel: +61 (0)3 8625 4444
Email: functions@mcm.org.au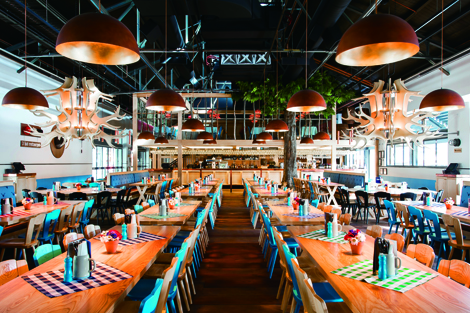 MUNICH
Location: At the city centre's trendy South Wharf area. Munich opened in August 2014 and is close to many of Melbourne's top hotels, the casino and directly opposite the Melbourne Convention & Exhibition Centre.
What's it like? The Outdoor Bier Garden has 250 waterfront seats, three bars and several private function rooms. The main restaurant, Wundabar, seats 290 while the smallest space, Über bar, fits 60 standing.
Décor: The interiors can be described as 'a modern touch of Bavaria', with natural blonde timber as the focus – even the DJ booth is carved from a large timber log. The ceilings are decorated with antler-inspired décor dangling over long, wooden, communal dining tables – and there's a resident stuffed stag. Together, these bring the ambience of a traditional Bavarian bierhaus to life.
Group size: Munich has a cocktail capacity of more than 1,100 guests, and can cater to dining groups between 50 and 500. Last August the venue hosted a luncheon for cancer charity, Treasure Chest, hosting 400 guests. Pre-drinks were in the Bier Garden, followed by lunch.
Price: Menus start at A$40 (US$33) to A$95 (US$79) per person.
Contact: Tel: +61 (1)300 686 424
Email: reservations@munichbrauhaus.com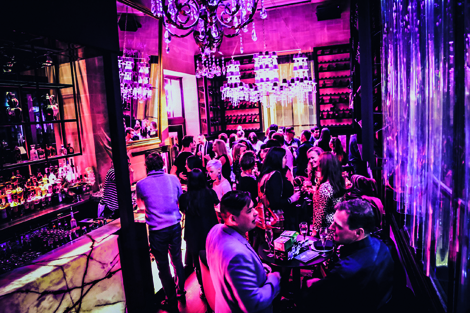 MS COLLINS
Location: On Collins Street -in central Melbourne, near the Elizabeth Street shopping precinct; it opened in April 2014.
What's it like? There are 11 separate rooms that are perfect for glamorous functions, including a Dom Perignon-themed Champagne bar.
Décor: Designed by Blackmilk Interiors and inspired by a French socialite, the elaborate space evokes edginess with bold, opulent colours and bespoke art by street artist Juan Mcarb. If you want your event to have a modern vibe to it, this is Melbourne's venue du jour. "Ms Collins has an eye for detail and can arrange any kind of audio visual, technical or decorative support. Past events include fashion runways, corporate mixers, product launches," says Emma Rosenhain, marketing and brand manager for the venue. It has hosted world-class DJs and musicians such as Mos Def, Louie Vega and James Blunt.
Group size: Maximum capacity is 900.
Tag Heuer and the Australian Open have booked Ms Collins for their corporate shindigs. Price: A basic three-hour food and beverage package starts at A$85 (US$69) per person.
Contact: Tel: +61 (0)3 8614 2222
Email: andrena@mscollins.com.au