AUTHORITIES have given the green light for work on an exhibition and convention facility in Seoul aimed at enabling the South Korean capital to better compete with Hong Kong and Singapore for business events.
Work on the Jamsil MICE complex in the south of the city is expected to start in 2022 and be completed in 2025. It will feature convention venues, a 900-room luxury hotel and sports facilities over an area of 334,605 square metres.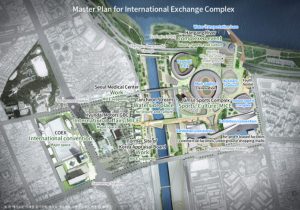 "Seoul's total exhibition area has been at a standstill at approx. 64,000 square metres for the past 10 years," a Korea Trade Association official said after city authorities approved the project.
"It is key that we secure enough exhibition area to compete with other leading exhibition convention cities in Asia, such as Hong Kong [200,000 sqm total exhibition area] and Singapore [240,000 sqm]."
More… Seoul offers conference safe zones
Korea MICE Bureau said new venue would be built around the grounds of the Jamsil Sports Complex and operate as a MICE cluster with the city's existing business event venues.
Plans include a total floor area of 120,000 sqm for exhibitions and conferences – nearly three times the size of COEX Convention & Exhibition Centre alongside Jamsil. Both venues will form a "MICE Cluster" connected to the 47,000 sqm COEX and the 16,500 sqm GBC, part of a development by Hyundai featuring plans for the 105-storey Global Business Centre.
Jamsil is home to several key attractions including Lotte World Tower, Seokchon Lake Park and the sports complex. The neighbourhood is next to and directly accessible by subway from COEX, one of Seoul's main exhibition convention facilities.