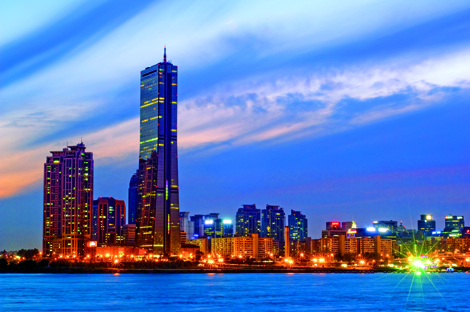 Situated inside 63 Building, a striking 249-metre-high golden-clad skyscraper on Yeoido Island, near the banks of the Han River, is 63 Convention Center. Designed by international interior-design company Perkins + Will, this newly renovated creative business events space is ideally located in the very heart of Seoul.
63 Building – named for its 63 official storeys, was South Korea's tallest building when it was built in 1985 as a landmark for the 1988 Summer Olympics. Though it has since surrendered that title, it continues to be a focal point of the surrounding area, and is a symbolic reminder of the economic boom that followed the Korean War.
Occupying the building's 2nd, 3rd, and 4th floors are a variety of options for both large scale events as well as smaller gatherings, ranging from 30 to 300 guests. The largest venue is the 1,431 sqm Grand Ballroom that can host up to 2,000 guests theatre-style, a banquet for 1,100 or a classroom set-up for 850. Equipped with presentation facilities and a separate stage, it is suitable for international conferences and global business events.
There are 14 other function rooms, ranging in size from 30 to 559 sqm, with tranquil names such as Juniper and Cypress. These rooms can host small and large groups for theatre events, conferences and banquets. For example, the Cedar room, on the 3rd floor, is ideal for press interviews and mid-scale seminars for up to 150 people. The largest meeting room is Sequoia & Pine at 559 sqm (suitable for banquets of up to 270 guests), while the smallest rooms, Basel and Sage are both 30 sqm in size, and can accommodate intimate groups of eight in each. Some of the rooms have outdoor terraces offering wide-angle views of the Han River and the gleaming Seoul skyline.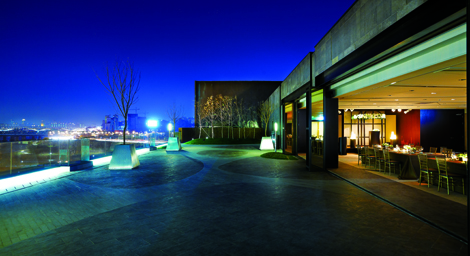 In the past, 63 Convention Center has hosted a wide range of events for both domestic and international firms, as well as government offices, non-profit foundations, religious organisations, banks and financial offices (including the Asian Development Bank in 2012), and foreign embassies. Last year, for example, 63 Convention Center hosted the Global News Forum, which welcomed some 300 international senior news people, ranging from Nicaragua and Russia to Hong Kong, including executives from CCTV, ABC
News and CNN.
Also in 2013, the centre was chosen to host the IAF ILAC Global Health, and the Facebook Mobile & Game Conference, the latter having also held previous conferences at 63 Convention Center in 2012 and 2011.
In terms of recreation facilities, 63 Building is home to 63 Sky Deck, an observation platform on the 63rd floor that offers outstanding views of the river and the surrounding mountains of Bugaksan, Namsan and Gwanaksan. What is said to be the world's highest art gallery, with works by American pop culture artist Andy Warhol, is also located here, as is a new 1,650-sqm Wax Museum that features over 70 lifelike waxworks by Japanese sculptor Satoru Matsuzaki.
The lower floors house an indoor shopping mall with approximately 90 stores, as well as an IMAX Theatre with 504 seats. On the basement floor is 63 Sea World, a 3,536 sqm aquarium and exhibition space that showcases more than 20,000 marine creatures of some 400 species.
63 Building is also the headquarters to such financial firms as Korea Life Insurance and Industrial Bank of Korea Securities.
International hotels nearby include the 601-room, five-star Grand Hyatt Seoul (within five km) and the 228-room Lexington Hotel (within three km). The travelling time from 63 Convention Center to Incheon International Airport is approximately 50 minutes. Transport to the airport is available by limousine or taxi, as well as by both bus and subway. n