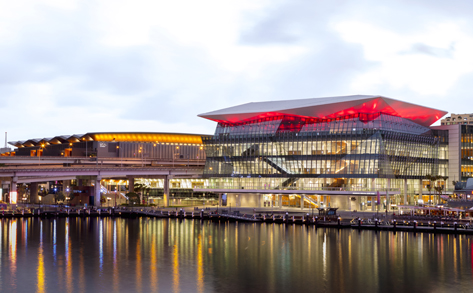 International Convention Centre Sydney (ICC Sydney) has expanded its technology infrastructure with a further investment of A$1 million in new industry-leading audio visual equipment.
The equipment, includes high-definition screens, projectors, wireless microphone kits, cameras and processors.
ICC Sydney's CEO, Geoff Donaghy, said the venue has been purpose-built to cater for the changing architecture of meetings, with the team focused on continuously elevating
event experiences.
"We have worked hard to future-proof the venue, which has the ability to further flex and adapt as new technology is introduced. This ensures we can meet the needs of every event type today and into the future," he said.
The venue has also developed a new AV and Technology guide to support clients through each step of the event planning process. The guide details the venue's complete AV and technical specifications across more than 70 meeting and events spaces, including the surrounding public areas, Convention Centre, Exhibition Centre and ICC Sydney Theatre.
Brian Nash, ICC Sydney's director of audiovisual services, said the team's expertise coupled with the additional equipment and guide, will provide a full-scale in house production service and help set a new benchmark for the industry.
Nash said this was supported by a 10Gbps optical fibre backbone and high-calibre IT network.
"Our mission is to provide a flawless digital experience that helps inspire the imagination and boosts professional development. We want to ensure visitors are impressed every time they attend an event at ICC Sydney."
The next generation of technical professionals is also being trained with vocational training with an industry-first, paid AV Graduate course at ICC Sydney's Academy of Extraordinary.