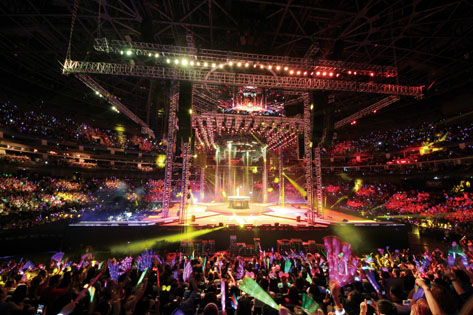 Two of Shanghai's major events and entertainment venues are expanding their operations as the city competes with Beijing in the meetings stakes.
The Mercedes-Benz Arena (MB Arena) and SNIEC – formerly Shanghai New International Expo Centre – both in Pudong, are upping their game as the 2016 ICCA Statistics Report shows Shanghai to be closing the gap on Beijing in the battle to attract associations.
The capital is fourth in last year's Asia Pacific and Middle East meetings rankings, up from fifth the year before, with Shanghai at eighth, up from eleventh.
SNIEC is consolidating its 2015 rebranding exercise, which saw it change its name, unveil a new logo, and pledge to increase quality and service, while MB Arena – primarily an entertainment venue – is expanding its showbiz and sporting operations.
The Arena (above) offers 9,300 square metres of events space, 18,000 seats, 82 luxury suites, various clubs and four meeting rooms. Its entertainment complex, which includes an 800-seat theatre, public ice-skating rink, six-screen cinema, and 20,000 square metres of retail space, is best known for hosting sports events and international stars, including The Rolling Stones, Taylor Swift, Katy Perry, Bruno Mars, Justin Bieber, Metallica, J Lo, and Usher. One Republic appeared there in September, and it is estimated that around 5.2 million people visit annually.
Sport includes the National Basketball Asoociation's Global Game China, and Fist of Power Boxing Game, with the National Hockey League and Ultimate Fighting Championship set to stage regular events.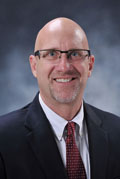 MB Arena general manager Jim Foss (left) says he is looking to build on the sport programme. "Our mission is to book as many high-profile events as possible with a focus on diversity. As a shareholder, the NBA has been conscious to bring one of its annual NBA China Games to Mercedes-Benz Arena.
"This year we are fortunate that the NHL and UFC included the arena as part of their China expansion plans. Last year we hosted WWE [pro-wrestling], Parinama International Ballroom Dancing, and a Pac 12 basketball game between Stanford and Harvard."
Foss says the arena is planning to expand its entertainment facilities. "Our next project is very exciting. We are transforming 17,000 square metres of retail business space into a 365-day entertainment destination," he says.
"Our ice rink, cinema, and 800-seat theatre will act as anchors supporting restaurants, bars, and coffee shops. This year we opened the Caster Dance Studio and a full-scale rock climbing wall, and last month we signed Cutting Up Fitness, a premium fitness centre. We plan to sign many other high-end entertainment tenants in the coming months, with the goal of being fully mature in early 2019."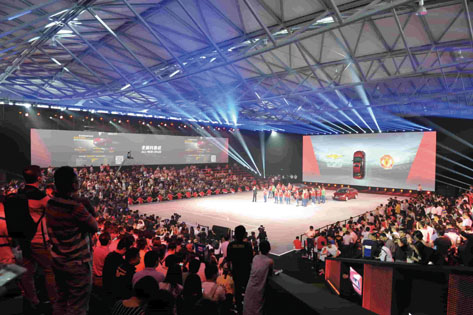 SNIEC's consolidation of its 2015 rebranding is gathering pace. The exercise included the unveiling of a new logo, combining the brand's name with two triangles representing the shape of the venue. The centre's general manager, Michael Kruppe, says the rebranding reflects the fact that SNIEC (above) "prides itself as a platform for fostering the exchange of knowledge, commerce and cultures".
"The combination of triangles expresses the spirit of co-operation, sharing and innovation. Meanwhile, red and grey symbolise vitality and wisdom." A new tagline, "Experience & Excellence" also debuted. Kruppe says the centre, which offers 17 column-free, ground-level exhibition halls, covering 200,000 square metres of indoor space and 100,000 sqm of outdoor space, attracts close to 100 world-class exhibitions and more than
4 million visitors annually.
Vowing to boost quality and service in the coming years, Kruppe says sales growth increased more than 10 per cent last year on 2015, with the venue almost sold out for the next three to five years.
"We are very active in other international markets, such as the USA, where we have successfully contracted new shows, including IAAPA, NAB, CES and World of Concrete."
Kruppe says SNIEC is also looking to increase the types of shows it hosts. In addition to classic business-to-business events, the centre now also attracts business-to-consumer events, such as gala dinners, product launches and television shows. SNIEC is also negotiating to diversify with
moto-cross shows, food festivals and sport.
Kruppe adds that SNIEC may also expand its space to better host new exhibitions and shows. "Because of the limited space during peak seasons, many customers have urged SNIEC to expand. Some high-tech shows also require more space to hold conferences so this is something we are working on," he says.
But Kruppe says the centre will not relocate and will remain on Longyang Road for the foreseeable future. It will be building more visitor-friendly amenities and creating a new platform for family entertainment activities. Kruppe says another initiative is a service quality improvement working team called the Performance Improvement Programme. Comprising members of different departments, the team's role is to strengthen communication and listen to feedback
According to the Pudong government, the total exhibition area in the district measures about 7.92 million sqm, accounting for 53.6 per cent of Shanghai's total, while the direct and indirect income of the exhibition industry in Pudong is around 9.6 billion yuan.