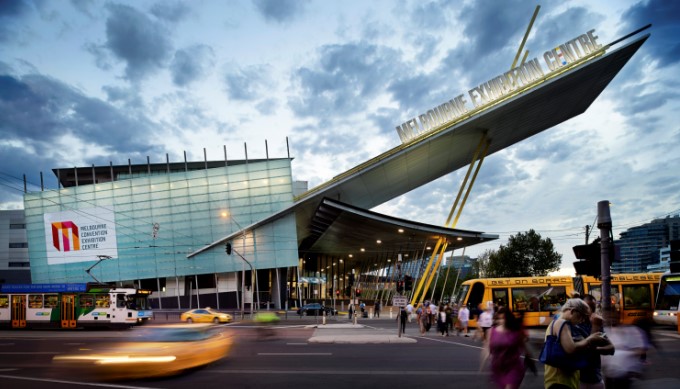 There are few places anywhere in the world that have made such efforts to create an integrated business events district in quite the way that Melbourne has.
While many Asia-Pacific metropolises have had the luxury of greenfield and out-of-town sites to build their conference and exhibition sites, the downside is that they often lack soul and closeness to the heart of their parent city.
The new Melbourne Convention Centre stands in stark contrast to that trend. Sitting on the Yarra River's South Bank, the complex is a stroll away from the city centre's many iconic spots, such as Flinders Street Station and Federation Square.
Following the decline of the city's maritime trade, Melbourne's city government decided to resuscitate swathes of the old dockland and wharf areas to bring new life to the city.
The result has been a sprouting of new entertainment, luxury residential apartments, offices, bars, restaurants and other attractions along the South Wharf.
The Melbourne Exhibition Centre opened on the South Bank in 1996 and soon became a major events centre, holding prestigious shows such as the region's leading meeting and incentives show AIME.
Now with the new convention centre adjoining it, the two buildings have now been collectively rebranded as the Melbourne Convention and Exhibition Centre (MCEC). It is now the largest such centre in Australia and one of the largest in Asia-Pacific.
The official opening this year on June 5, World Environment Day, was particularly fitting for a centre that has put green design at the heart of its mission statement.
Design of the centre includes an 18m-high glass wall façade facing the Yarra River and a fan-shaped 5,000-seat plenary hall that can be divided into smaller conference and meeting spaces.
State-of-the-art technology allows rapid set-up, including a spectacular tiered cabaret-style seating configuration.
There is a ballroom and 32 meeting rooms of varying sizes.
Meanwhile, the centre has put a great deal of emphasis on delivering quality to hungry and thirsty delegates.
The aptly named Frank Burger, the MCEC's food and wine manager, said the venue prided itself on sourcing the freshest ingredients it could from local producers and turning them into five-star cuisine.
"We don't look at the size of the group when we're preparing a menu, it's all about what is in season locally, and then sourcing the freshest, best quality product we can, whether it's for 20 or 2000.
"We work directly with reputable wineries in each region to access hard-to-find wines as well as their more readily available products which allows us to offer our clients great wines at various prices."
Not that conference delegates would go hungry in any case. The South Bank boasts some of the best restaurants in Australia, with names such as Nobu and Neil Perry to be found at the nearby Crown Towers. They will soon be joined by fiery Gordon Ramsay at the Crown Metropol, when it opens next year. Accommodation at the Crown complex, consisting of the Crown Towers, Crown Promenade and Crown Metropole, will provide more than 1,500 rooms within walking distance. On top of that is the newly opened 396-room Hilton Melbourne South Wharf, which adjoins the new centre.
MCEC is widely praised by organisers.
Event Planners Australia general manager Suzanne Best has described the MCEC as a "spectacular venue". ICE (International Conferences & Events) Australia managing director Christine Dorner says: "I have spread the word to staff and services about the facilities at the MCEC – they are amazingly advanced and will definitely enhance meetings in Melbourne."
Already 50 major international conventions and a predicted 190 national conventions, meetings and large seminars have been won for the centre between 2009 and 2015, bringing more than 270,000 delegates to Melbourne.
6 STAR CENTRE
The Melbourne Convention Centre is the first centre in the world to achieve a 6-Star Green Star environmental rating. The building's design and operational features include:
Energy: Displacement ventilation – low-level air delivery and high-level air exhaust in the plenary hall and foyer areas provide effective air flow with high indoor air quality at low energy consumption.
Expansive glass facade lets in natural light to the foyer and pre-function spaces. This reduces the need for artificial light and provides good thermal qualities in the winter months.
Solar hot water systems offset more than 40 percent of general hot-water requirements and provide 100 percent of public amenity hot-water needs.
Efficient lighting is design with daylight and motion detection control features.
Water: A black-water treatment plant collects building wastewater and some stormwater to provide treated water for toilet flushing, irrigation and cooling towers.
Water-efficient fixtures and fittings, including urinals that use a chemical system rather than a water flush.
Indoor environment: Radiant slab heating and cooling in the foyer (with pipes in the concrete floor carrying hot or cold water to heat or cool the slab) provides a more comfortable internal environment with good thermal comfort levels.
Carbon dioxide monitoring ensures fresh air is continually delivered to the convention centre.
Materials: Use of FSC (Forest Stewardship Council) timber, which is environmentally friendly, rather than products from non-renewable timber. The centre uses of sustainable furnishings and floor coverings.
Source mcec.com
FAST FACTS
Capacity
Largest seated capacity: 5,000
Cocktail reception, entry-level foyer can hold 8,400 guests
Total meeting rooms: 32 in various sizes (and an additional 20 in the adjacent exhibition centre)
Contacts
Melbourne Convention Centre
1 Convention Centre Place
South Wharf Victoria 3006
tel: 61 3 9235 8000
email: enquiries@mcec.com.au
eebsite: www.mcec.com.au