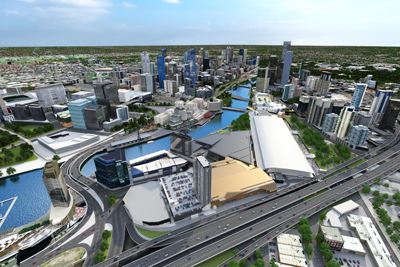 The management team at Melbourne Convention and Exhibition Centre (MCEC) anticipate an A$167 million boost to the state's economy and an additional 74,000 visitors through the venue's door each year once the ongoing expansion is completed.
Currently underway, the A$200m upgrade is due for completion in mid-2018, and will increase the venue's total size by nearly 20,000 sqm.
MIX Pick: 12 of the best event space upgrades in Asia
Speaking to MIX at the most recent Asia-Pacific Incentives and Meetings Expo (Aime) in Melbourne, Michael Walsh (left), the centre's director of strategy and innovation, said the expansion goes beyond the physical space: "Really what we're doing is taking our renowned service and product offering and making a larger footprint. We're growing our footprint by about 25 per cent, and bringing all those operational efficiencies we're renowned for here into the new space."
New opportunities
Walsh said he expects the upgraded venue to attract a "more diverse range of business events".
"It could be through optimisation of our space, it could be through moving certain sized events into our new theatre space," he said.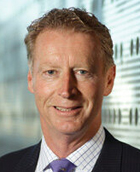 Also speaking at Aime, his colleague Peter King (right), MCEC chief executive, told MIX: "The type of diversity and events we're doing now was never contemplated in the original brief. That's been a huge change in the last four or five years. We're doing concerts and boxing matches and cultural festivals as well as all the serious convention and exhibition business. And that will only continue [once the expansion is completed]."
How the MCEC expansion will cater to the Gen Z challenge
Expansion overview
The A$200 million upgrade will add nearly 20,000 sqm of multi-purpose event space, bringing MCEC's total size to 70,000 sqm, at which point MCEC will be the largest convention space in Australia.
Among the new facilities is a multi-purpose area with a retractable 1,000-seat theatre (drawn below).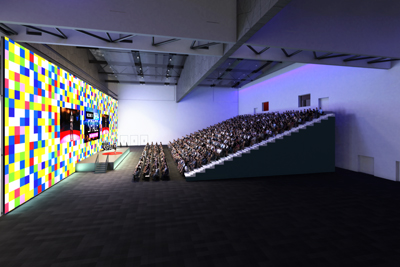 Other new amenities include: a 450-pax banquet room; 9,000 sqm exhibition space; informal networking spaces; an outdoor event courtyard; a balcony area with space for 150 standing; a new multi-level car park and 331-room hotel.
King says the new space "has been architecturally designed to suit the needs of our customers, to make sure our facilities meet their needs, rather than adapting their event to suit our space."
"Within our new building, event organisers can stage an exhibition, which can then transform into a plenary session and then convert into a gala dinner space for the same event. It truly is a dynamic and unique space and our customers are already telling us that this will be a game-changer in the industry."
Bookings start from July 2018. King says the venue has already secured or is in the process of contracting over A$15 million of revenue.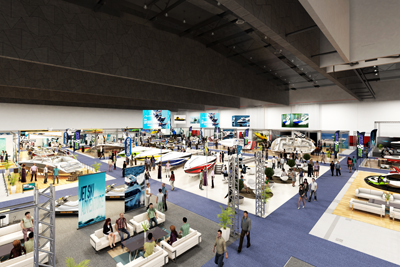 Photo: a drawing of the new exhibition space
Bumper year
Though continuing throughout 2017, the expansion work is not due to hinder the venue's hosting prospects for the year.
With 1,100 events in the diary and more in the pipeline, MCEC is on track to exceed last year's total 1,052 events.
Sizeable international events include the 15th World Public Health Congress, expected to draw over 3,000 attendees in April; the International Dragon Awards, due to attract over 5,000 delegates in August; and VidCon Australia, with over 7,500 attendees expected in September.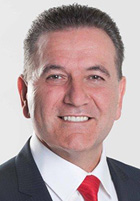 "The expansion of MCEC will ensure events continue to return to our city, and we're working to provide our interstate and international guests with an authentic 'Melbourne' experience every time," said Victoria's minister for Tourism and Major Events John Eren (right).
Among the many domestic returnees are: the Australian All-Star Cheerleading Federation National Cheer and Dance Championships; Penny Arcade Expo Australia; and Victoria's Royal Children's Hospital Good Friday Appeal, which welcomes over 80,000 attendees to the venue each time.
King said: "it's an exciting time to be involved with MCEC and our growing business. We've got big plans, big ideas and a big year ahead to focus on."
"We will welcome events of all types and sizes, and are committed to ensuring each event in 2017 is a complete success for our customers – that's our number one priority this year," he added.
Hat trick success
The venue snatched up two awards at the most recent Victorian Meetings and Events Australia (MEA) Industry Awards: best 'Meeting Venue 500 Delegates or More' and top 'Banqueting and Catering' for Victoria.
In addition, MCEC's operations manager Darren Southurst was named 'Operations Person of the Year'.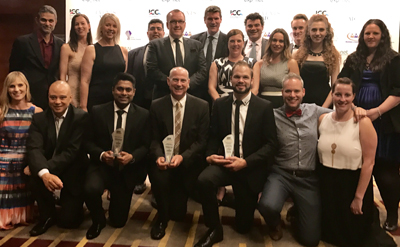 "These awards support years of hard work and dedication, and an ongoing commitment to an excellent customer experience," said MCEC chief operating officer Leighton Wood. "It's always terrific to see the team recognised for their efforts."
MCEC is a finalist for the above categories in the 2016 MEA National Awards, which will be announced at the MEA National Conference on May 2.
Main picture: a drawing of the upgraded MCEC