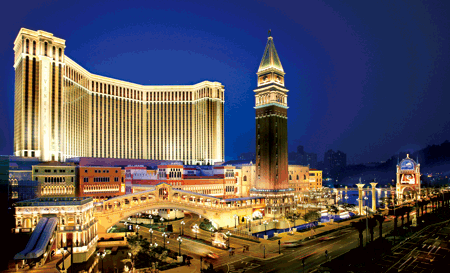 A beacon of architectural accomplishment and a modern marvel of engineering ingenuity, the Venetian Macao stands proud on a man-made island, just off the coast of the Macau peninsula. One of the world's largest buildings, when it first opened in 2007, the Venetian's size was unprecedented. Inside the mega structure is an awe-inspiring 6,500 sqm pillarless ballroom, which is still the largest event space in Macau.
Today the property is part of the even larger development – Cotai Strip Macao – an interconnected complex comprising 9,000 rooms, five hotels, hundreds of restaurants, dozens of leisure options and more than 100,000 sqm of meeting space.
Gene Capuano, vice president of convention & exhibition operations, at the Venetian Macao says: "It's almost impossible to visualise the space. When we've got a sit down meal of more than 3,500 people, I'll often close my eyes and say a little prayer that everything goes smoothly."
Despite the challenge, Capuano has every confidence in his team. The Venetian alone successfully delivers between 50 and 70 large business events every year.
He says: "We're currently preparing to host a large Tupperware event. with many thousands of attendees and every one of those people will need a bed, breakfast, lunch and dinner. As a group, they'll also need the space for meetings and entertainment."
To seamlessly deliver such mega-sized meetings, all five of the hotels at the Cotai Strip Macao work in harmony. The properties operated by Conrad, Venetian and the Holiday Inn share the same management team. The Four Seasons and the Sheraton hotels, meanwhile, also have their own team. Overseeing the entire property is the owner, Sands China Ltd. It is this umbrella that makes co-operation integral to the destination's DNA.
Natasha Tomé, executive director of marketing, MICE Sands China Limited says: "We are a one-stop-shop for business events. With convention centres, entertainment and accommodation, it's a totally integrated resort."
For planners, the result is a diverse choice of prices, accommodation styles and incentive options. Capuano points out: "This is what makes us so unique. I don't think there's anywhere else in the world where you'll find such a set up. We're creating the template for these kinds of operations."
Sally-Ann Klap, director of sales at Sheraton Macao agrees. She says: "That spirit of unity is really important. We work together on bids for conventions and pool our facilities to secure larger events. For planners, we offer multiple properties but a single point of contact, which means you only have to make one negotiation. When arranging accommodation for large groups in Bangkok and Hong Kong, in can be a real headache to negotiate with multiple hotels. Having everything under one roof also means it's less likely that someone will get lost along the way. It just makes everything that much easier."
It's not just the Cotai Strip Macao's onsite infrastructure that is impressive. The local government also offers significant financial incentives to groups looking to hold events here.
Tomé says: "The amount of money available depends on the activity and the group size. It could be a ten per cent discount on the total cost of the event, subsided meals for delegates or a rebate on the costs of a site inspection. It all depends on government approval, of course, but we can facilitate the application process."
From a logistical standpoint, accessing Macau and the Cotai Strip is often considered a challenge. Sands China Ltd also operates the Cotai ferries, which means group transportation to and from Macau is often much easier than planners anticipate.
Capuano says: "One of the problems many people expect when they consider hosting events in Macau is the transportation. The airport isn't as developed as we'd like it to be and most groups have to fly in via Hong Kong. Although some find travelling in from Hong Kong to be a bit of a stretch, because we can charter ferries, we assure them that it's not."
A recent event arranged for Japan's Miki Prune Corporation required Capuano's team to charter five ferries. "When they arrived in Hong Kong, the ferries brought them directly across, as the groups had their bags tagged in Japan. The whole process was a clear demonstration of how to easy it is for us to transfer groups to the destination," he explains.
Indeed, the future also holds a number of key developments that will make arrivals to Macau even easier. Perhaps the most tangible and exciting is the new Hong Kong-Zhuhai- Macau Bridge, a 50km-long road scheduled to open in 2016 that will link up these three major Pearl River cities.
"The bridge will make a huge difference," says Klap. "We will be just 60km away from Hong Kong airport by road, making transfers much easier. I've been in Macau for more than six years and seen a huge change. The next six years will be even more exciting."
Although Capuano agrees, he's also well aware of the challenges that lie ahead. "That's why I keep a keep a notepad on my nightstand. You never want to forget what it is you have to do next."
CONTACT Natasha Tomé
TEL +853 2886 6888
EMAIL enquiry@cotaistrip.com
WEBSITE en.cotaistrip.com