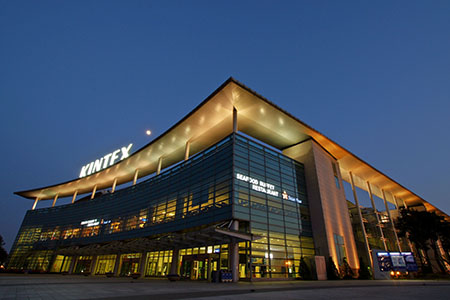 Winter sports fans will be fixated on their TVs and digital devices as PyeongChang 2018 gets underway in February. In South Korea's east, however, venue operators have set their own challenge once the action on the snow and ice is out of the way.
The next three years will be a vital period in the development of the award-winning Korea International Exhibition and Convention Centre as it takes a "leap forward" to become a world-class venue.
KINTEX director of convention business and international sales and marketing, Phil Chung, says the venue – the largest in South Korea – plans to position itself among the global top ten exhibition and convention centres.
"The next three years will be a defining period for KINTEX to take a leap forward to become a world-class showroom," he says.
"It will continue to grow by leading the integration and enlargement of existing exhibitions and events, attracting international events, and promoting the internationalisation of facilities and events.In addition, it will establish its status as a leading exhibition convention centre in the world by raising the quality of event support services with efforts to foster global human resources."
KINTEX, in Goyang City, Gyeonggi province, between Seoul and two major international airports, opened in April 2005 with a first phase total indoor exhibition area of 53,541square metres, five exhibition halls, around 3,000 sqm of outdoor events space and 23 divisible meeting and conference rooms, including a multi-functional grand-ballroom for up to 2,000 people.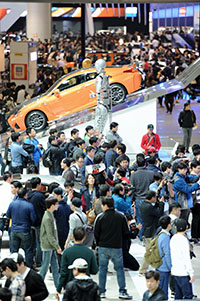 KINTEX 2 opened in September 2011, with an additional 54,508 sqm of indoor exhibition space, another five exhibition halls, more than 15,000 sqm of outdoor events space and 17 large meeting and conference rooms, including a multi-purpose events hall for 6,000 people.
Speaking recently, KINTEX president and CEO Chang Yuel Lim spelled out his vision for a third phase of development. "As the world's eleventh largest economy and a trading volume ranked sixth in the world, Korea plays a key role as a test-bed market and bridge to the Asia Pacific region's major economies.
"Now that the first two phases of construction were completed in 2004 and 2011, we are looking forward to starting the third phase of KINTEX, which will provide an additional 70,000 sqm of indoor space to our existing 108,566 sqm by 2022.
"For the sake of comparison, KINTEX is larger than the current New York's Jacob Javits Center and, when the third phase is completed, it will be similar in size to Messe Munich in Germany.
"Together with our expansion plan, KINTEX is also looking forward to several futuristic smart city projects, including Northern Gyeonggi Techno Valley's smart housing town for young people, and the technology-driven K-Wave Culture Valley, among others.
"I have no doubt that trade show and convention organisers, both domestic and international, can identify many promising business opportunities with KINTEX as the main gateway to North Asia's trade show market."
He added that the venue has also built affiliations with around 70 hotels and business hotels and residences, and, that when the first Great Train Express stations opens at KINTEX by 2023, it will take just 15 minutes to reach the venue from Seoul station.
Convention business director Phil Chung says the venue has added eco-friendly policies to its operation and is working "to contribute to the global expansion of the Korean economy by creating new international business opportunities".
He says a mark of the venue's success is its recent winning bid for the Intelligent Conference award at World MICE Day in Qingdao, China.
"KINTEX was highly evaluated in terms of planning, attracting and holding international conferences, and use of advanced ICT technology
in marketing," Chung says.
"It was acclaimed and selected as a global best practice organisation by a number of conference organisers. Winning the award solidified its status as the best exhibition centre in Korea and earned it international recognition as a premier exhibition venue."
Chung says a key factor in the venue's success is the way it works with national and local convention bureaus to attract business. These include Gyeonggi MICE bureau and Goyang Convention Bureau, which was established in 2016.
Last year, Rotary International Convention 2016 set a new record for event attendance by attracting nearly 50,000 visitors from 123 countries, and KINTEX played a key role.
Korea's major trade shows, including Seoul International Machine Tool Show, Seoul Motor Show, and the Seoul Food and Kyunghyang Housing Fair, have also based themselves at KINTEX.
Current and upcoming shows and exhibitions include Design Korea 2017, SENDEX 2017, My Trade Trend Fair, K-Safety Expo, and ROTREX 2017.