AN ENTIRELY in-person conference at International Convention Centre Sydney – the first at the venue since Covid-19 restrictions came into effect in March.
Delivered for medical education provider HealthCert Education, ICC Sydney more than 125 doctors and health professionals for the interactive HealthCert Education certificate courses and workshops presented in person.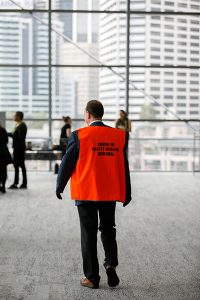 Taking place from September 19-20, the conference was delivered in line with ICC Sydney's EventSafe Operating Framework while meeting the 150-person limit per event under current New South Wales Government regulations.
ICC Sydney CEO, Geoff Donaghy, said the event marked an important milestone on the business events industry's road to recovery following the impact of Covid-19.
"I am pleased to welcome in-person conferences back to ICC Sydney for the first time since the introduction of Covid-19 restrictions. The ICC Sydney team have worked tirelessly to develop a rigorous framework to allow us to begin confidently running in person events, such as this event for HealthCert Education.
"Through ICC Sydney's EventSafe protocols, we can continue to bring people together and provide clients with the opportunity to meet with peace of mind that the utmost safety measures are in place."
ICC Sydney activated various components of its 'EventSafe' operating protocols to ensure the HealthCert event was able to proceed safely.
Voice… ICC Sydney and Covid-19
Measures included a streamlined event-arrival process, extensive hygiene measures including hand-sanitiser stations, contactless solutions for payment, regular cleaning of common touchpoints and use of acrylic screens.
Each meeting room was set up to accommodate physical distancing of one person per each 4 sqm and allow for seating to be set 1.5 metres apart.
Founder and CEO of HealthCert Education, Paul Elmslie said delegates were impressed with the safety provisions and quality of the event delivery for the practical workshops.
"We couldn't be more pleased with our experience with ICC Sydney for the HealthCert Education certificate courses and we look forward to collaborating on the upcoming events in our calendar," Elmslie said.