"The Hong Kong Convention and Exhibition Centre (HKCEC) achieved a record event attendance of 5,969,789 for its fiscal year 2010-2011, a surge of 25 per cent from the previous year. This significant jump in attendance was the result of an enlarged event portfolio – 1,235 events were held at the HKCEC during the period, many expanding in size."
The figures from HKCEC's latest report card speak for themselves. For 23 years, the HKCEC has proven to be a hardy perennial, surviving the ups and downs of both global and regional economies. Since opening in 1988 – introducing unprecedented corporate cachet to the Wanchai district, which was more renowned for its seedy after-hours activities and the spectre of fiction's lovable "Suzy Wong" – this harbour-front facility continues to represent Hong Kong's eternal ambition to lead as the events capital in Asia.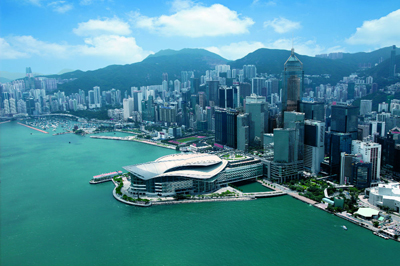 Going back to its 2010-2011 achievements, HKCEC management reports that 116 exhibitions were held onsite, utilising an average gross exhibition area of 16,272 sqm. Of these 116 exhibitions, 18 utilised a gross area of 30,000 sqm or more, 102 were recurrent exhibitions and 10 were new. Of the recurrent exhibitions, 35 recorded double-digit growth in terms of gross exhibition space compared with their previous editions. The upward trend ranged from 10 per cent to as much as 83 per cent.
These positive outcomes could not have been possible without investment in HKCEC's physical expansion. In 1997, customer demand required and saw the doubling of prime function space (also setting the stage for Hong Kong's handover to China). Ten years later – in order to sharpen its competitive edge as Singapore, Kuala Lumpur and Bangkok emerged with their own business events arsenal – HKCEC embarked on a second expansion project, which was completed in 2009.
Monica Lee-Muller, deputy managing director of HKCEC Management Ltd (HML), responsible for the day-to-day operations of the facility, remarked: "The additional space has enabled the centre to expand many of its existing shows as well as add new events to its already very extensive portfolio. The expansion has improved logistics and functionality throughout the overall venue, ensuring that Hong Kong's status as Asia's trade fair capital will remain intact as the industry grows."
Gloria Fong, HKCEC communications deputy manager, explained that with the extension of certain floors and additional escalators and lifts, crowd management has become less problematic. Wifi bandwidth has been increased to accommodate 3,000 users (from 1,000 users previously), and wifi access is free of charge in the public spaces and exhibition areas, so crucial with the demand for connectivity and the role technology plays in promoting vendors' products.
Against the backdrop of a dynamic trading environment – it helps to have China at Hong Kong's doorstep – all of HKCEC's available space, including the recently added 818 sqm Chancellor Room which fits 580 guests, never lack for occupants. A happy dilemma indeed, Fong admitted to Mix, but it does prevent certain spaces within the building from being used in a more creative manner, because of the heavy influx of visitors and delegates. The latest enhancement phase created a rooftop deck, which unfortunately cannot be allotted for evening affairs, despite clamour from meeting planners, due to strong winds and the humid climate. Instead, it is the location for an employees' garden, part of HKCEC management's ongoing efforts to instil a stronger awareness of the environment.
As a pioneer in the business events arena, HKCEC is also keen to blaze trails in energy conservation. Equipped with 87 escalators, 25,800 fluorescent tubes and 1,045 faucets in a total gross area of 306,000 sqm, this has been no small challenge for the sprawling facility. Comparing 2009 with 2007, efficient strategies such as installing LED lights and stringent control of lights on-off policy have helped HKCEC attain a 14 per cent carbon reduction in its operations, far more than the minimum global requirement. And since then, it's even gone up to 16 per cent carbon reduction rate. Said Monica Lee-Muller of HKCEC's management team: "With over 1,000 events held at the HKCEC annually, our long-term target is to mobilise organisers, exhibitors and visitors to join our carbon footprint reduction programmes."
Key Facts
CAPACITY
TOTAL FLOOR AREA: 306,000 sqm
SITE AREA: 92,400 sqm or 9.24ha
EXHIBITION SPACE: The purpose-built Exhibition Hall space measures 66,000 sqm, with six exhibition sections.
CONFERENCE SPACE: 52 meeting rooms covering 66,000 sqm; two multi-purpose halls for conventions or banquets taking up 5,700 sqm; and two theatres with seating for 336 and 637 taking up 800 sqm.
OTHER FACILITIES
There is another multi- functional rental space of 13,000 sqm. There are seven restaurants, serving a variety of cuisines from Cantonese to Italian and Japanese. The New Shanghai restaurant has just been added to the mix.
Adjacent and connected to the HKCEC are the 549-room Grand Hyatt and 776-room Renaissance Harbour View Hotel, as well as a 580-unit serviced apartment tower, 39-storey office block, a shopping arcade, dominated by a large showcase of the Hong Kong Design Centre, and two underground car parks.
CONTACT
Hong Kong Convention and Exhibition Centre
1 Expo Drive, Wanchai, Hong Kong SAR, China
TEL: +852 2582 1111
EMAIL: info@hkcec.com
WEBSITE: hkcec.com
Mega host
Huge visitor turnout and handsome returns keep these shows growing year after year.
HKTDC Hong Kong Watch and Clock Fair – World's largest watch and clock fair
Hong Kong Jewellery & Gem Fair – World's largest jewellery fair
HKTDC Hong Kong Gifts & Premium Fair – World's largest gifts fair
HKTDC Hong Kong Electronics Fair – World's largest electronics fair
Vinexpo Asia-Pacific – World's largest wine show
Hong Kong Toys and Games Fair – Asia's largest toy fair
HKTDC Hong Kong Houseware Fair – Asia's largest houseware show
Cosmoprof  Asia – Asia's largest beauty trade fair
Hong Kong Fashion Week for Fall/Winter– Asia's largest fashion event
HIGH-PROFILE EVENTS:
1997 IMF World Bank Conference
2005 WTO Hong Kong Ministerial Conference
88th Lions Clubs International Convention in 2005
2008 World Opthalmology Congress
2009 Sibos