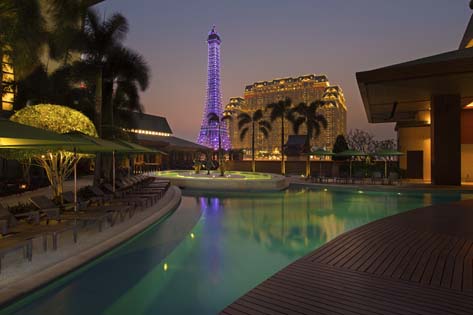 MACAO is a big name these days, and there is little doubt about that. But as a destination with an enviable choice of integrated resorts it puts conference and event planners in something of a dilemma: how can organisers be truly selective in finding space to meet the requirements of high-level executives and the large groups they need to address?
Sheraton Grand Macao Hotel and The St. Regis Macao have a proven track record in hosting corporate events that entail conferences, breakouts, dining, entertainment and options for teambuilding and excursions for delegates to experience the host city.
So too do other properties, but what makes the difference here is two prestige names with a famous location along the Cotai Strip, combined with their ability to host conferences and events across the two properties. There is also much more in terms of venue flexibility and reputable service traditions.
What will most impress conference and event planners, however, is that your big occasion can be held across Sheraton Grand Macao and The St. Regis Macao thanks to a seamless connection between the two properties at the meeting-room level.
With this in mind, planners can turn their attention to how they accommodate various teams arriving for a conference or another major company event. Your senior C-suite executives, for instance, can be booked into The St. Regis Macao, while Sheraton Grand Macao will equally impress the larger sections of the delegation.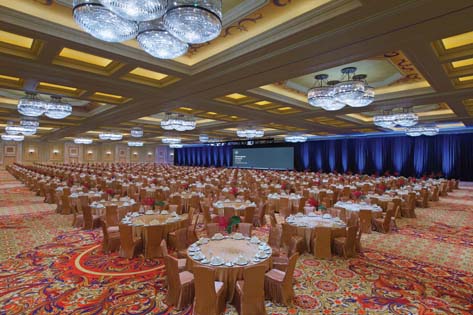 The St. Regis Macao provides a butler service so senior delegates can focus on the agenda ahead and devote time to getting their message across to teams. While the pillarless Kashgar ballroom (above) caters for up to 5,000 guests, The St. Regis Macao offers the more intimate and chandeliered Astor Ballroom plus five meeting rooms, all with the technology you need and natural daylight.
By contrast, Sheraton Grand Macao provides more than 4,000 guest rooms and suites. Its MICE credentials make it the meetings and events hotel in Macau with The Kashgar Ballroom spanning over 4,800 sqm and an additional six junior ballrooms providing 14,000 sqm of meeting space at the property.
The choices of guest-room allocation are taken to even greater heights with Sheraton Grand Macao's spacious Ambassador and Presidential suites with exclusive access to the Sheraton Club Lounge.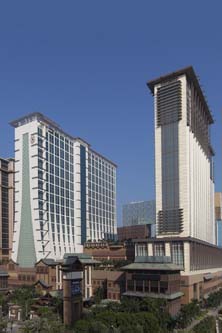 Key to Sheraton Grand Macao's success as a MICE hotel is the Event Service Team whose members are the main contact people throughout the event to ensure that all runs smoothly, from the conference audiovisual to ideas for themed meetings.
When the day's business is done, relaxing venues for your teams to gather or enjoy an evening of entertainment are conveniently located. Among the choices for senior team members are The St. Regis Bar and the hotel's poolside.
The wonderful backdrops around the Cotai Strips make splendid locations for the whole team to celebrate. Outdoor locations enable groups to gather beneath Sands Cotai's Eiffel Tower within an easy walk from Sheraton Grand Macao and The St. Regis Macao.
Macao's splendid heritage is never far, whether in nearby Taipa or across on the peninsula's old town. Opportunities to motivate teams and bond are also at hand back at the hotels.
Teambuilding options include cooking classes with top chefs from the hotels, or mixing cocktails with a resident bartender. Uplifting sessions can also be organised outdoors with circuit training, or country hikes in Coloane.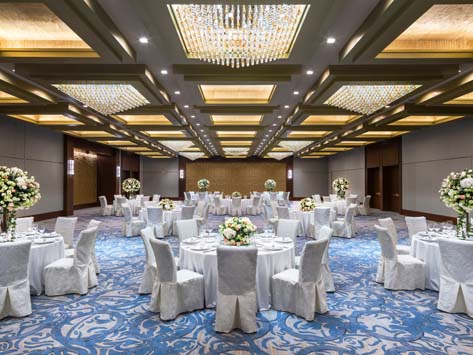 As Macau's regional stature continues to rise, and Sheraton Grand Macao and The St. Regis Macao host conferences of scale, tending to the requirements of planners is first and foremost.
The Meetings Beyond Imagination package offers a host of benefits while ensuring your event is nothing short of spectacular, while smaller details are also tended to.
For stays until December 20, 2019 and booked before December 31, 2018 benefits include 5% off master bill, complimentary upgrades and extra rooms – depending on numbers – with 50% off Cotai Water Jet tickets and more.
Read more MIX stories about The St. Regis Macao
Read more MIX stories about Sheraton Grand Macao