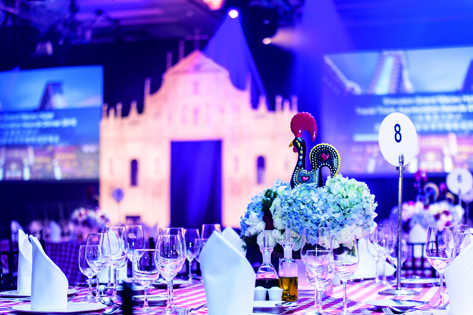 WHEN the Rolling Stones performed at the Cotai Arena, singer Mick Jagger told the audience how he enjoyed Macao's famous egg tarts. Since then Macao's cuisine has come in for even higher praise: by being listed as a Creative City of Gastronomy by Unesco, the United Nations Educational Scientific and Cutural Organisation.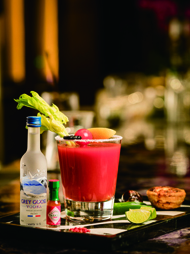 The comments by the legendary frontman showed that Macanese cuisine and snacks impressed not only locals, but also visitors from across the world. So much so that Macao was designated as the Unesco Creative City of Gastronomy with the former Portuguese enclave's cuisine granted cultural recognition along with the old town's heritage buildings.
Meeting and incentive planners can give their groups a taste of all this and more with the Macao Inspired Experience created by Sheraton Grand Macao Hotel and The St. Regis Macao.
Macao-themed dinners and coffee breaks reflect the city's enduring Portuguese and Chinese history, culture and tradition with the two hotels crafting gastronomic experiences that bring the "go-local" atmosphere to groups.
Themed Dinner – Macau Fiesta: Exclusively designed by Sheraton Grand Macao Hotel, the décor is inspired by the old town's iconic landmarks. As guests step into the ballroom, they will find themselves surrounded by sights such as the facades of the Guia Fortress, Taipa Houses Museums, A-Ma Temple and the Ruins of St Paul's adapted to become food booths.
Tabletops are given the red checked-cloth touch while the buffet's wide variety of Portuguese and Macanese dishes leaves delegates marvelling at old Macao. The entertainment also harkens back to Macao of yesteryear with dancers, Fado saxophonist, traditional paper-cutters, calligraphers and more.
Macao-themed Coffee Breaks: While business plans and targets are dealt within the elegant meeting rooms of the Sheraton Grand Macao Hotel or The St. Regis Macao, the hotel provides two "Go-Local – Macao Inspired" menus for when proceedings are adjourned for refreshments.
One draws on Macau's Portuguese and Chinese flavours for a mix of savoury and sweet Macanese dishes such as Pork Chop Bun, Almond Biscuits and Serradura – a biscuit crumb and cream trifle. Then there is the Dim Sum Trolley from where delegates can share in a time-honoured ritual found in Macao and other parts of southern China.
Cooking Class a la Masterchef: Groups have a great opportunity to bond with each other while learning how to cook the signature Portuguese Seafood Rice from Sheraton Grand the hotels' culinary team. This is just one of the Macau-oriented teambuilding activities available to groups.
Meetings and events can be held across Sheraton Grand Macao Hotel and The St. Regis Macao as both properties are seamlessly connected on the meetings floor. Sheraton Grand Macao Hotel offers more than 14,000 sqm of meeting space, which can be divisible into 113 individual meetings rooms.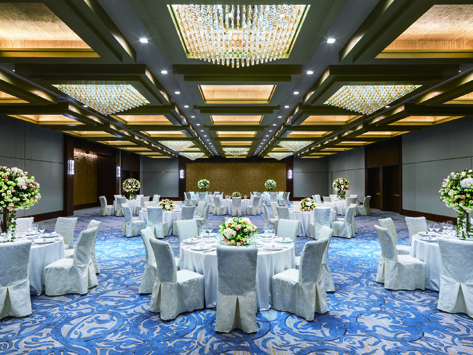 While Sheraton Grand Macao Hotel has the pillar-less Kashgar Ballroom that can cater for up to 5,000 guests, The St. Regis Macao heightens the elegance with venues that include the regal Astor Ballroom (above) and five smaller meeting rooms.
For conference and incentive planners the accommodation formula could not be more eminently simple: VIPs or board members can stay at The St. Regis Macao with the main group at the Sheraton Grand Macao Hotel.
The St. Regis Macao offers a heritage of immaculate service and attention to detail with traditions such as butler service, the Bloody Mary ritual and Champagne sabring. All these and more are long associated with the brand that originated with the Astors in 1920s New York.
To let your groups experience this combination of Macao Gastronomy, superb event space and elegant accommodation in two interlinked hotels, take advantage of the Meetings Beyond Imagination package.
+++
MEETINGS BEYOND IMAGINATION
Stay Period: Until December 18, 2020
Book an event before December 31, 2019, organisers and delegates can enjoy special privileges on cocktail reception, AV equipment, restaurants & bars, spa and even shopping (T&C apply) at the Sands Resorts Macao.
In addition, event organisers can enjoy more when booking more.
Book more and get more:
• Book 25-100 rooms daily and enjoy 1 offer
• Book 101-150 rooms on peak and enjoy 2 offers
• Book 151-200 rooms on peak and enjoy 3 offers
• Book 201 rooms or more on peak and enjoy 4 offers
Offer:
• 5% off the master bill
• A complimentary room for every 25 rooms booked
• A complimentary room upgrade for every 25 rooms booked
• 50% off ferry ticket
Offer applies to bookings with a minimum stay of two consecutive nights with 25 rooms per night, together with the purchase of a standard meeting package and/or standard banquet menu for all group attendees.