The riverside convention precinct at South Bank, home to Brisbane's vibrant arts and cultural community, will see a new landmark as the five-storey Brisbane Convention and Exhibition Centre (BCEC) on Grey Street opens this year.
BCEC's "boutique expansion" vows to create Australia's "most flexible meetings and events venue", adding a total of 24,000sqm of floor area to ramp up the centre's combined available space to 171,000sqm. The new extension is designed to cater to the needs of small- and medium-size events between eight and 600 people. The existing facility can hold events for up to 8,000 attendees.
"The five levels of boutique convention space would allow organisers to 'own' entire floors for their events with the support of first-class infrastructure," says Bob O'Keeffe, BCEC general manager. "The multipurpose Sky Room and Sky Terrace is set to be Brisbane's finest function space with expansive city and river views."
BCEC on Grey Street will offer an additional 20 function spaces for events as well as two auditoria and two private boardrooms. It also triples the number of BCEC Speakers' Presentation Centres, with two more being built in the new extension.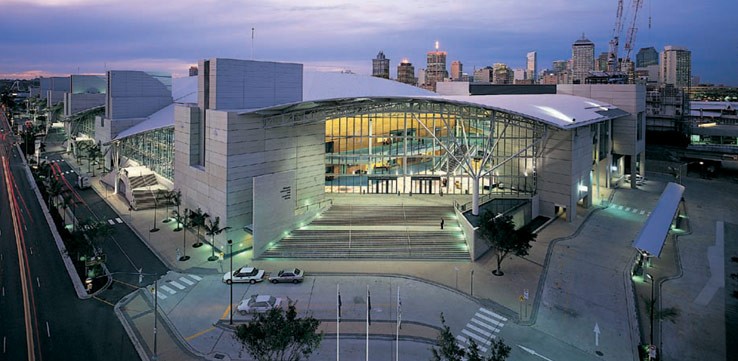 "We will have unrivalled flexibility to meet the demands of a range of events of varying size and complexity. We also bring to the table an enhanced level of personal service. Among others, we have an in-house team of AV professionals who are there every step of the way, with one of the largest equipment inventories in Australia," O'Keeffe adds.
This new kid on the block has proven to be a magnet for meeting professionals, with 35 events already confirmed and 11 international meetings awaiting confirmation. Indeed, BCEC on Grey Street is opening at the height of the centre's busiest year on record with 103 conventions, 18 of which are in excess of 1,000 delegates.
The centre's one-year-old Convention Advocates Partnership Programme, which is made up of a group of Australia's leading scientists and academics, has been successful in attracting a new sector of international meetings to Brisbane.
"We are showing that Brisbane is a world leader in breakthrough scientific developments and an international centre of knowledge," O'Keeffe says. "The city itself has established a firm reputation as the country's new world city – successful, dynamic with a combination of unique selling points supported by sophisticated infrastructure."
BCEC has become a destination in itself, known for its award-winning F&B offerings – hardly surprising when it has the first dedicated Tasting Room in a convention centre in Australia. It is also the first purpose-built centre in the country to have a permanent art gallery.
BCEC has been voted among the top three convention centres worldwide on three separate occasions. It also has strong CSR credentials, particularly in the area of sustainability and environmental protection by having a custom-designed carbon calculator and a choice of green event management initiatives, among others.
Looking ahead, O'Keeffe says: "Launching and bedding down BCEC on Grey Street into the marketplace has to be a priority. The Asia-Pacific region remains a strong focus for us, particularly with our scientific colleagues saying how important their collaborative relationships across the region are."
Key Facts
CAPACITY
TOTAL FLOOR AREA: 24,000sqm
CONFERENCE SPACE: The new building will add 20 meetings and events spaces, increasing by 52 percent the number of BCEC's convention facilities.
The expanded centre will have a total of 44 meeting rooms and venues.
OTHER FACILITIES
The Sky Room and Sky Terrace can fit 410 and 160 people respectively. There are also two auditoria that can seat 425 and 621 people respectively. There is also an accompanying foyer space, two dedicated Speakers' Presentation Centres and two executive boardrooms.
CONTACT
Brisbane Convention and Exhibition Centre on Grey Street
PO Box 3869, South Bank 4101, Queensland, Australia
TEL: +61 7 3308 3000
EMAIL: sales@bcec.com.au
WEBSITE: www.bcec.com.au

EVENTS CALENDAR
Among the first international meetings to be held at BCEC on Grey Street are:
Oceania Tobacco Control Conference 2011
ICMAN 6 (Sixth International Conference on Mechanisms of Action Nutraceuticals 2011)
Pacific Federation Meeting – International College of Surgeons 2012
34th Annual Meeting of The Bio-electromagnetics Society 2012
International Congress of Voice Teachers 2013
International Council on Alcohol, Drugs and Traffic Safety 2013