A RETAIL mall targeting health and fitness enthusiasts is being added to the revamp of Queen Sirikit National Convention Center in Bangkok.
NCC Management & Development, the venue's operator, has unveiled the BALM (Bangkok Active Lifestyle Mall) concept the retail space at QSNCC which is due to reopen in September.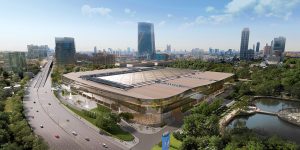 QSNCC is being positioned as a "world class event platform" and one of the foremost in Asia. It will feature two main exhibition halls with more than 45,000 sqm of space and the venue forms a key part in the Thai capital's Rama IV district development.
"With our capabilities in providing a full range of services for all types of events, QSNCC will be the new event platform destination in Asia," said Sakchai Pattarapreechakul, president of NCC Management & Development.
Sakchai said the planned retail at QSNCC was expanded by 30 per cent to provide extra services for an anticipated 13 million visitors a year once redevelopment work was completed.
QSNCC can be accessed by Bangkok's MRT network and is surrounded by Benjakitti Forest Park – one of the city's green lungs and a favourite location for exercise.
Backgrounder… QSNCC Bangkok reveals bigger look
"This will attract more diverse customers – organisers, visitors and those who are into physical exercise and healthy lifestyles," said Thiranant Kornsritipa, executive vice president Frasers Property Commercial (Thailand), which has been chosen by NCC to lease and develop QSNCC's retail space.
"We believe that BALM will be Bangkok's gathering place for urban residents," Thiranant added.
"The project has received a high level of leasing enquiries from leading retail brands. We are in the middle of selection process with the prospective tenants who are leading restaurants and retailers.
"We have closed the deals for 20 per cent of the retail space and expect the leased space to increase to 40 per cent by the first quarter of this year," she said.