A HYBRID conference featuring a live broadcast by a Hong Kong TV station to show design and AI technology solutions for the hospitality and other sectors of the service economy reached more than 60 countries and regions.
Knowledge of Design Week (KODW) 2021 drew to a close in Hong Kong last week, but sessions can be viewed on demand for the next two weeks at www.kodw.bodw.com
More than 50 global entrepreneurs and industry experts joined panel 10 panel discussion on  June 23-24 event with main segments broadcast by ViuTV while the week-long program saw eight virtual and in-person workshops.
The annual event was organised by Hong Kong Design Centre and Institute of Design Knowledge with Hong Kong Design Institute with Hong Kong Polytechnic University School of Design (PolyU Design) as co-organisers.
Create Hong Kong (CreateHK), a body under the Hong Kong SAR Government, was the main sponsor.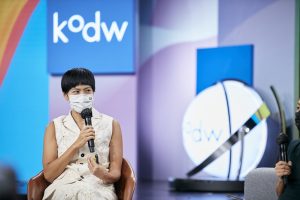 Sessions on a post-pandemic future for the hospitality industry featured representatives from Aman Resorts and Azerai Resorts, travel and leisure booking platform Klook, The Hotel of Tomorrow Project , think tank , Royal Philips, Microsoft, Hong Kong-based brand K11 among others.
Joyce Wang, principal of Joyce Wang Studio (HK), whose practice has helmed the design of hotels and residences for the likes of Mandarin Oriental Group, offered perspectives on human-centred hospitality.
More on this… KODW 2021 goes live
"Small is the new big. Clients want to give their guests a very curated experience," Wang told the Global Conversation on Hospitality panel.
Referring to one of her latest projects, Wang said: "The traditional notion of hospitality is guests are always being served. What we created here is an entertainment suite cabinet that empowers guests to service themselves in the comfort of their own room – a trend that I am seeing more and more."
Other topics discussed included the role of artificial intelligence and data-driven design, and the use of blockchain and NFTs (non-fungible tokens).