DELEGATES made their presence felt at a key international association meeting in Tokyo – by appearing in the form of avatar robots.
Representatives from Australia, Germany, Hong Kong and Switzerland experienced a new way of communicating with onsite participants and another innovation in the development of hybrid meetings.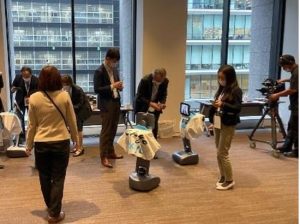 The avatar robot segment at the 9th UIA Associations Round Table Asia-Pacific 2021 came about thanks to cooperation between UIA, Tokyo Convention & Visitors Bureau and AI and robot developer iPresence.
It was the first time Brussels-based UIA held its round table in a hybrid format and also the first time the event was held in Japan.
Local association executives and industry partners participated in person while overseas speakers and delegates attended online due to pandemic restrictions.
The more than 70 overseas and local participants joined the October 21-22 event via OnAir, a dedicated virtual conferencing platform while 40-plus delegates gathered in person at Congress Square Nihonbashi.
"A unique demonstration of utilising new and exciting telepresence avatar robots was presented during the panel discussions, showcasing one solution in managing hybrid international conferences," said a spokesman for Tokyo Convention and Visitors Bureau.
More… Avatars, Shibuya star at Tokyo webinar
"The overseas speakers, who joined as avatar robots… were thrilled to experience the entirely new way of communication with onsite participants, made possible thanks to iPresence."
Over the two-day event hosted by Tokyo, international association executives and industry stakeholders learned practical skills and ways to tackle challenges in branding, funding, communication, and governance in the challenging pandemic era.