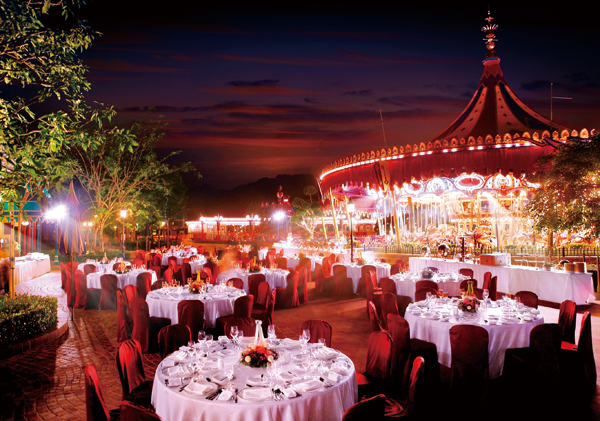 INCENTIVES and conferences have never been so fun. Many reasons for this can be found at Hong Kong Disneyland Resort where the leading Asia theme park not only reaches out to fans of Mickey, Minnie and a host of other characters, but to group organisers too.
There's not only fun, but also a sense of wonder to be had when organising events of any scale at Hong Kong Disneyland Resort, whether conferences, teambuilding or incentive programmes. This extends to the fabulous group dining offers available.
An ideal way of experiencing the resort's three hotels, conference centre, attractions and group dining is through a multi-day chartered itinerary.
Hong Kong Disneyland is located on Lantau Island and just 30 minutes from downtown. The airport and AsiaWorld-Expo are just 15 minutes from the resort with sightseeing spots such as Ngong Ping 360 Cable Car and the traditional fishing village of Tai O nearby.
It's not just the sheer size of the hotel and event offerings at Hong Kong Disneyland Resort, but the incredible team-bonding and other special moments that await your groups.
Superb venues for your groups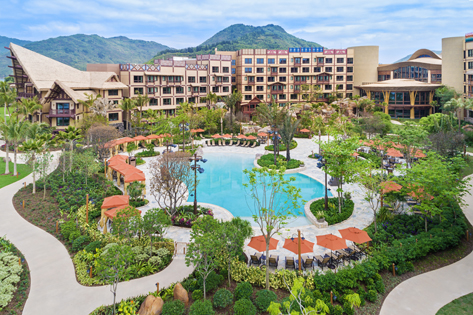 When Disney Explorers Lodge (above) took up the space between Hong Kong Disneyland Hotel and Disney's Hollywood Hotel in 2017, it opened a new era of opportunity for planners of large events and incentives.
It also gave the resort a total of 1,750 guest rooms, all within strolling distance of one another. So the opportunities for large MICE groups have never been better, with the resort offering the largest hotel capacity on one site in Hong Kong.
Hong Kong Disneyland Hotel features a 1,500 sqm conference centre, while indoor and outdoor event-ready venues are suitable for events ranging from teambuilding and meetings to cocktail receptions and company dinners. Read more about catering options
Days of adventure
The Savor the Magic Package, for instance, lets your team visit the park together for a full day of adventure and to later regroup with private access to one of the themed restaurants for a memorable dinner.
Group planners can take advantage of special discount and added services for organising events at the hotel or at park attractions and restaurants. These range from F&B discounts to complimentary audio services and Disney characters greeting the group.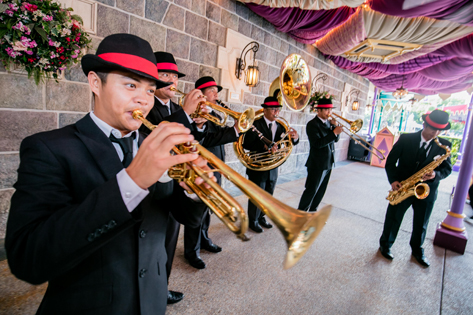 Dedicated event-service teams at the resort can guide group organisers with merchandise offers, Priority Admission Pass for each delegate, discounts for large bookings and other offers, not least the fabulous range of group dining and corporate catering packages on offer at Hong Kong Disneyland Resort.
Savor the Magic dinner packages come with dinner buffet and two hours of soft drinks, mineral water and local beer for groups of over 80 people.
There is a 20 per cent merchandise discount and enhanced experiences include use of audio facilities inside the restaurant and a Disney character dropping by for a greeting and photo opportunity. The package is valid until September 30. Read more about the hotels
++++++
Buyout and catering options
Alongside unique spaces, there are fabulous opportunities for memorable dining and gala dinners. Each event can be customised with help from Disney's team of specialists.
In addition to the Savor the Magic group dining offer, there is an array of dining venues planners can use:
Main Street Corner Cafe – Delegates can enjoy buffet or table-serviced breakfast in the air-conditioned interiors. Main Street Corner Cafe is also a favourite dining spot before groups head to the variety of attractions in the park.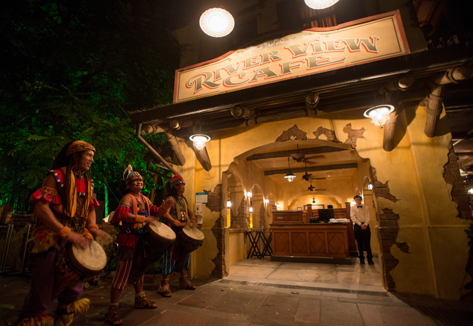 River View Cafe – This adventure-themed restaurant is great for a themed cocktail party with buffet or a table-serviced banquet.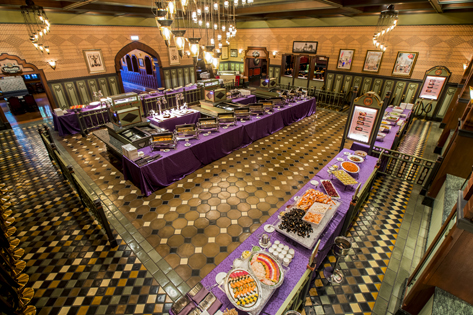 Explorer's Club Restaurant – For groups sized between 150-300, this is an ideal venue after the thrills and fun of nearby Mystic Point.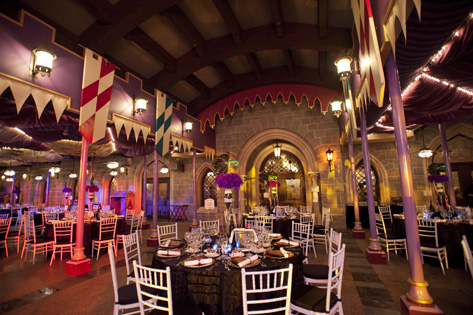 Royal Banquet Hall – Larger-sized groups can also enjoy the outdoor and indoor environs of this Fantasyland venue.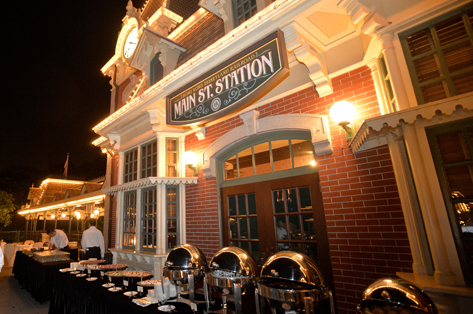 Train Station Cocktail Party – For the best views of the "Disney Paint the Night" parade, book your groups into Main Street Station.
++++++
Disney Catering…
The Alfresco Buffet Dining Experience can take team bonding during the Park Buyout Event to new levels and is offered inside a park restaurant or at designated open areas.
Customised menues and themed desserts are also available.
Disney-themed delicacies also give that magical dessert lift to an event.
International cuisine from Chinese dim sum to Indian favourites area also available.
Certain dietary requirements are also met at the resort: Halal food (such as this dish below) is certified by the Incorporated Trustees of the Islamic Community Fund of Hong Kong.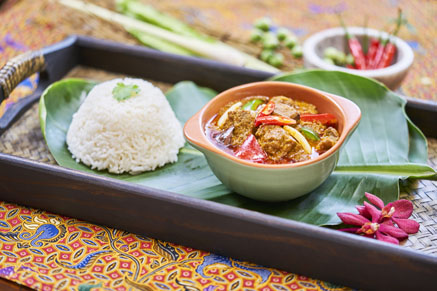 ++++++
Resort hotels
Disney Explorers Lodge opened in 2017, joining Hong Kong Disneyland Hotel and Disney's Hollywood Hotel, giving a total of 1,750 guest rooms. This means the hotels offered are large enough to cater to most groups, and keep them together instead of dispersing delegates around downtown hotels.
Disney Explorers Lodge – This 750-guest room adventure-themed property is the latest addition to the resort's hotel portfolio. Cuisine from the five continents is served across three restaurants. The Disney Explorers Lodge also has a VIP dining room that connects to a garden that can be themed for private banquets and cocktails.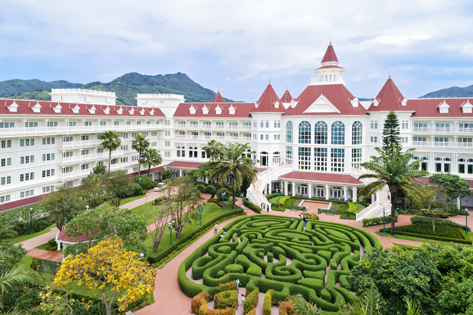 Hong Kong Disneyland Hotel – This fairytale-inspired property has majestic views over the South China Sea and a 1,500 sqm conference centre, which offers three ballrooms and expansive lawns for corporate events, or a post-meeting space to unwind.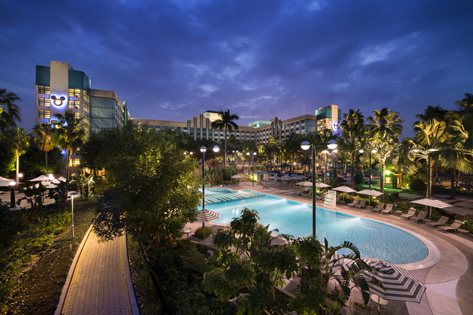 Disney's Hollywood Hotel – This 600-guest room property is a short walk from Hong Kong Disneyland Hotel's conference centre.
Contact
Tel: (852) 3510 6868
www.hongkongdisneylandmeetings.com
Email: BusinessSolutions.Events@hongkongdisneyland.com