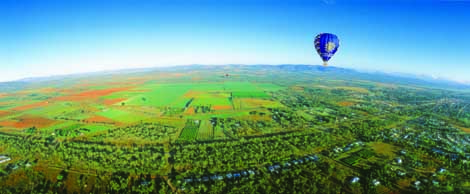 South Africa has always had the makings of a dream holiday destination with her hospitable people, excellent food and wine and stunning wild landscapes. Now an increasing number of visitors, particularly from Asia, are coming to host business events on her savannahs.
South Africa's natural beauty stretches from the rolling grasslands of the Highveld savannah in the north to iconic Table Mountain in the south, and from the sub-tropical sultriness of KwaZulu-Natal in the east to the pristine stillness of the Kalahari Desert to the west. World-class transport infrastructure makes it all accessible, attracting a growing number of business events travellers who know the country as the stable, shining star at the base of Africa.
"MICE is one of the main purposes for Chinese to travel to South Africa, and the market is growing with great momentum," says Bradley Brouwer, Asia Pacific president at South African Tourism.
In 2012, South Africa had 132,334 tourist arrivals from China (Hong Kong included), with 47.5 per cent of those coming for business and business events purposes. That marked a 56 per cent increase in total numbers over 2011.
What makes South Africa so appealing as a business events destination is its diversity of experience.
"South Africa offers different perspectives for team building," says Celia Chan, executive director of Hong Kong-based travel agent and incentives specialist Africa Panda. "The natural environment, the wildlife, the country's rich culture, the sense of adventure it offers … these all make it a very different and unique business events destination."
The year 2014 has been nominated as the "Year of South Africa in China", with 2015 being the "Year of China in South Africa".
"The bilateral relations and communication between our two countries will be even more strengthened in aspects of politics, economy and culture, providing unprecedented opportunities for the development of tourism between us," says Brouwer. "We are more than confident that business and business events tourism exchanges will be even further increased."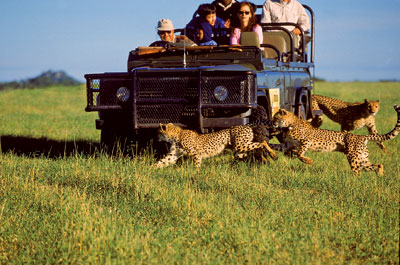 Into the Wild
Seeing the Big Five – lion, elephant, leopard, buffalo, and rhinoceros – is a dream for many visitors to Africa, but seeing them from your own private hot air balloon is something that few will get to experience. African Travel Gateway can arrange balloon tours in many parts of South Africa, including in the wildlife-rich regions next to the world-famous Kruger National Park, the Pilansberg (near Sun City) and over the game reserves of the Cradle of Humankind near Johannesburg. While no tour operator can guarantee sightings of the Big Five, there will be opportunities to see other less famous but equally special animals in their natural habitat, including cheetahs, hippos, crocodiles, zebras and giraffes.
For game viewing a little closer to the ground, the team at African Travel Gateway can set up a safari on elephant back at the Elephant Safari Lodge, close to Addo National Park in the Eastern Cape, as well as at Camp Jabulani, located in the Kapama Game Reserve in the Limpopo Province near Kruger Park.
Most safaris, however, take place in open-topped 4×4 vehicles, and there are a plethora of possibilities for seeing game up-close in this format. South Africa boasts many smaller private game reserves along with the major parks where wildlife is equally carefully managed.
Camps inside or just outside wildlife parks offer a full range of accommodation types for all budgets, from simple tents and thatched rondavels (traditional round buildings with a grass roof) to luxury en-suite tents and glamorous, ultra-exclusive bushveld resorts.
Bookings agent and incentives specialists Thompsons Africa arrange three-day wilderness experiences in which guests stay overnight in comfortable tents within the Kruger Park. The Buffalo Rock Tented Safari includes morning and afternoon game drives plus evening game spotting by spotlight. Refined "bush cuisine" is offered back at the camp, prepared by the chef and camp assistants. Sundowner cocktails are an ideal time for colleagues to get to know each other better, with an absence of modern distractions allowing them to savour their African experience.
For those who prefer a sturdier wall between themselves and the wild, Africa Panda can also book the River Lodge at the award-winning Lion Sands Private Game Reserve as part of their multi-day South Africa incentives itineraries. Located in the 65,000-hectare Sabi Sand Game Reserve, an area well known for its high concentration of wildlife in both the dry and wet seasons, Lion Sands is an ideal spot for a full programme of activities. Africa Panda makes sure activities are offered in a flexible and convenient manner so that guests can tailor-make their itineraries. Standard activities include game drives, bush walks, fishing, wildlife lectures, picnic lunches, hippopotamus tours, and astronomy, while extras can include clay pigeon shooting, helicopter flights to Blyde River Canyon, balloon safaris and private Land Rover hire with photography or bird specialists.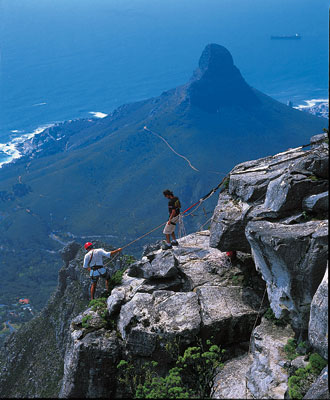 Extreme Bonding
South Africa has no shortage of ways to get the heart pumping, helping colleagues develop the skills needed to deal with being out of their comfort zone. Famous for its adventure sports, the country offers everything from surfing and dune boarding to river rafting and aerobatic flights.
"South Africa is one of the best adventure destinations in the world. However you define adventure, it's possible here," says Brouwer. "We can conjure up the wildest opportunities: cage diving with great white sharks, abseiling off Table Mountain, canoeing, sky gliding and bungee jumping."
Merle Kwan, operations director at Your Africa adds: "We have seen substantial growth in adventure travel, especially in the MICE sector. Cape Town remains the most popular stay, with activities ranging from sky-diving to high-speed boating, abseiling and even paragliding."
South Africa also has the world's highest commercial bridge bungee, which takes place above the Bloukrans River. The 216-metre-high bridge borders the Eastern and Western Cape and is situated in the Tsitsikamma area of the Garden Route. The bungee jump has been operated by Face Adrenalin, with a 100 per cent safety record, since 1997.
Another vertigo-inducing activity to test a person's mettle is abseiling (descent of a rock face using rope). Abseil Africa offers rappelling off Cape Town's iconic Table Mountain. Starting from 1,000 metres above sea level, the vertical drop offers stunning views of the mountain, the city and the blue Atlantic below.
For those looking for more aquatic thrills, cage diving in shark-infested waters is an unforgettable experience. Apex Shark Expeditions operates out of the sheltered harbour of Simon's Town and owners Chris and Monique Fallows have been running expeditions in the area since 1996. The Fallows have worked with some of the world's most famous documentary crews, including the BBC's Planet Earth team and the Discovery Channel. Apex offers boat trips to areas where breaching (when great white sharks rise out of the water while hunting seals) behaviour is common, as well as cage diving with snorkels and scuba gear.
If man-eating sharks are not enough excitement, guests can also get up close and personal with man-eating reptiles. In a world first, the Cango Wildlife Ranch in Oudtshoorn enables adrenalin-seekers with nerves of steel to be lowered in a cage into a pool infested with four-metre-long Nile crocodiles. The crocs have a bite pressure of more than two tonnes per square inch – four times the amount of pressure a great white shark can exert. Participants are kitted out with goggles and snorkel and then secured in the specially designed cage. The experience is extraordinarily intense as the crocodiles are very interested and aggressive, creating a once-in-a-lifetime story to be shared around the water cooler.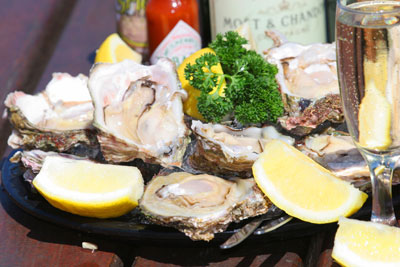 Culinary Experiences
South Africa is a perfect choice for gourmands with its unique home-grown culinary culture and history of wine making. The country is particularly rich in seafood, with oysters, abalone, lobster and crab of world-class standard. Visitors will also enjoy sampling the nation's game meats, such as ostrich, crocodile, kudu and springbok. South African dishes have their origins in different parts of Africa, India, The Netherlands, Britain, Germany, France, Italy and Portugal.
Africa Panda has arranged a Cape Malay Cooking Safari for a business events group visiting South Africa later this year. Taking place at the home of a local host, the "safari" gives guests the chance to learn about this centuries-old culinary fusion, which remains a major part of South African cuisine today. Guests first acquaint themselves with the spices and flavours of the Malay kitchen before making and dining on their own dishes, which could include roti and samosas. The workshop ends with a guided tour around the photogenic suburb of Bo-Kaap, with its charming streets and spice shops.
One of South Africa's iconic dining experiences is the braai (barbecue), which includes a variety of meats, plenty of salads, breads, baked potatoes and desserts.
Thompsons Africa, in its World In One Country Tour, offers dining experiences that can include a traditional South African braai under the star-studded skies of Kruger National Park. It can also arrange a lunch under the milkwood trees in the Featherbed Nature Reserve of the Garden Route. The meal is paired with wines of the Western Cape, a region that has produced some of the finest internationally acclaimed wines. The view adds to the atmosphere: the stunning sandstone hills, known as the Heads, at the Knysna Lagoon.
South Africa's reputation for great wine is built on a 300-year wine-making history. The industry reflects the classicism of the Old World but is also influenced by the contemporary fruit-driven styles of the New World; this rare combination makes for wines which are complex yet accessible, refined yet powerful, eloquently expressing the unique terroir and people of the Cape. Many estates offer wine tours in which guests can sample the world-class wines, admire the beautiful scenery of the vineyards and experience a rich sense of history.
Johannesburg-based Your Africa offers a unique sampling of another of South Africa's famed beverages in their three-day guided tour of the Cape Wineland regions – rooibos (redbush) tea. Made from an indigenous plant that produces a red-tinted, naturally sweet and caffeine-free beverage, rooibos is high in antioxidants and a part of South African culture. Your Africa arranges visits to the Rooibos Tea Factory in Clanwilliam, Western Cape, which started off as a home factory and is now the biggest industry in the area, exporting 50 to 60 per cent of the world's rooibos tea. It's a one-of-a-kind visit and the perfect place to pick up a gift to share with colleagues back at home.
FAST FACTS
Access South Africa has world-class transport infrastructure, with O.R. Tambo International Airport in Johannesburg and Cape Town International Airport being the major two international access points. The non-stop flight between Beijing and Johannesburg launched by South African Airways in January 2012 has made the voyage much more convenient for Chinese business events tourists. The airline has also improved the arrival and departure schedules between these two cities, making it easier for travellers to catch connecting flights to other destinations in Africa or Asia. This puts South Africa's 2,000 hotels and more than 1,700 convention centres in much easier reach. The country's road network is also excellent.
Climate South Africa's mild climate means it is suitable for visits all year round. Summer is from October to March, while the coldest days are in June and August; in most regions, temperatures rarely drop below freezing. During winter it is warmest in the coastal regions, especially on the eastern Indian Ocean coast. Summers tend to be warm-to-hot and sunny; Johannesburg's average temperatures are 15°C to 26°C in summer, and 4°C to 17 °C in winter. Cape Town averages 16°C to 26°C in summer and 7°C to 18°C in winter.
Visas Some foreign nationals require a visitor's visa to visit South Africa. Australians are exempt for stays of up to 90 days, while the following citizens can stay visa-free for up to 30 days: Hong Kong British National Overseas and Hong Kong Special Administrative Region passports; Macau Special Administrative Region passports; Malaysia; Maldives; South Korea; and Thailand. Check dha.gov.za for details.
Language South Africa has 11 official languages but English is the primary business language and is widely spoken. South African tourism practitioners are generally well-educated with regards to language differences.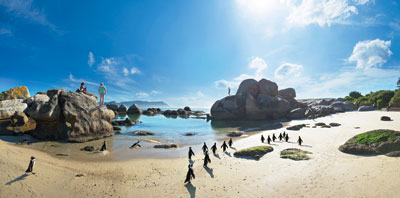 SAMPLE ITINERARY
Luxury Train Tour
This itinerary gives guests an experience of a true South African icon: the much-loved Blue Train, which runs between Pretoria and Cape Town. It is one of the most luxurious train journeys in the world, boasting butler service, two lounge cars and an observation car. Compartments are sound-proofed and fully carpeted and feature en-suite bathrooms, many with full-sized bathtubs. Activities include classic South African experiences such as a wildlife safari, diamond tour, Cape Town tour and wine tasting at a premier estate.
Recommended by: South African Tourism China (southafricantourism.cn)
Cost: Approximately US$4,840 per person including air tickets from Hong Kong to South Africa
Group Size: Two to 20 persons
Tour Operators: See The Professionals
Day 1
• Arrive at O.R. Tambo International Airport and transfer by road for about two hours to Sun City, a famous South African luxury casino and resort bordering the Pilansberg Game Reserve. Enjoy a safari followed by golf at Sun City.
• Overnight at Sun City
Day 2
• Transfer to Pretoria's Blue Train Station. Check in and get settled in your luxury compartment as the train sets off for Cape Town. Stop at Kimberley, known for the Big Hole – a giant abandoned mine filled with water – and have a diamond tour.
• Overnight on the Blue Train
Day 3
• Arrive in Cape Town, and have a half-day tour of the Cape Peninsula, including the Cape of Good Hope Nature Reserve, funicular ride to the point where the two oceans meet, Cape Point, Boulders Penguin Colony and Simon's Town. Transfer back to Cape Town and walk around the impressive V&A Waterfront.
• Overnight in Cape Town
Day 4
• Transfer to Stellenbosch to experience outstanding food and wine at Spier – one of South Africa's premier vineyards founded in 1692 boasting the country's oldest wine cellar. Transfer to the airport to take the domestic flight to Johannesburg.
• Depart for international flight
THE PROFESSIONALS
Abseil Africa
Tel: +27 21 424 4760
Email: info@abseilafrica.co.za
Africa Panda
Tel: +852 6601 2206; +852 2291 3310
Email: celia@africapanda.com
African Travel Gateway
Tel: +27 15 793 1191
Email: central.res@africantravel.com
Face Adrenalin
Email: info@faceadrenalin.com
Gold Bricks Tours & Travels
Tel: +27 83 4059 9887
Email: amy@goldbricks.co.za
SA Magic Tours
Tel: +27 11 886 1101
Email: terry@samagictravel.co.za
Thompsons Africa
Tel: +27 21 408 9645
Email: sandy.kong@thompsons.co.za
Walk Through Africa
Tel: +27 21 555 1616
Email: wtatsa@gmail.com
Your Africa
Tel: +27 11 676 6000
Email: merle@yourafrica.co.za