LEADING figures from Phuket's private and public sectors gathered to re-confirm the re-opening of the island to international visitors on July 1 and to share details on vaccine requirements, length of stay, PCR testing and SHA Plus certification.
Key announcements at the event included statements that the July 1 date was going ahead and that the herd immunity of over 70 per cent has already been achieved with a total of 71 per cent of the population of Phuket vaccinated.
According to the Tourism Authority of Thailand, however, the "Phuket sandbox" will fully open to vaccinated travellers from July but "final" official details were still under review by the Royal Thai Government.
During the travel industry event at Angsana Laguna Phuket, questions over length of stay was clarified with tourism executives stating that stays of any duration were allowed.
More… Phuket 'sandbox' countdown begins
"The domestic market can visit and leave as it wishes providing they are vaccinated or arrive with a negative Covid-19 test certificate.," said a campaign spokesman. "Likewise, international travellers may travel to Phuket for any duration of time, as long as Phuket remains the single arrival and departure point."
If vaccinated international travellers want to travel to other parts of Thailand, they may do so only after staying in Phuket for 14 days, the event was told. During this time there would be a PCR test on arrival and two further tests.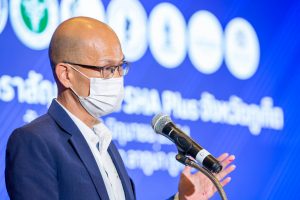 "We are on. This is the clear message and it has not changed," Bhummikitti Ruktaengam, president of the Phuket Tourism Association, said.
"The Phuket industry has never shared a vision and intent so passionately. July 1 is happening and we are nearly there," he said at the opening of the event on June 12.
More than 300 hotels and other tourism-related companies gathered in the ballroom of Angsana Laguna Phuket to receive the SHA Plus certification from the Governor of Phuket, Narong Woonciew which is required by all Phuket hospitality and travel suppliers to handle international and domestic guests.
One of the hoteliers, Ravi Chandran, managing director of Laguna Phuket, said: "We agree the approach has to be cautious as we need to get this right. I can certainly say that we are ready, we are safe, we are SHA Plus certified and we are looking forward to welcoming domestic and international guests from July 1."
"The industry cooperation has been unprecedented and has been instrumental in getting us to this point. It is truly great to see," Chandran said, adding that Laguna Phuket has supported the community by providing use of its  1,500 sqm Angsana Convention and Exhibition Space as a vaccination centre.
Narong Woonciew , the governor of Phuket Governor, said the island and the rest of Thailand, needed to now progress to the next stage. "Phuket will succeed and Thailand will move forward. We are ready. The togetherness and kindness we have shown needs to continue. This is our nature, this is our culture. This is the new Phuket."
Main picture: From left: Bhummikitti Ruktaengam – President, Phuket Tourism Association; Ravi Chandran – Managing Director, Laguna Phuket; Prapa Hammin – Director, Laguna Phuket, Laguna Phuket; Paul Wilson – Group Director, Laguna Phuket; Narong Woonciew – Phuket Governor; Thapanee Kiatphaibool – Deputy Governor for Tourism Products and Business, Tourism Authority of Thailand, and Michal Zitek – Area General Manager, Angsana Laguna Phuket