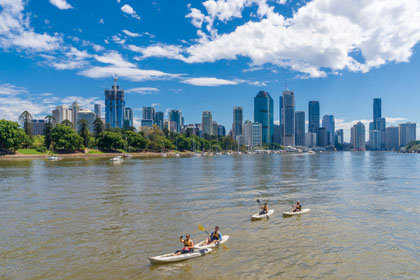 BRISBANE delivered a feast for the senses as it welcomed international buyers and media to the city for Dreamtime 2017.
Delegates were given an enchanting view of the Queensland state capital at night when they arrived at the Riverbar & Kitchen for the welcome cocktail. As they took in the city's skyline, the splendid views of the Brisbane River and the landmark Story Bridge, the best of Queensland's produce awaited them inside – from cold cuts and oysters, to burgers and wines.
The piece de resistance, however, was a firework display that lit up the sky before them signalling a triumphant welcome to Brisbane.
Dinner was held on the other side of Victoria Bridge at Queensland Art Gallery's Watermall on the second night of the Tourism Australia buyer and media orientation.
Narcissus Garden 1966/2002, an installation by Japanese artist Yayoi Kusama – famous for her polka dot works – was on display in the background during the dinner at the Watermall.
Creative agency and event managers, Belle Laide Events added further sensory touches to the evening, which included diners being provided with ultraviolet torches to read the menus, which had been written in invisible ink.
Long tables with in-built LED lights changed in sequence with the performances, which included Australian digital artist Sophia Mary Mac creating a live piece inspired by events at Dreamtime projected onto Watermall's 24×9.5 metre wall.
The musical highlight of the evening came from Australian musician Katie Noonan.
BRISBANE UPDATES
W Brisbane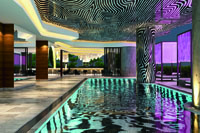 Opening in March, W Brisbane will offer 1,100 sqm of indoor and outdoor event space, including the 595 sqm pillarless Great Room, which can host up to 450 guests. The W will be the only hotel in Queensland to feature built-in LED screens, which can be used individually or pushed together to create one large wall.
The poolside event space comes in the for of the WET Deck, which can up to 200 for cocktails and 104 seated. Floor-to-ceiling windows make the venue suitable for all-weather events with Aussie barbeque, DJ booth, champagne and cocktails among the specialities.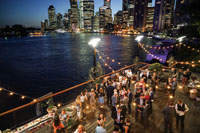 Howard Smith Wharves
The former dockside is being revitalised with event space for part of the new waterfront precinct, which will include a 164-room Art Series Hotel. There will be several event spaces including Howard's Hall for concerts, product launches and exhibitions. The Rivershed, a heritage wharf building, can host trade shows and gala dinners, while pop-up marquees can use a range of outdoor spaces including the lawn. There will also be a craft brewery, restaurants and bars led by acclaimed and rising-star chefs.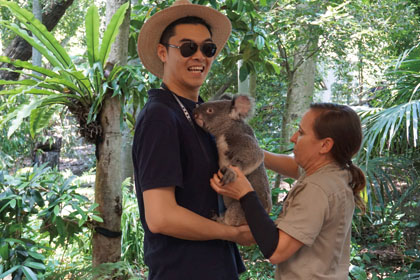 ITINERARY IDEAS 
Hop onto a luxury cruise vessel for a 90-minute relaxing journey from the city centre to the Lone Pine Koala Sanctuary. Pure Adrenaline Brisbane river cruise offers two-deck luxury charter for up to 76 guests. They can help customise the experience from choosing locations, catering and beverage packages to advising on activities depending on where the charter is located. Onboard catering can be arranged with chefs preparing small plates such as Wagyu beef and premium Australian scampi caviar.
On arrival at the sanctuary, groups can be separated into two for a guided tour of the zoo. Lone Pine Koala Sanctuary is one of the few places in Australia where visitors can cuddle koalas. There are also photo – and feeding – opportunities with other animals in the park, including dingo and kangaroos.
At Sirromet Winery, guests can join the chef can catching mini lobsters and bring the seafood to a riverside hut to prepare the first course together. A tractor then transfers guests to a forest for the second course, and back to the winery for the third.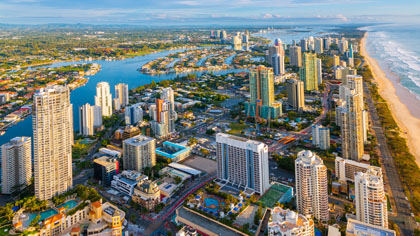 DESTINATION SHOWCASE
Brisbane hosted its first Dreamtime event since the Tourism Australia incentive showcase was launched 25 years ago. Around 100 international buyers and 30 media arrived in the city for a two-day event featuring buyer-supplier networking at Brisbane Convention Centre, tours and city experiences before travelling to selected Australian cities.
During the business sessions, I met convention bureaus from each Australian destination.
Adelaide
Since hosting Dreamtime in 2015, Adelaide has been working its magic on the Asian market with a 3,000-person group from Perfect China – arriving in waves of 500 and staying for three nights – among the incentive groups who visited the South Australia capital in June 2017.
Adelaide Convention Centre's extension has become part of  the city's nightscape with glowing starry lights on its roof. Following the opening of a Pullman in November, a Sofitel is planned for early 2019 and the six-star Adelaide casino hotel Skycity will join the Riverside Precinct in 2021.
Canberra
Singapore Airlines has been flying to the Australian federal capital for over a year and in February will be joined by Qatar Airways' direct service to Doha in February.
Canberra welcomed a group of 1,600 from Amway China in January 2017, arriving in eight phases. The day trips from Sydney took in sheep shearing, shepherding, boomerang throwing and an Aussie barbeque.
The city is set to see 20 four and five-stars Australian-branded hotels opening in the coming three years.
Sydney
Amway China made its third visit to the city in January 2017. Visit Sydney said A$103 million was channeled into the local economy during the year from 52 events, much of it thanks to the opening of ICC Sydney.
Also at Darling Harbour, Sofitel opened alongside the ICC last November, while across the precinct a W hotel is being prepared for a 2019 opening. The Crowne casino hotel is due to open in the nearby Barangaroo banking and finance quarter in 2021, while redevelopment of the Fish Market, Circular Quay and an upgrading of the city's light-rail is also planned.
Perth   
China Southern now has five flights a week to the West Australia capital, while Singapore Airlines operates four flights a day and Cathay Pacific flies to Perth daily. China Eastern is planning to introduce a route from Shanghai in October.
Planned hotels openings include a Westin, three Doubletree by Hiltons, Ritz-Carlton, Intercontinental and a Hilton.
Northern Territory
Incentive programmes are combined with Aboriginal culture with a Welcome to Country ceremony, dance, and integrated music and art workshops. At Alice Springs, groups can be transferred by a caravan of camels to Uluru for a light festival and dinner under the stars.
A Westin is scheduled to open in Darwin in 2020 with 254-guest rooms and suites large conference facilities. More restaurants are also planned for the state capital's waterfront precinct.
Gold Coast
The resort city is primed for the Commonwealth Games in April 2018. Upgrades include the expansion of the city's international airport, an extension of the light rail, and a train service connecting to Brisbane Airport.
The Star Gold Coast will also have completed refurbishment of its 596-room hotel, which will feature a new venue called Cherry featuring a 22 metre-long bar and four VIP booths for small groups.
Sunshine Coast
This up-and-coming destination has flight connections to Sydney, Melbourne, Adelaide and New Zealand. Sunshine Coast airport is undergoing the construction of new runway and redevelopment with an eye on expanding capacity from Southeast Asia, particularly Singapore, by 2020.
Special activities include swimming with humpback whales during migration season in October, surf lessons, kayaking with dolphins, driving across beaches in four-wheel-drive vehicles, and a camping experience with dinner.
Cairns
Cairns Aquarium opened last September, and work on adding another 3,000 sqm to Cairns Convention Centre to attract larger conferences is expected to be completed by 2020.
Crystalbrook Collection has invested AU$370 million to build three hotels in Cairns: a five-star Riley Hotel with 311 rooms is set to open in August; Bailey Hotel will open 220 apartment and hotel rooms in 2019, and the lifestyle Flynn Hotel with trendy, upmarket bars and restaurants, is slated to debut in 2020.
China Southern now flies three times a week from Guangzhou while Hainan Airlines has started a twice-a-week service from Shenzhen.
Melbourne
Expansion work on Melbourne Convention Centre is expected to be completed in July, making it the biggest convention centre in southern hemisphere. A four-star Novotel Hotel is due to open in March as part of the expansion.
C2 Melbourne, a three-day innovative business conference from the creators of Cirque de Soleil, Montreal, arrives in October. The business event with a difference champions art and culture by getting delegates out of the comfort zone of traditional meetings. Interactive workshops even include participants sat chairs hanging from the ceiling.
Tasmania
The island has been welcoming more groups from across Asia, particularly China. Activities emphasise the wild and fresh, such as the abalone and catching crayfish, around the state capital Hobart and beyond.
Hotels set to open this year include a 206-room Hyatt Centric, 278-room Crowne Plaza and a 128-room Marriott.