THAILAND'S leaders are setting the country on a course of growth with the economy based on new industries revolving around AI, biotechnology and automation. As this vision unfolds, visiting groups can nonethless appreciate traditional Thai hospitality with an emphasis on sustainability and people's wellbeing.
Groups visiting for conferences, incentives and business events are encouraged to share in these ideals as new itineraries are offered that "redefine Thailand".
Thailand Convention and Exhibition Bureau is playing a primary role in building on the country's top spot as a trade-show hub in Southeast Asia. When it comes to benchmarks, it holds the No.1 spot in Southeast Asia and 25th globally for the number of meetings recognised by the conference organisers' association ICCA. Organisers of incentive travel have also given Thailand high priority with a chapter of SITE, the Society for Incentive Travel Excellence, being established in the kingdom this year.
TCEB has now gathered more partners with products that bring authentic Thai hospitality, cuisine and values such as wellness to the heart of meetings and incentives. Here are some of the new experiences on offer in Bangkok and southwest of the capital en route to Hua Hin.
CAPITAL EXPERIENCES
Sukhothai Bangkok – To give your groups a sense of serenity and exclusivity in busy Bangkok, a stay at the Sukhothai's new Club Wing will position them well for meetings and dining at the luxury hotel.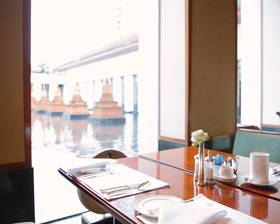 The Garden Villa offers a unique venue for meetings and events with four separate rooms over two floors and surrounded by 7,000 sqm of lawns that can also host cocktails, functions and other outdoor events.
At the Thai restaurant, Celadon, groups can try their hand at selecting herbs from the chef's garden alongside. There is the option of dining on the Celadon's terraces with views of the lotus ponds or in sectioned-off rooms inside the standalone building. Other dining options include the recently renovated La Scala Italian restaurant and international cuisine at Colonnade in the Sukhothai's main building.
Bo.lan restaurant – With its own gardens and terrace, this Michelin-starred restaurant set in a quiet street off Sukhumvit Road is run by Chef Bo (Duangporn Songvisava) and Australian partner Dylan (Lan) Jones. Buyouts of the restaurant are available with seating for up to 80.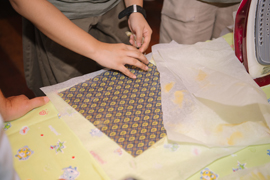 Sustainable Workshops reflect how Bo.lan minimises its environmental impact and act as teambuilding activities such as ironing beeswax onto spare textiles (left) to make food covers and cloths.
Other activities include:
Creating surface cleansers– Fruit rinds and peels are reduced to make a freshly scented cleaning solution after baking soda is added. Groups can take their own product home with them in handy-sized bottles with spray nozzles.
Know your herbs and chilli – Both lay the basis for many Thai dishes and groups can learn about the levels of spiciness and aromatic tastes each variety of the plants provide.
Bo.lan's dining experience features pairings of organic foods with biodynamic wines from vineyards where the grapes are grown and harvested using sustainable practices.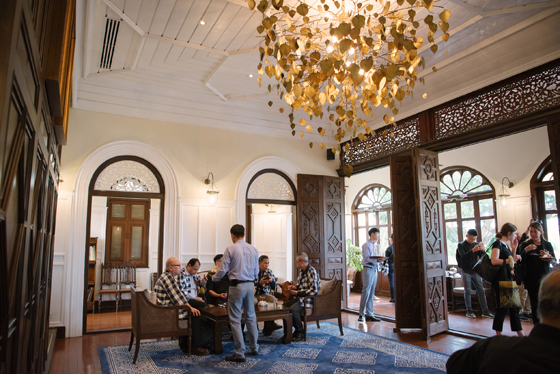 Praya Palazzo – This is one of the historic gems on the banks of Bangkok's majestic river that functions as an exclusive boutique hotel, equally niche meeting spaces and a regal dining hall serving banquet dishes that chronicle the eras of Thai royalty.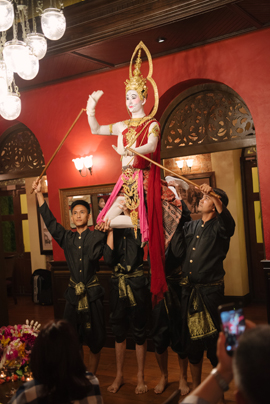 Also known as the Praya Mansion, the building dates back to 1923 with architecture drawing on the Italian style fashionable during the reign of King Rama VI.
Historic cuisine – Among the menus that can be enjoyed by visiting groups is one that takes diners through the three eras of Thailand: Sukhothai; Ayutthaya and Rattanakosin.
The evening can be rounded off with a "human puppet" dance with the main character hoisted above the shoulders by assistants. The dance finale also provides many a memorable group photo opportunity.
Praya Pallazo's location makes it even more majestic as the river it overlooks will be the scene for a royal voyage to from the palace to Wat Arun (Temple of Dawn) on October 24. The ceremony sees more than 2,000 troops rowing 52 intricately decorated vessels that form the Royal Barge Procession, an event that takes place only once every few years.
Loy Krathong – Held during full moon, Loy Krathong dates back to Sukhothai era when the queen consort first popularised the laying of krathongs – decorated baskets – to float on a river or ponds. At the Sukhothai Bangkok, groups can also partake in this nighttime activity.
CAPITAL VENUES
IconSiam – Thailand is continually reinventing and innovating – even to the extent of creating hi-tech conference and event space in the upper levels of Asia's biggest – and arguably most luxurious – retail mall.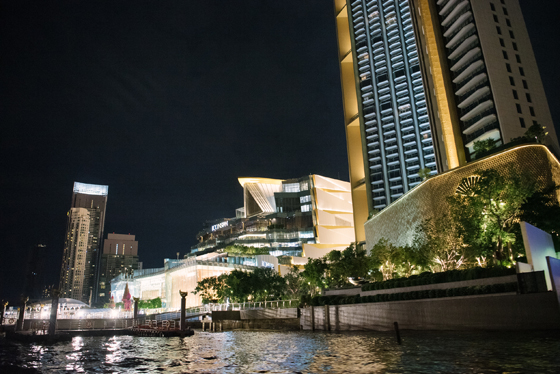 Several corporate meetings are in the pipeline for 2020 in True Icon Hall, the 12,000 sqm of event space above IconSiam, the latest waterfront landmark along the Chao Phraya. The venue will feature an automated retractable system for 3,000 seats for a space that can be divided into two with soundproofed partitions.
Several levels below True Icon Hall is Sook Siam, which acts as a co-creation space for communities from across Thailand's 77 provinces. Grassroot stakeholders are encouraged to start businesses, source products from their communities and showcase their cultures.
Multimedia Water Feature – Another captivating feature of IconSiam is a cylindrical downward flow of water synchronised to leave gaps that give shape to a welcome message or corporate and association logos.
Teambuilding – Bonding and icebreaking activities can be organised at Sook, which means "happiness" in Thai. Sook Siam not only introduces groups to the six regions of Thailand by setting them off on a pic-taking treasure hunt, it also offers those Instagrammable opportunities or – better still, upload your pics to MIX's Show Off.
EXPERIENCES BEYOND BANGKOK
Between Bangkok and the coastal resort of Hua Hin, groups can experience Thailand's regal history, cuisine and wellness, while participating in CSR projects. And for a great reward, enjoy a beach-party get together at a resort hotel.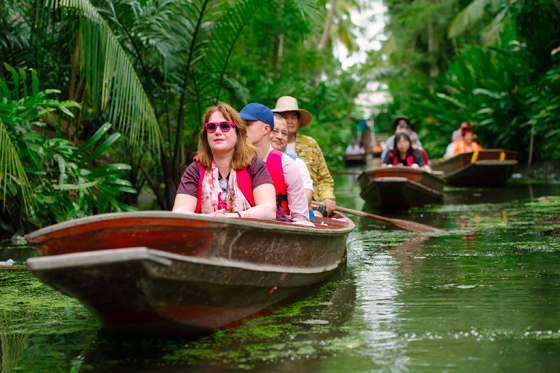 Coconut time – Samut Songkram, southwest of Bangkok, is home to coconut groves tended to by the villagers of Baan Thaka. Waterways connect various sections of the plantation and groups can be taken by boat down the grove channels past dwellings and workspaces to one of the bases where various byproducts of the coconut tree are made.
After alighting the boats, groups can enjoy a refreshing coconut water or dessert before trying their hand at creating coconut byproducts. There are jellies, sugars and syrups, then non-edible items like baskets and hats from the leaves, and even carved toys and brushes from the coconut husks.
Groups not only gain an insight into how the coconut tree, from the top leaves to the base, spurs a local economy, they also benefit from icebreakers as they craft baskets and stir liquids that form nourishing treats.
King Rama II Memorial Park – At these landscaped grounds dedicated to the Thailand of yore, groups can don the fineries styled on clothing of the Rama II era and become courtiers, noblewoman, military officers or even higher ranks. They can then a royal viewing of flower decorating, tea-making and more crafts.
A centrepiece of the park in Samut Songkhram province is a house modelled on the type in which prosperous merchants of the Rama II period lived. The tastefully created lifelike models are seen in daily activities from playing music, cooking, studying and tending to children.
There is also a small interactive museum on the same level behind the house giving a guide to how villages were developed and how their inhabitants contributed to Thailand's modern-day culture, through music, worship, farming and trading.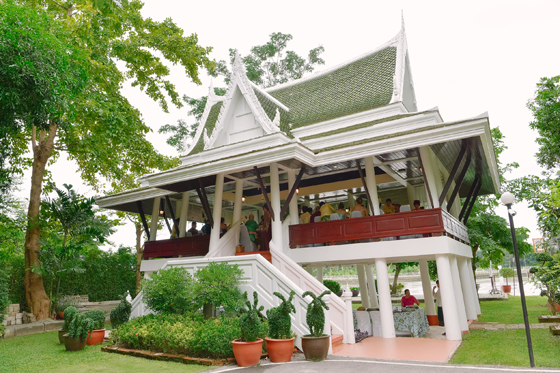 Groups can follow this with lunch at the park's Waterfront Pavilion, a white wooden stilt structure designed in the style of the period and featuring carved beams and trusses.
With traditional musician and craftspeople in traditional dress and headwear busy in the background, a special royal lunch can be served featuring dishes inspired by the king's poetry and which are now among Thailand's favourite delicacies.
SEA-SALT CULTURE
Samut Sakhon – Another central province, is home to the largest sea-salt farm in Thailand, which harvests a product known globally as fleur de sel. The Golden Windmill Salt Spa is one of the local enterprises that give the salt added value by turning it into spa products and using various types in the treatments.
Groups can be pampered with foot, facial, arm and shoulder massages using local salt-spa treatment – participants can then gather and bring home a bottle of their own salt products to use as massage treatment or bath salts.
HUA HIN
Centara Grand Beach Resort and Villas – The property was originally the Railway Hotel, showing Hua Hin's rail heritage with the line from Bangkok being used by royals heading to their summer retreat. Hua Hin train station, also with architecture hailing from the 1920s, is a short drive away, but the hotel honours this heritage with the Railway Restaurant.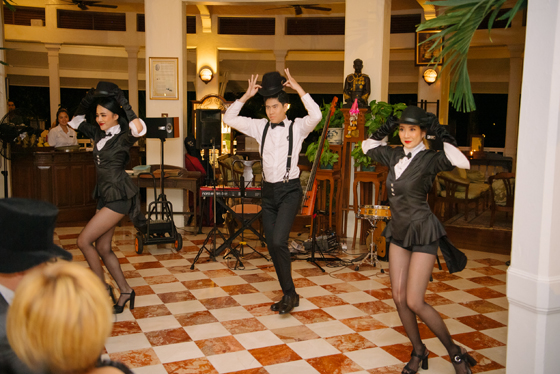 Continuing the theme, a Roaring '20s themed party complete with accessories, props and pre-festivity grooming can be provided with a live jazz band and the classic design featues of the Centara as the backdrop.
BEACH PARTY
Hua Hin Marriott Resort & Spa – The F&B team here are proud of their local food-sourcing initiative based on sustainability mainly from the surrounding Prachuap Khiri Khan, which stretches south along the coast of Thailand and borders Myanmar to the west. A great motivator for teams is a White Party on the resort's beach complete with BBQ buffet, bar, DJ, and moonlight glimmering on the waves.