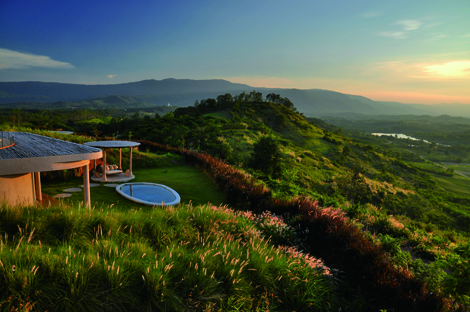 ROLLING green hills, vineyards and huge dairy farms are a far cry from the scenes typically associated with Thailand. But Khao Yai, where the Dong Phaya Yen mountain range has been listed as a World Heritage Site by Unesco, is becoming a haven for groups seeking excursions or a greener conference destination.
As a result, Khao Yai is playing its part in a campaign by Thailand Convention & Exhibition Bureau to restore confidence to the nation's meetings and incentives industry. Political upheaval in early 2014 damaged international perceptions and led to some big conferences being moved elsewhere in Asia.
The area 200km northeast of Bangkok also represents the diverse and growing destination choices planners have in Thailand. It is one of the new destinations in TCEB's portfolio, adding to the established business event cities of Bangkok, Pattaya, Phuket and northerly Chiang Mai and Kohn Kaen.
The area is already a popular weekend retreat from Bangkok and now local authorities and businesses are working with the Thai convention bureau to encourage more international groups to the country's third-largest national park. There are about 184 hotels and 7,000 rooms located in the area, which is about a three-hour journey from Bangkok and en route to northeast Thailand and on to the neighbouring countries in the "Greater Mekong Sub-Region".
As the first national park to be established in Thailand, activities such as kayaking, rafting and night-time wildlife spotting have grown to meet the demands of the leisure market, but now these are being directed at visiting business event groups. Khao Yai is not just an evergreen getaway. Large domestic conventions have already been held here, thanks to facilities at Khao Yai Convention Centre, which opened in 2014.
Botanica & KYCC
The better hotels in Khao Yai are designed with the ecology and landscape of the area at heart. The 115-guest room Botanica Khao Yai is a green resort that encourages delegates to "wind down" and enjoy the lush scenery, infinity pools and spas once they have finished the day's proceedings at the adjacent Khao Yai Convention Centre. Group dining can also be arranged at the hotel's Tempo restaurant.
Christopher Cribbs, Botanica's general manager, says the destination will offer groups "something for everyone" ranging from kayaking and involvement with elephant conservation programmes to thrill-based team-bonding.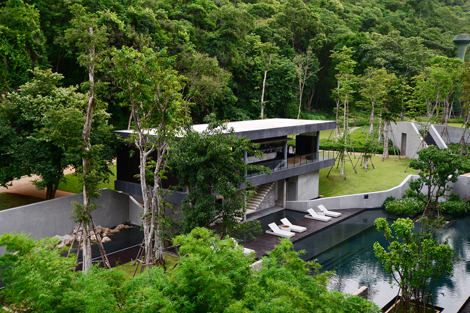 Botanica is operated by Scenical, a developer which also owns Khao Yai Convention Centre and two other hotels in the area  – The Greenery Resort and Khao Yai Foresta. The company is also behind a themed complex in part of Khao Yai called Scenical World, consisting of adventure and water parks in addition to a retail mall complex.
KYCC has 3,720 sqm of meeting space in addition to a 1,860 sqm outdoor plaza. About 1,000 can be seated for banquets in the facility's ballroom, which can be divided into three function areas. The centre has already become the most prominent facility of its type northeast of Bangkok, thanks to a 960 sqm exhibition hall and seven meeting rooms with capacities ranging from 40 to 200 delegates.
Corporate events held at KYCC since its opening last year include major meetings organised for Thai General Insurance Association, AIA, Crystal Time's Pfizer and Asian Honda Motor.
Scenical 
Scenical World's Greenery Park Mall and Life Park, which will feature teambuilding opportunities set amid greenery, are due to open in October. The "non-seaside resort" is aimed primarily at the leisure and family market, but the facilities are also set to offer scope for users of the Scenical-owned convention centre, including meetings and events with recreation for spouses and families built around them.
Wineries
The climate of Khao Yai has given rise to the pioneers of Thailand's wine industry. Though there is a steep tax imposed on wine, this has not discouraged wineries in the area from growing, producing and making their properties available for visiting groups.
One of the wineries where groups can learn more about the variety of grapes, their production and a glass of the finished product is at GranMonte, in the Asoke Valley in the foothills of the national park.
Groups can choose to team build through grape picking among the 40 acres of vines or jump straight  to wine tasting. Another way of appreciating Thailand's new wine culture is a vineyard and winery tour, which takes about 90 minutes and uses a tour truck. Depending on the time of year, various stages of GranMonte's wine operations can be seen on the tour, including fermentation tanks, the barrel room and bottling.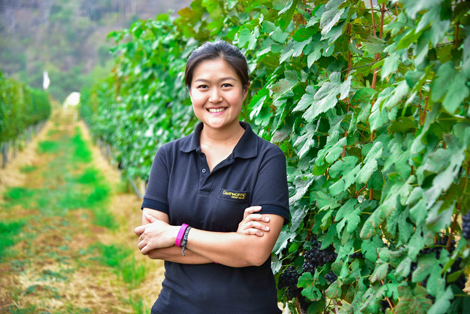 GranMonte's general manager and oenologist is Nikki Lohitnavy (above), Thailand's only female winemaker. She studied oenology and viticulture at the University of Adelaide and at GranMonte, the family's vineyard, she also teaches sommelier classes that can be modified into wine-culture experiences for groups.
VinCotto is the property's 120-seat restaurant where wine-pairing dinners or lunches can be organised. The restaurant recently had a wine library, garden terraces and private dining room added.
Kirimaya Golf Resort & Spa 
This high-end luxury retreat has 52 guest rooms, including four suited and four tented villas. Kirimaya is better known for the 18-hole golf course designed by Jack Nicklaus, but it is also a short drive from the foothills of the mountain ranges of Khao Yai. This offers both a relaxed setting for a corporate retreat and an opportunity to hike part of the Unesco World Heritage Site or participate in CSR activities related to wildlife preservation and tree planting.
In February, ballooning is available each day at Kirimaya with a 45-minute trip taking in views over Khao Yai's rolling landscape dotted with farms, waterfalls, wineries and even the odd chateau.
CSR & teambuilding
Groups planning to hike deep into Khao Yai National Park are advised to wear leech-prevention socks. There are, however, outdoor activities (below) a safe distance from the intrusive worms and which give groups a chance to help the efforts of park rangers and conservationists.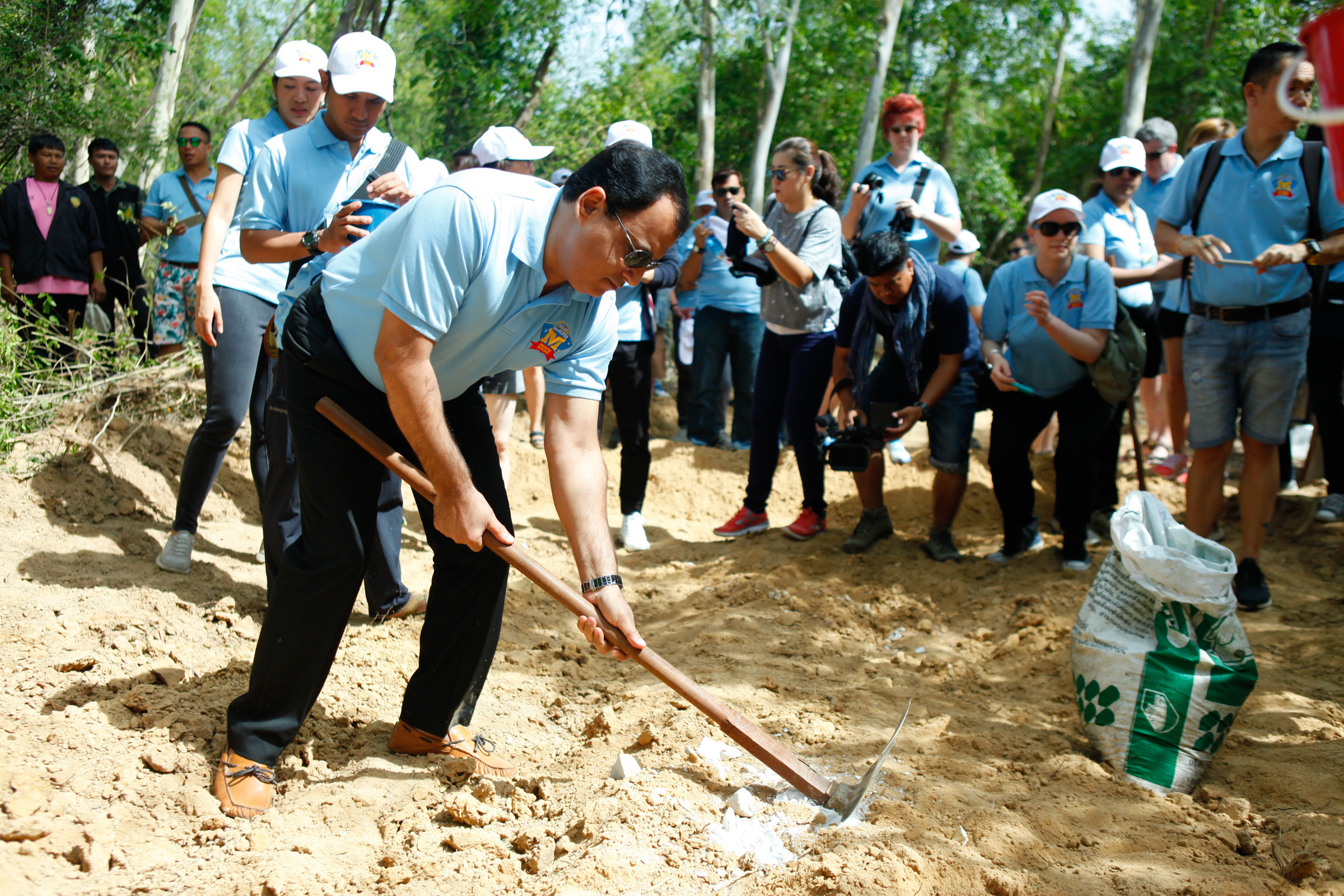 Two such CSR activities involve tree planting and preparing lick spittle, a process that adds essential minerals to the soil so animals such as bears get nourishment. Mineralised rocks are broken with shovels and raked into the soil in an activity that bonds groups as well as protect wildlife.
Teambuilding is also available at Chokchai farm where cows can be milked by hand. Like elsewhere in the world, the American Wild West fascinated many in Thailand, including the founder of the farm, Chokchai Balakul, whose passion led to him establishing a cattle-rearing business by importing American herds and machinery.
Group tours of the farm can be organised and there is a steakhouse restaurant. However, the meats are sourced from northern Thailand. Today Chokchai's mainstays are as a dairy farm and
visitor attraction.
Mighty river city
Two areas of Bangkok highlighted by the national convention bureau's Thailand Connect the World Campaign are the Chao Phraya River and Ratchaprasong. Visitors have long flocked to both but now hotels and other businesses in each area have joined forces to attract overseas business event groups.
Waterfront districts have proved a success when inspired by heritage and shrewdly marketed overseas. Now Bangkok is charting a similar course, thanks to the efforts of Bangkok River Partners, an alliance of hotels sharing the same stretch of the historic waterway, city authorities and the TCEB, which launched a promotional package including discounts and wi-fi usage for visiting delegates.
In central Bangkok, Ratchaprasong Square Trade Association is highlighting the district's luxury malls, hotels and visitor landmarks, along with the convenience provided by the BTS Skytrain system. The co-operation has highlighted some of the more exclusive experiences groups can enjoy.
Chao Phraya 
The River City mall serves as a boarding point for boat trips along the Bangkok section of the mighty Chao Phraya, which cruise past palaces, temples and new facilities such as Yodpiman River Walk where shops and restaurants are connected by the development's river walkway. Yodpiman serves as an example of riverside buildings renovated in a "heritage-style" and features about 20 small- to medium-sized restaurants with space to hire.
One dining space offering fine vantage points overlooking the river at Yodpiman is the Mango Tree where the four levels can be booked by groups of up to 180 for sit-down dining. The restaurant's roof space can be used for a more intimate gathering of up to 60 for cocktails, but most organisers are happy with a single floor, such as the second level, which can seat 100 for dinners or 300 standing.
Several international brand hotels share both sides of the Chao Phraya, including The Peninsula, Millennium Hilton, Shangri-La and Sheraton. Arguably the most iconic is the Mandarin Oriental for which the frequent river ferry takes guests across to the hotel's Thai fine-dining establishment, the Sala Rim Naan, which features classical music and dance performances. On the same side of the river is the Mandarin Oriental's Baan Nooi event space that holds 60 for cocktails.
VIP tuk tuks 
Through the streets behind Yodpiman is Rattanakosin, Bangkok's flower quarter. Tuk tuks – the three-wheeled motorised rickshaw-style taxis – provide a convenient late-night return journey to the hotel for visitors. But the most exhilarating way for a group to be taken through Rattanakosin to the perimeters of the royal palace is as part of a police-escorted flotilla of tuk tuks. This exclusive, VIP-style experience can be arranged through Thailand Convention and Exhibition Bureau and the city authorities.
TCEB welcomes a vital link
The Thailand CONNECT Welcome Package for business event, incentive and conference groups provides a smart ticket for use on Bangkok's Skytrain system and one-hour free wi-fi access. Ratchaprasong Square Trade Association members, who include restaurants and stores, also offer discounts through the welcome package. Elsewhere, assistance from Thailand Convention & Exhibition Bureau extends to linking groups with park ranger and other agencies that help provide corporate social responsibility and teambuilding opportunites for overseas groups (above) visiting areas such as Khao Yai national park.
For more on activities in Bangkok and further afield, see here.