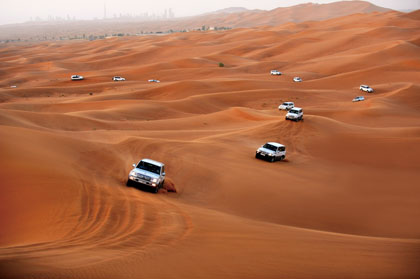 1. Desert Safari
Arabian Adventures provides a range of desert safaris, with exclusive access to a national park.
What's it like? The safari provides a memorable experience catering to all preferences. Adrenaline junkies will love the dune driving, as experienced drivers go at high speed, up, down and around the sand dunes. Tip – this natural roller coaster ride is best experienced from the front seat. Nature lovers will be in awe of the falcon show as the animal kingdom's fastest airborne predator swoops and dives for food with a breathtaking sunset as the backdrop. The spectacle comes with complimentary beverages (including wine and beer) and snacks, plus time to enjoy the majesty of the desert. This can be followed by a sumptuous buffet of traditional foods, belly dancing, henna painting, and shisha under the stars at a Bedouin-inspired camp.
Why go? Only 20 minutes from the metropolis of Dubai yet a world away, it gives groups an insight to both the adventurous side offerings for post meeting activities as well as a glimpse of times past. Six persons per vehicle, it caters to small and mid-sized groups.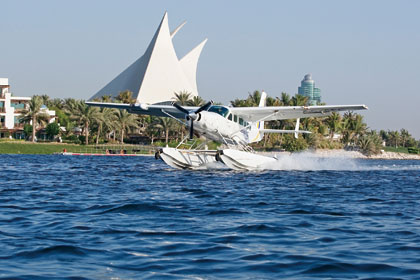 2. Seawings Dubai
Another option for the adventurous, and that includes photography enthusiasts. This time it's taking to the sky in a seaplane for a bird's-eye views of Dubai.
What's it like? Taking off from the tranquility of Dubai Creek, the plane reaches a cruising altitude of 1,500 feet, providing breathtaking views of the ever-changing city skyline and the emirate's most iconic landmarks, including Burj Khalifa, Burj Al Arab, Palm Jumeirah and The World Islands. There is a range of tour options, including 20-minute and 40-minute flights, and the option to fly to Abu Dhabi (45 minutes) with entrance to Ferrari World Theme Park, with road-transfer return included. Each plane carries eight passengers, each with a window seat for uninterrupted views and photo opportunities. Again the front seat, beside the pilot, is the one to snare for the most thrill-seeking experience.
Why go? No other Dubai experience provides these views.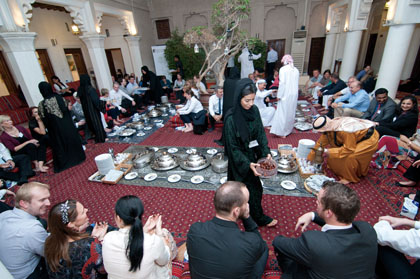 3. Sheikh Mohammed Centre for Cultural Understanding
Located in a traditional Wind Tower house, the centre was established under the patronage of His Highness Sheikh Mohammed bin Rashid Al Maktoum.
What's it like? A range of award-wining cultural enrichment experiences are provided including the Cultural Meals option. Enjoy a typical and delicious emirate meal (breakfast, lunch, brunch or dinner) while learning more about emirate culture. Operating under a banner of Open Doors, Open Minds there is also the opportunity to ask any questions. No matter how sensitive they may potentially be, they are answered with enthusiasm and openness. There is also the opportunity to try on a range of traditional men's and women's attire, from formal to everyday wear. Other options include cultural tours, a visit to Jumeirah Mosque and bespoke cultural programmes tailored to the group's interests.
Why go? The openness of the hosts is refreshing and it gives you a realistic insight into emirate culture and cuisine, while demystifying common misperceptions about both the culture and Islamic faith.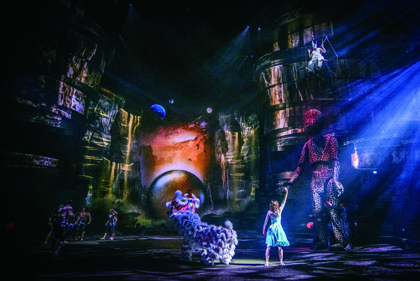 4. La Perle
Dubai's first and recently opened resident show by Franco Dragone, the artistic director behind Macau's House of Dancing Water.
What's it like? Opening to rave reviews, this latest creation from Dragone is staged in a unique 1,300-seat theatre, which Dragone describes as defining a new era in live entertainment. The groundbreaking show is a mix of impressive artistic performances, including aquatic and aerial feats, stunning imagery and impressive technology. In addition to the 65 performers the show also involves 2.7 million litres of water, which at times rains down from the side of the theatre (but not on the audience). The show itself pays homage to the spirit of Dubai and its past pearl industry as well as looking to its future. For a pre-show dinner or drinks there are three 5-star hotels in the same Al Habtoor City Complex: W Dubai, St Regis Dubai and Westin Duba.i
Why go? A visually stunning spectacle in, on and above water, and great evening entertainment for groups of all sizes.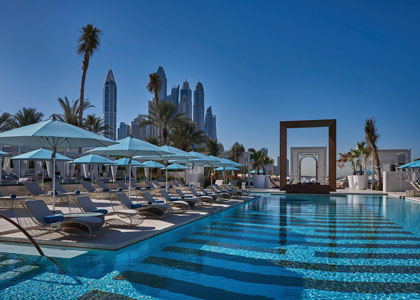 5. Drift
Dubai's hottest and newest private beach club.
What's it like? Presented by luxury hotel and resort group One & Only, Drift, opened in November 2017 and is described as a "bespoke seafront destination where luxury beach chic meets casual simplicity". There's a laid back ambience, but high attention to detail. It offers a stunning space situated on a kilometre of prime beachfront with a large infinity pool. Its beachside restaurant focuses on healthy eating and classics reinterpreted with a striking pool bar and cocktails created by an award-winning mixologist. Renowned DJs spin here amid gorgeous landscaped gardens and views of Palm Island Bay.
Why go? Perfect for a post-meeting unwind.