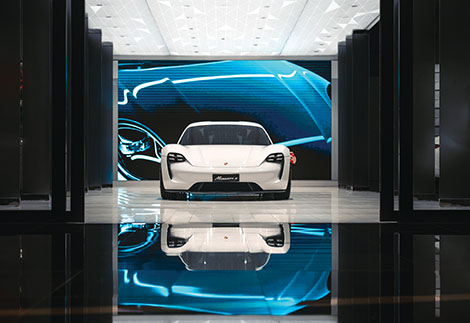 ICONSIAM
This glass-fronted addition to Chao Phraya waterfront may face the old diplomatic compounds and the Mandarin Oriental, but it is symbolic of the new face of Bangkok as Thailand raises its profile in the Asean economic region.
What's more special? Besides the 500 outlets spread over 750,000 sqm, including Thailand's first Apple store and a Porsche Studio (or mini showroom), IconSiam has a hi-tech conference and events centre in its uppermost floors.
Meetings? Yes, Tru Icon Hall on the seventh level has state-of-the-art audiovisual facilities and top-grade soundproofing in its 12,000 sqm of event space. Emboldening IconSiam's business event credentials is the latest automated retractable system for the 3,000-seats in the main hall. There are also 14 meeting rooms with capacities ranging from 20 to 200 seats, with some areas that can be combined to sit 600 for a conference.
Upcoming IconSiam isn't your traditional bargain-hunting marketplace; it instead offers further prestige to the Chao Phraya. With a Sky Train connection in the works, the Tru Icon Hall is set to provide more choices for meeting planners considering Thailand.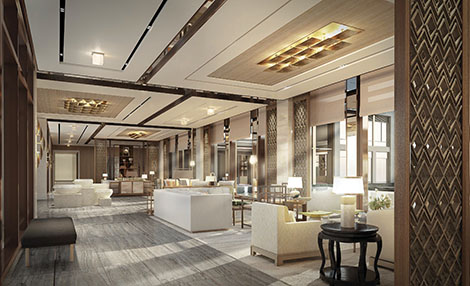 CAPELLA BANGKOK
Vintage luxury and unobstructed river views. Its opening in Q2 will be seen as another milestone in the Chao Phraya revival.
What's more special? Well, bon bons and bubbly on arrival for starters. It will also have its own variation on the butler service in the form of personal assistants for each of the 101 guest rooms.
Meetings and events? The Capella's event venues are all river facing and there are floor-to-ceiling windows for the 750 sqm Grand Ballroom. There is the 288 sqm Felicity Suite, four Atelier breakout rooms and, for outdooor events, the Courtyard offers a venue about the size of 1.5 tennis courts.
Dining? Two gourmet restaurants plus a riverfront terrace for al fresco dining with water views. Phranakhon seats 132 and offers all-day dining with a Thai chef's garden at hand. Côte by Mauro Colagreco will serve cuisine from the French and Italian rivierias.
Upcoming There will be event planning services and catering options, but overall the hotel is geared towards high-end meetings and incentive groups that certainly won't be of mega proportions. Activities and tours based on art history culture and cuisine can also be customised for business event groups.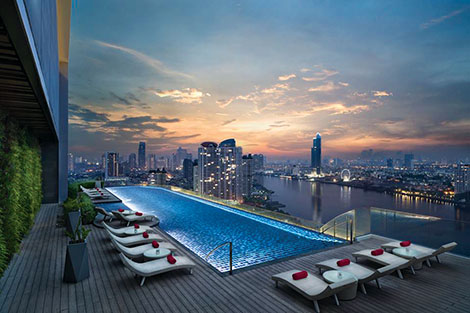 SEEN BAR, AVANI + RIVERSIDE
Avani+ Riverside's rooftop bar-restaurant and VIP lounge have been renamed SEEN, a brand created by the "chefpreneurs" who opened outlets of the same name in Sao Paolo and Lisbon.
What's more special? The lofty and expansive views from atop one of Bangkok's newest meetings and incentive hotels. The 26-storesy hotel has a sundowner vantage point over sister property Anantara Riverside across from Asiatique.
For groups SEEN restaurant will have seating for 185 guests with a mix of indoor and outdoor spaces. For more intimate gatherings, there is a lounge beside the cocktail bar.
Upcoming The whole ambience is meant to reflect SEEN's "1980s disco meets Art Deco vibe" and though international in tone, restaurant and cocktail ingredients are mainly Thai sourced. The new brand also aims to take its place in Bangkok's culinary scene and the Thai capital's more sophisticated nightlife with the help of jet-setting DJs commissioned by musical director Scotty B.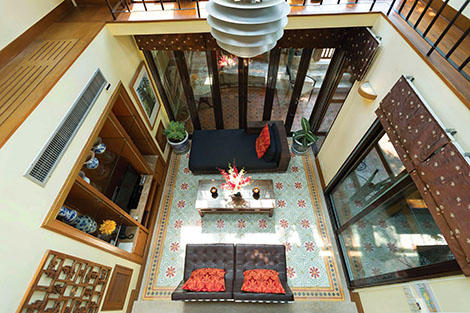 CHAKRABONGSE VILLAS
A favourite spot for dining with views of Wat Arun across the river. The venue dates back to 1908 when it was built by Prince Chakrabongse and the royal connection is still treasured today.
What's new? Four villas recently joined the boutique accommodation based around a traditional Ayutthaya-styled wooden house surrounded by gardens.
Dining Chakrabongse offers a degustation Thai menu based on royal recipes handed down generations while set menus change nightly. Private dining can also be arranged with sunset views of the temples across the river. The gardens can cater for up to 100 people for a sit-down dinner.
Meetings and events A Mercedes-Benz Maybach launch and an awards night for Kuoni Travel were among recent corporate events.
Incentive groups Sunset trips can be made on a Riva Italian speedboat with views of the Grand Palace and temples or a private long-tail boat can be arranged to tour the canals and stilt houses on the Thonburi side of the river.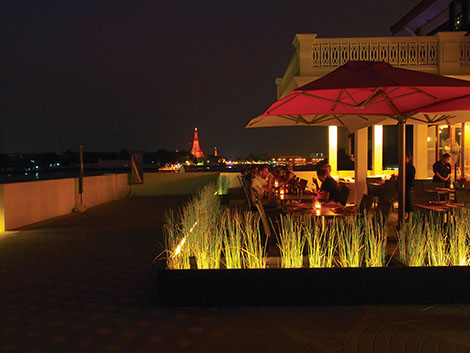 YODPIMAN RIVER WALK
Old favourites and new for groups to enjoy river views. Among the venues to be found near Yodpiman is the much-loved Mango Tree.
What's more special? Shops and restaurants are connected by the development's river walkway. Yodpiman serves as an example of riverside buildings renovated in a "heritage-style" and features about 20 small- to medium-sized restaurants with space to hire.
For groups Another dining space offering delightful vantage points overlooking the river at Yodpiman is the Mango Tree where the four levels can be booked by groups of up to 180 for sit-down dining. The restaurant's roof space can be used for a more intimate gathering of up to 60 for cocktails, but most organisers are happy with a single floor, such as the second level, which can seat 100 for dinners or 300 standing.
River views Through the streets behind Yodpiman is Rattanakosin, Bangkok's flower quarter. Arranging a fleet of tuk tuks is a unique way for a group to be taken through Rattanakosin to the perimeters of the royal palace with a tourist police escort.This exclusive, VIP-style experience can be arranged through Thailand Convention and Exhibition Bureau and city authorities.