TAIPEI joined forces with ICCA to host a global forum to promote the adoption of hybrid formats for business events in a "post-pandemic world".
The Taiwan capital's city government presented the ICCA Think Tank joined online by 176 participants from 37 regions to examine how international associations have leveraged digital technology to enable cross-border meetings.
Taipei is among the destinations to have joined the Hybrid City Alliance, an organisation headquartered in The Hague, formed to help members help each other in developing conference solutions that combine in-person events with digital formats.
Speakers included Dr Chen-yu Lee, director of the Taipei City Project Management Office, who explained how 5G and Big Data can support the development of hybrid events. Tadeja Pivc-Coudyser, of The Hague Convention Bureau said while multicity hybrid events could benefit small cities, they could also pose a challenge to PCOs.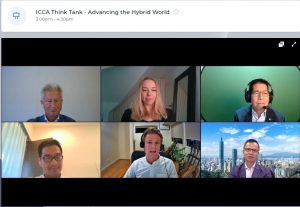 A spokesman for Taipei's MICE office said the city would support the development of digital and face-to-face events involving immersive virtual experiences, online-offline hybrid activities and other innovative technologies.
In February, Taipei City White Paper on Industrial Digital Transformation for the Post-Pandemic Era was published, identifying the MICE industry as a key sector for the capital.
The conference heard that Taipei has also hosted several "milestone hybrid conferences, exhibitions and forums" including the 2021 Smart City Summit and Expo in March, which used AR and VR virtual experiences with simultaneous online and offline events.
Backgrounder… Taiwan eyes return of overseas groups
COMPUTEX TAIPEI, which ended successfully on June 30, went one step further and applied AI technology to its virtual exhibition.
Taipei was also ranked among the top 20 conference cities with the highest percentage (19 per cent) that responded to the global pandemic slowdown by converting physical meetings to hybrid events.
Apart from maintaining Taipei's profile among global meetings organisers, the conference was also told that tourism officials were also working closely with the private sector to explore opportunities for business events and identifying more partners to expand the city's appeal as a MICE destination.
Guest speakers included Ko Wen-je (main picture), Mayor of Taipei City, and ICCA chief executive Senthil Gopinath