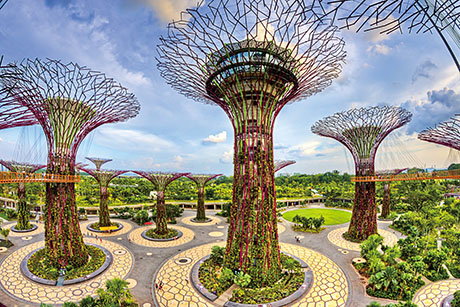 GREEN DREAM
A verdant slash on the island's south, Gardens by the Bay is a marvel of technical engineering and environmental stewardship. Visitors can wander the various sections of the park, but for an in-depth appreciation of the work behind the wonder, take the two-hour Gardens Tour with Garden Cruiser. Featuring a tram that can fit a maximum of 12 people, the excursion stops by Supertree Grove, OCBC Skyway, the two climate-controlled glass conservatories, and passes outdoor areas like the Heritage Gardens, World of Plants, and the Meadow, with audio commentary offering details on each sight.
Highlights include the Flower Dome (the world's largest greenhouse with more than 3,000 glass panels) and its displays of blooms and plants from the Mediterranean; the mist-filled Cloud Forest that recreates temperate highlands up to 2,000 metres above sea level; and the Supertree Grove, with flora from South and Central America. gardensbythebay.com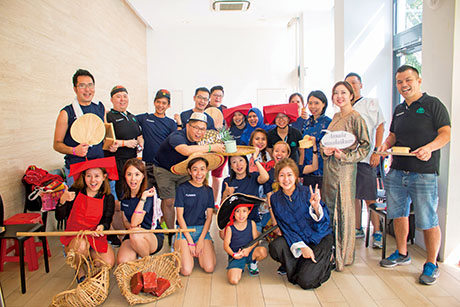 DRAMA MAMA
Try the innovative Jambar Team Building – its Drama Mama programme offers visitors an insight into the city's character and heritage. Part workshop, part artistic improvisation, the workshop sees small groups put on skits and performances with storylines inspired by the historical culture of Singapore, incorporating the ethnic and cultural influences that have shaped the country.
First up are challenges, such as identifying different kinds of Indian spices, learning Chinese paper-cutting techniques, kicking a Chapteh (a feathered shuttlecock hit back and forth by players using their feet), and re-enacting the travails of Samsui women, who came to Singapore from China in search of construction and industrial jobs.
After the activities, each group creates a story, set in Singapore of the past that links to the present. More than just conduits to forge bonds, the shows and activities allow participants to showcase their creative acting chops while tracing the Lion City's historical development. jambarteambuilding.com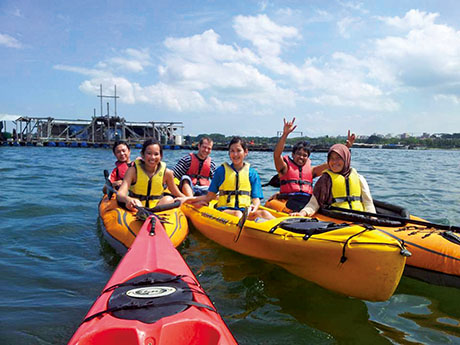 WATER WORLD
Focusing on adventure activities and outdoor teambuilding trips, Adventour offers a voyage out on the sea, and back to the time before the arrival of the British when Singapore was a simple fishing village. The three-hour Kayaking to the Kelong programme (a kelong is an offshore platform, found throughout Southeast Asia, often used for fish farming) provides a window onto the simple life of a local fisherman, a stark contrast to the glitz and glamour of Singapore.
The experience begins at Pasir Ris Beach, with a briefing on the short paddle ahead – participants don't need to be fit to undertake the journey. From here enjoy endless sea views until docking at the kelong, where marine critters fill the kelong nets and where local fisherman chronicle the hardships and happiness of life at sea. While at the kelong, guests also have the opportunity to feast on a seafood barbecue alongside vistas of the tranquil open water. adventour.com.sg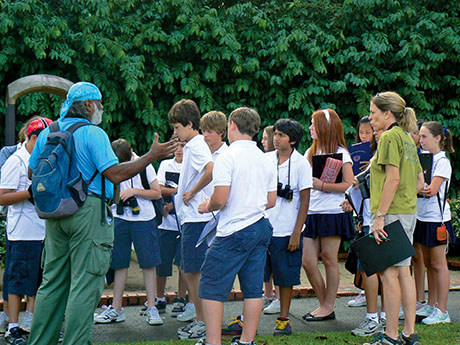 INTO THE WILDS
Wildlife consultant and guide Subaraj Rajathurai is intimately connected to the flora and fauna of Singapore, He has been guiding, providing educational and special tours, and conducting surveys, biodiversity assessments and impact studies there for 30 years. Rajathurai's nature walks, from general rambles to those focused on specific wildlife and bird-watching, will bring visitors to a Singapore unfamiliar even to some locals, exploring rainforests and mangroves along boardwalks and well-maintained trails.
To him, Singapore is unique, offering a variety of nature areas that are a short drive or boat-ride from each other (unlike other destinations in the region that require distant travel and careful, expedition-style planning), allowing travellers to combine a handful of green spaces in a single day. Visitors might see old villages and farms, fauna like hornbills, mudskippers, monitor lizards, long-tail macaques, otters, and a variety of flora that Rajathurai can describe in impressive detail. subaraj.com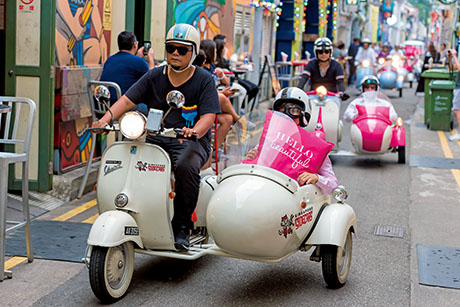 SIDECAR SIGHTSEEING
From the vantage of a restored vintage Vespa sidecar, the one-year-old outfitter Singapore Sidecars lets intrepid delegates experience the Lion City's sight, sounds, and flavours from waist level, taking them down alleyways, along open rooftops, and into encounters with locals. The experience is uniquely Singaporean in more ways than one – the oldest scooters in the fleet were made on the island pre-independence at the then Singapore Vespa factory, making some older than the country itself.
Tours explore a number of themes, including architecture, nature, the arts, adventure, and also include night rides. The bestselling excursion is around the Civic District and the Malay neighbourhood Kampung Glam, where landmarks including the Sultan Mosque (the largest mosque in Singapore) and the former Sultan's palace, and where traditional textile wholesalers, spice traders, perfumers, and gemstone retailers continue to thrive. sideways.sg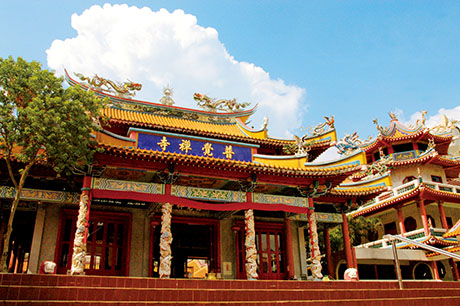 PEACE OFFERING
Founded in 1921, the Kong Meng San Phor Kark See Monastery is one of the first traditional Chinese forest monasteries in Singapore, today sitting on a plot about the size of 11 football fields. It's one of the most significant monasteries in Southeast Asia, a spiritual sanctuary in central Singapore. The monastery is open to the public every day, and is home to the Buddhist College of Singapore, with trainee monks wandering about in steel-grey robes.
Groups keen to learn more about the complex can sign up for the once-monthly tours conducted by guides that uncover the rich history of the monastery and Buddhism. The lamasery, built on a forested hill, has well-preserved imperial Chinese architecture, grand buildings with sweeping rooflines and ornate dragon sculptures, a gleaming gold stupa visible from many points around, and a museum containing personal items and relics that belonged to a former abbot. kmspks.org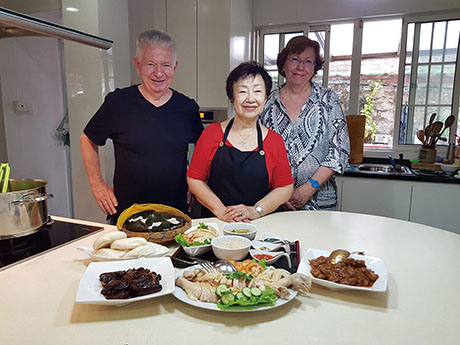 PERANAKAN COOKING
Working out of her home in suburban Singapore, Rosaline Soon (above) is a passionate champion of her ancestral food, Peranakan – the hybrid cuisine spawned by mainland Chinese that emigrated to Malaysia and Indonesia as early as the 1400s and took local brides. She teaches visitors how to cook some of the genre's more evocative dishes, such as Nonya laksa (spicy noodle soup), ondeh ondeh (sugar-and-rice-flour dessert), as well as Singapore classics like chilli crab and chicken rice.
After helping her prepare and cook a meal – dishes that can easily be recreated back home – with discussions of food and travel from around the world often peppering the proceedings, participants gather to enjoy the meal prepared. The relaxed, homely ambience lends the experience a pleasant, gentle evolution, rounded off with food that promises to inspire the taste buds. grandmothersrecipes.com.sg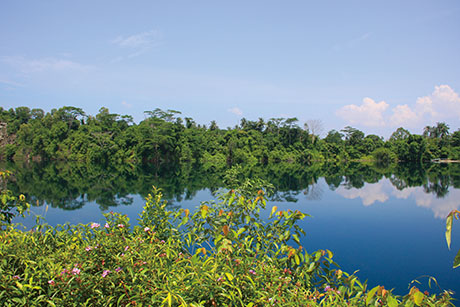 GRANITE ISLAND
A small isle that's a 10-minute boat ride from Singapore's main body, Pulau Ubin (or granite island) is a frozen snapshot in time, set in an era before the country gained independence. Home to only a handful of residents that live without running water or electricity, Ubin is also a nature-lover's paradise, with vast swathes of untouched jungle home to wild boars, jungle fowl, monkeys, and other creatures roaming freely in the natural environment.
The Ubin Bike Trail adventure by Asian Detours takes groups to those pristine surroundings, stopping by scenic spots, historical landmarks, areas ripe for animal and bird watching, and lets them interact with villagers. It is the perfect way to discover the riches of the simple life while getting a heart-pumping workout. adventures.asiandetours.com