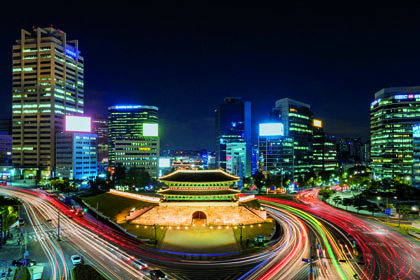 SUPERB connections and venues have long been key to successful business events – and few cities in Asia offer a better inter-connected metropolis for conference and incentive planners than Seoul.
Event planners in Asia know the value of a good network and Seoul high hospitality standards alongside an impressive geographical and commercial hub. These would have also been appreciated by the tens of thousands of fans who used the Seoul and neighbouring Incheon as a transit point to the 2018 Winter Olympics in Pyeongchang in February.
Despite well-pronounced challenges – usually issues that have seized global headlines and beyond the control of event planners – Seoul continues to deliver impressive conferences and memorable incentives. This was the case when 6,000 Rotary International delegates descended on the city in 2016 and 5,000 overseas participants for the World Architecture UIA World Architects Congress the following year, to give just two examples.
And judging by what Seoul Tourism Organisation (STO) showcased recently there's even more to come.
Hallyu harmony
K-pop – or Hallyu as it's known to Koreans – has become a solidifying cultural force for the country. This was the case with a Hallyu in the Park concert in Gwanghwamun Plaza to mark the lighting of the Winter Olympics torch via a live video feed to Pyeongchang, 126km away at the site of the games. Above all, the event showed Seoul's festive side, and the bringing of people together in celebration, a concept from which conference hosting naturally follows.
Thousands gathered behind VIP rows of diplomats, international CEOs and overseas visitors who flocked to Seoul city centre to enjoy a host of K-pop stars and audiovisual wizardry.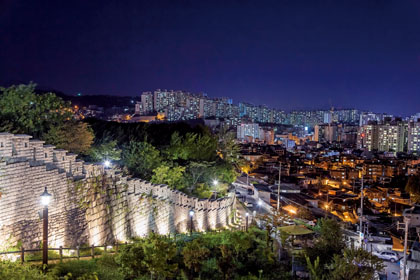 Seoullo 7017
Admirable examples of environmentally, as well as pedestrian-friendly facilities, can be found across Seoul. One that stands high above most of them, both structurally and in terms of ingenuity, is a former flyover (or overpass) across from Seoul Station that was built in 1970 to ease traffic congestion, but is now serves as a public park and walkway.
Seoullo 7017 is one of the capital's latest landmarks with one part of its name denoting the year it was built, while the 17 refers to the number of paths it provides and the year overpass was reborn.
The city's mayor was inspired by a similar project in New York, but there was also a shrewd economic reason behind the transformation as well as environmental. Tearing the overpass down would have been ultra-expensive compared to repurposing it as a park with stalls occupied by youthful and creative startups.
Lotte World Tower
Another new opening, this time soaring above 123 floors above the Lotte World theme park, is the tallest building in Korea and fifth tallest in the world at 555 metres.
From Lotte World Tower's six-level Seoul Sky observation section, which starts on the 117th floor, groups gain majestic 360-degreee views of Seoul. On level 123 is a high-end lounge with cafes, observation decks and the Sky Deck, an open-air platform on the floors below.
The tower also houses the Signiel luxury hotel on floors 76 to 101 featuring a Grand Ballroom with a capacity for 300 plus Studio I-IV with four venues. More than halfway down from Signiel is Sky31 with meeting space that includes a small auditorium.
The tower opened in April 2017 south of the river in the Songa-gu area.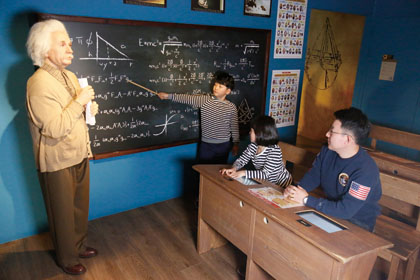 Grevin Museum
The museum's second-level Hall of Fame can be used for a nightclub-themed event where groups can mingle with "celebrities" ranging from Psy, G-Dragon and other K-pop stars to Mick Jagger, Madonna and Marilyn Monroe. The Hall of Fame – only available after opening hours – can host a maximum of 200 guests standing and 120 seated.
Grevin began in Paris 135 years ago and lays claim to being the only wax museum in Korea. Located in Jung-do area alongside official cultural buildings, Grevin Seoul doesn't simply present itself as a gallery of wax models, but rather as a venue where culture and history can be absorbed by groups, with exhibitions ranging from John Lennon seated in a studio to a scene of Korean soap-opera stars relaxing.
One of the interactive sections of the museum is the Discovery Atelier where groups can learn about Grevin's production "secrets" use 3D scanning to create their own  wax figures.
Gyeongbokgung Palace
A unique way for groups to enjoy a tour of the grandest of the five palaces is to hire Joson-era outfits such as the regalia of a general, scholar or simply a pretty hanbok and stroll a few blocks away to palace for a tour. Whatever garb groups are wearing, a palace visit is a fine chance to see close up the restoration efforts and the depth of Korean history.
At night, the palace's front edifice comes alive with projection mapping showing Korean cultural scenes.
SMT – and its K-wave franchise
SMT is one of foremost entertainment agencies that brought the world the K-pop phenomenon. On its rosters is a swathe of girl and boybands that top the charts at home and abroad, while SMT has more eager young hopefuls waiting in the wings.
One venue many of the starlets like to hangout (mainly in the five-storey building's private sections) is SMT Seoul, located in the upmarket dining quarter of Cheongdam. The venue opened in January 2016 and is a concept by Soo Man Lee, the founder of the SM Entertainment Group, who has the likes of EXO and Girls Generation under his wing.
A bar-lounge area called Playground welcomes groups before a choice of venues ranging from an outdoor terrace with two indoor dining spaces and to the third and fourth-level Penthouse spaces. It is here that the K-popsters come to dine and relax with the inhouse chef serving Korean, French and fusion cuisine.
Organisers can also hire the 838 sqm of available space for meetings and events. On the shelves of the Playground section are goods with the boy/girlband brand on sauces and other commodities; such is the power of franchise.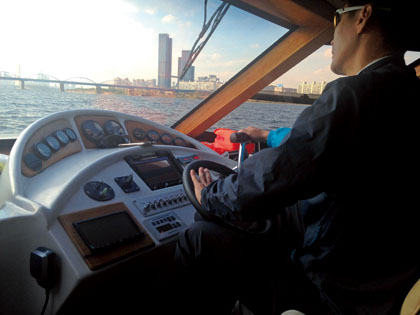 Walking on the Cloud
Nestled in the distant hills to the south of the Han River are royal tombs dating back 6,000 years. Tours and hikes on trails that take in this and the ancient city walls are available to groups visiting Seoul.
Another way of experiencing the old and new Seoul is on the range of water-taxi routes that can be boarded near Some Sevit, the series of constructs that host events and dining venues.
There are 16 berthing points – or taxi stops – along the Han where boats can be hired. An event at Some Sevit can be followed by a trip that takes in landmarks such as Rainbow Bridge before a stop near the gold-tinted Hanwha Tower in Yeoudio that houses the 63 Restaurant. On the 59th level is Walking on the Cloud venue designed to make the most of the views of Seoul at night with a private dining room suitable for up to 20 people.
Private venues can also be found at 63's Whiskey & Wine Bar, with its Touch the Sky – on the 58th level offering five dining or meeting spaces.
Some Sevit
The cluster of three "floating islands" are actually registered ships, but at night they come into full glory as the colourfully glowing FIC (Floating Island Convention) that has hosted events for the likes of Hewlett Packard, Yahoo; launches for Cadillac, Chrysler, a dealers' convention for Maserati among others. This is where Some Sevit's banquet hall comes into its own with a car elevator for auto shows, wall to ceiling views of the Han River at one end of the venue and an 18 metre-wide screen for audiovisuals.
For outdoor events there is the Sunset Stage with views of Rainbow Bridge and a chance for action-movie fans to recall scenes where one of the Transformer series were filmed.
National Museum
In the same district as the new Dragon City "hotelplex", and other upscale properties such as the Grand Hyatt and Shilla, is the National Museum of Korea. The museum's Gateway Plaza – whcan hold 3,000 – was used during the G20 for a gala dinner, while the interior offers auditoriums and meeting rooms.
HOTELS
Seoul Dragon City
Industry is a hallmark of modern Korea and Seoul's districts are alive with specialist workshops and stores supplying lighting, electronics and engineering services. Seobo T&D corporation – the developers behind Seoul's latest major hotel project has its roots in such a commercial area: Yongsan, which is also home plush neighbourhoods, upscale hotels, and where Seoul Dragon City opened in autumn 2017 as Korea's largest hotel with a combined 1,700 guest rooms spread across four brands.
The hotel "hotelplex" is also a major project for Accor, which has its Novotel Hotel, Novotel Suites, Grand Mercure and Ibis Styles in Dragon City.
For special events, the cluster boasts Sky Kingdom, with four levels of themed venues housed in a bridgeway that links two of the towers, and includes the Sky Beach, which features decking, BBQ facilities and DJ booth.
Convention facilities can accommodate up to 4,900 people across 19 meeting spaces, including two grand ballrooms, making it the largest hotel meeting space in Seoul, according to Dragon City, which has called the space Convention Tower.
Both ballrooms – the Hanra and Baekdu – each scale 1,189 sqm. The third-level Hanra can be divided into three and features a 16 metre-wide media wall enabling transmission in three parts, so delegates can see presentation on their left, right and centre. On the fifth level is Baekdu, which can seat 1,972 people theatre style and 840 for banquets. Baekdu's LED wall is 12 metres wide and offers an unbroken view between screens. The stage setting and audio comes from the high-end Harman Kardon, a subsidiary of Samsung.
Dragon City will be hosting Winter Olympic delegations from the Caribbean and France. The hotelplex is 3km from Seoul Station where high-speed trains can reach Pyeongchang in 90 minutes.
Even closer, however, is Yongsan and Singyongsan stations which connect to the rest of the city, and the iPark Mall – with Shilla Duty Free and Lotte Cinema – behind the hotelplex.
Conrad Seoul
Headquarters of Korea's corporate titans are grouped around avenues either side of Yeoudio Park and within sight of the National Assembly building where the repubic's lawmakers preside.
Amid the chaebols and multinationals stands the 434-guest room Conrad Seoul with three floors of event space including the Grand Ballroom, which at 941 sqm can accommodate up to 1,200 people.
At the junior Park Ballroom, which can seat up to 700, an intellectual property rights conference hosted by Seoul's European Chamber of Commerce was one of the recent corporate events.
There are 50 suites including 47 occupying corner vantage points with a Presidential Suite that faces the LG headquarters and two Conrad Suites. The international corporate community tends to feel at home in the neighbourhood with Deloitte, Hewlett Packard, AIG and IBM among the big names around the hotel.
Alongside corporate comforts, the Conrad Seoul encourages delegates to strike out of that comfort zone with a choice of itineraries in its Stay Inspired programme that last one, three or five hours and are "off the beaten track".
Four Seasons Seoul
Gwanghwamun is where old and new-town Seoul meet: a hub that takes in the palace and the "K-wave cool" alleys, streets and – for those seeking a plush retreat – Four Seasons Seoul.
Hidden in the basement, the Speakeasy offers and intriguing post-meeting or incentive retreat for small groups. The bar-lounge is kitted out in sympathetic detail to conjur the style of a US Prohibition-era hideaway, but more Great Gatsby than Al Capone. Overall, however, the venue is a homage to Charles H. Baker Jr (1895-1897) who wrote the Gentleman's Companion series of books and whose is now undergoing a renaissance as mixologists collect his classic cocktail recipes.
JW Marriott Dongdaemun Square Seoul
Dongdaemum is Seoul's design, garment and fashion quarter all rolled into one with the gate that give the area its name standing proud outside the JW. This contrasts with the uber modern Dongdaemun Design Plaza, a venue for fashion shows and design-related events.
When US President Donald Trump was in town, JW Marriott Dongdaemun Square Seoul was the base for some of his entourage. If they weren't too busy they could avail of the hotel's indoor pool, the setting for a few Korean TV drama scenes.