Scores of islands dot the seas around Malaysia. Tioman, Penang, and Pangkor are prime examples. However, when it comes to organising incentives and events, Langkawi comes out well ahead.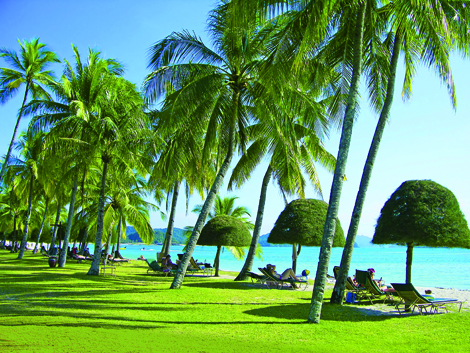 Off the west coast and close to the border with Thailand, Langkawi – which is part of the northern state of Kedah and was developed as a tourism destination at the personal behest of the then prime minister Mahathir Mohamad in the late 1980s – enjoys a rich history and some beautiful natural landscapes. While the Langkawi archipelago is made up of more than 100 islands, it's the largest, Pulau Langkawi, that is the focus for team building and similar corporate activities.
Hosting an event on any island automatically adds a tinge of exoticism, and Pulau Langkawi is more exotic than most. The coastal areas are flat, but inland some two-thirds of the island is covered by mountainous forests dating back millions of years. Small wonder it was awarded Unesco Geopark status in 2007. Offshore, smaller islands make for excellent day trips that give delegates a chance to unwind, relax and – should occasion demand – think out of the box.
Another of Langkawi's prime attractions is its roster of upmarket hotels, large and small, which are well used to handling sizable groups, and can lay on imaginative meals – in a specially designed pavilion, or even in the jungle – with appropriate accompanying themes and entertainment.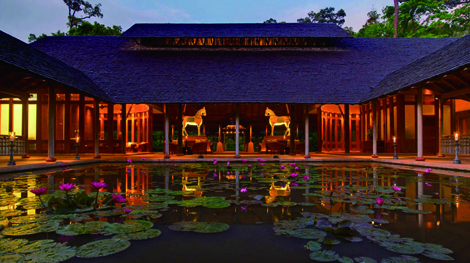 For just about every visitor, Langkawi's duty free status adds an extra allure. Local handicrafts, such as the island's signature crystal ware, and tobacco and alcohol are popular purchases, and modern malls while more traditional village-style shopping offers a great retail experience.
Golf may as well be tailor-made for incentive travel, and Langkawi's trio of courses provide some challenging play. By common consent, the Els Club Teluk Datai – an 18-hole, par-72 championship course designed by South African former world number one Ernie Els – is the most exciting, with both marine and forest vistas and some beautiful landscaping.
Finally, Langkawi is easily accessible, with airlines and ferry companies operating regular flights and sailings to and from the mainland.
Natural wonders
Langkawi is one giant adventure playground that Nature has obligingly sculpted over the course of several millennia for corporate retreats to make use of.
The best aspect is that Langkawi's natural wonders are easily accessible, so travel time is cut to a minimum. The Andaman Sea and the rest of the Langkawi archipelago stretch away from beachfront hotels; the rainforest provides a backdrop over most of the island; and when playing a round of golf it can be difficult to judge where the fairway ends and the jungle begins.
A Langkawi canopy tour is one of the island's trademark teambuilders. Groups trek through the forest – home to lemur, wild boar and civet cat – up 890-metre-high Gunung Raya, where they first learn to abseil, and later tackle a network of cables and zipwires in the forest canopy. It's a great way for colleagues to bond, and can also be run as a competition.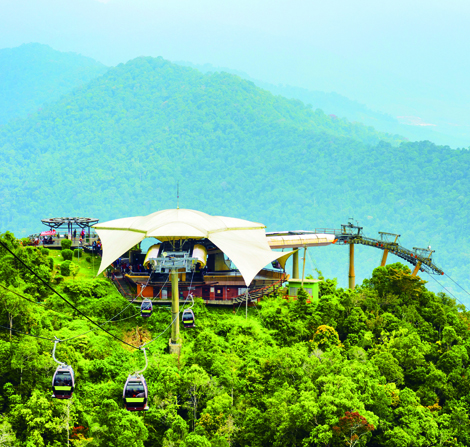 Other excursion opportunities include boat trips to the outer islands – ideal for treasure hunts, mini-sports events, or simply an exotic picnic – and kayak expeditions. Paddling up narrow canals through the mangrove swamps and into caves is both exciting and educational, and makes for an exhilarating day out.
Events and unique venues
With the whole of Langkawi acting as a potential event space, DMCs and hotel meetings and event executives have not been slow to exploit the island's potential.
"Langkawi combines wild nature, vast open spaces and adrenalin-fuelled activities," says Nora Ariffin, Four Seasons' Resort Langkawi's conference services and events executive.
"We organise such activities as bamboo-raft making, castaway contests to see which team can decipher a treasure map and decode buried clues, paintball (mock) war games and straightforward sailing races between deserted islands."
Pacific World, a DMC with offices in Kuala Lumpur and Penang, rates Langkawi one of the country's top destinations. "We run a programme called Langkawi safari trails, which is similar to the Amazing Race," says Farshah bin Ariffin, Pacific World's assistant meetings and incentive manager.
"We usually install a few tasks along a route so the guests will have to drive between checkpoints and try their hand at something to do with the local lifestyle such as coconut husking, or paddy winnowing.This sort of teambuilding gives our clients the opportunity to venture around the island at their own pace while at the same time experiencing our culture. This is a totally different way to experience a destination if you compare it with the regular sort of teambuilding that might be held in a ballroom."
And taking 'the sky's the limit' literally, Diethelm Travel stages what's dubbed A Cocktail Reception in the Clouds.
"The Panorama Langkawi Cable Car is an exhilarating ride with a stunning view of the surrounding horizon and rainforest," says events manager Jacqueline Haiu.
"The cable car's three stations are located at different altitudes. The reception can be arranged at the observation decks with finger food. We can cater for between 60 and 100, and it's a really exhilarating event.
"Alternatively, back down at sea level we can lay on a cocktail party on the Captain's Deck at the Royal Langkawi Yacht Club, which enjoys fantastic sunset views out over the sea."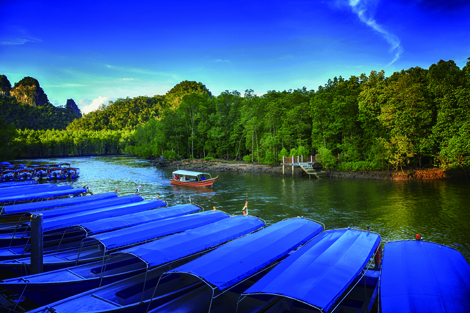 Fast Facts
Climate Langkawi enjoys a sunny, hot and humid, tropical climate. The average annual temperature is 25˚C. August and September see the heaviest rains, although there are occasional showers all year round.
Access Flights between Kuala Lumpur and Langkawi International Airport take 50 minutes. Langkawi is served by Malaysian Airlines and Air Asia, among other airlines. The airport is about 20km west of Kuah town. The two nearest ferry ports are Kuala Perlis and Kuala Kedah, roughly 90 minutes' sailing from Langkawi. To the south, the island of Penang is two-and-a-half hours by ferry from Langkawi.
Transport Buses, vans and limousines can be hired on Langkawi, which has an extensive and well-maintained road network.
Visas Citizens of most countries do not require a visa to visit Malaysia. Exceptions include passport holders from Vietnam,
the Peoples' Republic of China and South Africa. Israelis are prohibited from entering the country.
Language The official language is Bahasa Malaysia, although English is widely used, and hotels and other tourism-oriented industries employ staff familiar with languages such as Putonghua and Korean.
Hotel Highlights
Four Seasons Resort Langkawi
Set on one of Langkawi's best beaches on the northeastern cape of Tanjung Rhu, the Four Seasons hosts 68 pavilions and 23 villas. As well as an outdoor banquet capacity of 120, it has an intimate Malay-style pavilion ideal for small events.
The Andaman, Langkawi
Staff at the 178-key Andaman are past masters at thinking out of the box, that is, leaving the conventional MICE facilities locked and bolted and taking events onto the beach, which is fringed by a coral reef, or into the rainforest itself.
The Datai Langkawi
At The Datai, The Gulai House offers an enclosed dining area for open-air events while team-building activities can be hosted in the private beach area. The accommodation comprises 125 rooms, suites and villas.
The Westin Langkawi Resort & Spa
Guests at the Westin can take their pick of 202 rooms and suites, as well as 20 ocean-view pool villas. The 500-metre-long beach is one of the resort's greatest assets, and guided nature hikes are equally popular.
Sheraton Langkawi Beach Resort
Treasure hunts around the island, out to sea, or at the resort itself – the Sheraton Langkawi has got it covered. There are 238 rooms and suites to collapse in afterwards.