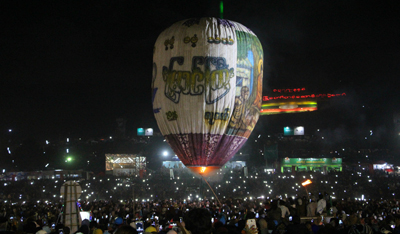 Business events visitors to Myanmar's Shan State are in for a spectacle, as its capital city hosts the most extravagant balloon festival to date.
Organisers are promising that the annual Taunggyi Hot Air Balloon Festival, part of national Tazaundaing (Festival in Lights) celebrations, will be more spectacular than ever with fire balloons and more.
In the afternoons of November 8-15, enormous papier-mâché hot air balloons will be launched from the festival grounds near Taunggyi.
Evenings will see fire balloons launched. Once balloons have reached a height of 20 metres, fireworks will explore from them in all directions.
Myanmar Tourism Marketing has said that there will be designated areas from which foreign tourists can safely observe the balloon launches.
A man-powered Ferris wheel will be among the electric-free attractions.
On the days before the festival, visitors can expect to see bamboo poles with donations around towns and villages.
During the festival, hot air balloons are launched throughout the country, albeit on at a smaller scale than Taunggyi.