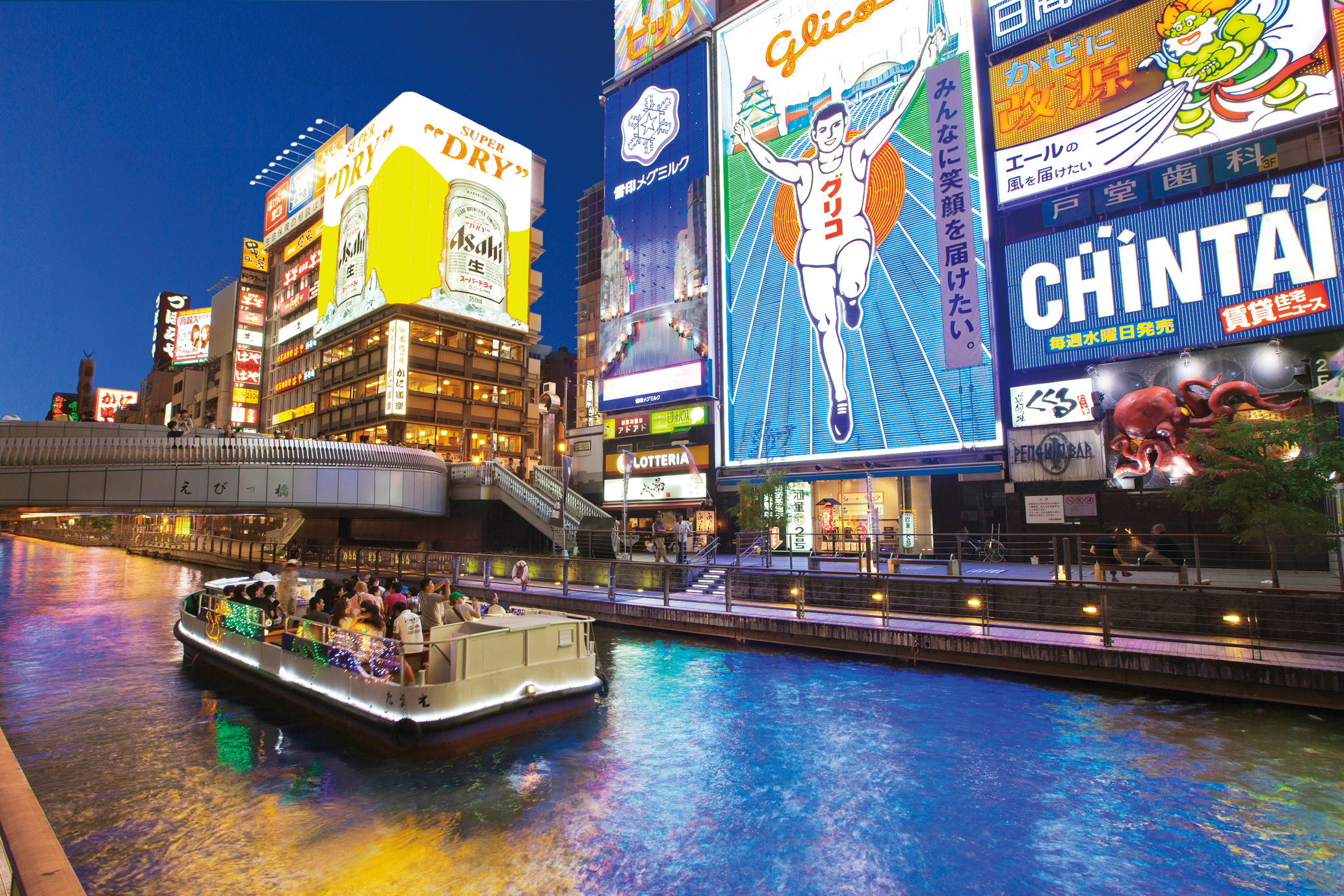 USPs
Osaka's downtown Dotonburi district offers groups the sort of experience that only Japan can offer; home to quirky souvenir touts, street stalls serving deep-fried treats and a seafood restaurant with a giant plastic crab clawing its way up the signage. It's also a shopper's paradise, where assistants appear to be competing for funkiest window display along the trendy Shinsaibashi shopping arcade. Shinsaibashi is famous for shops offering premium Japanese confectionary, clothing, accessories and local beauty products popular with Asian tourists, while nearby in Tachibana-dori, Orange Street is extolled by fashionistas for its collection of independent brands and luxury furniture outlets.
Aspiring to be Japan's Silicon Valley, Osaka has positioned itself as a start-up hub where entrepreneurs are welcomed with open arms. Foreign small and medium-sized enterprises keen on establishing in the city can avail of subsidies on a portion of their investment. Retail space at Grand Front Osaka in Umeda (the area surrounding Osaka Station) has been earmarked for entrepreneurial businesses, housing shops and show rooms that take on a theme of innovation. Groups can host events in parts of Grand Front Osaka, such as at the South Building Terrace Garden opposite Osaka Station or on the ground floor Plaza, where automobile and other launches are often held.
Venues
Osaka International Convention Centre – Known locally as the Grand Cube, the 12-floor facility is a regular choice for medical conferences. Venues include a circular conference room, event hall and plaza with ramps used during auto launches.
Ritz-Carlton Osaka – The Lobby Lounge hosts daily Afternoon Tea in a European-style tearoom with armchairs and live piano and flute. Dior recently hosted afternoon tea for clients in the lounge, which can accommodate 100 standing.
Hilton Osaka – Located in the heart of Umeda, the hotel unveiled 288 renovated guest rooms in 2014, offering modern and updated Japanese touches to the décor and furnishings. The hotel has 10 banquet rooms, a spacious lobby and glass room for cocktails. Five restaurants can be booked out for events.
Billboard Live Osaka – Located in the basement of Herbis Plaza department store, the bar-cum-theatre can be hired for use during visiting shows as well as a host venue for a company's own entertainment. The space can accommodate around 100 for a sit-down meal directly in front of the main stage, with high tables set up for drinks and snacks in the back of venue.
Connections
Kansai International Airport is a hub for Japan Airlines, Al Nippon Airways and Peach, Japan's largest low-cost carrier. Kansai is currently Japan's busiest airport for foreign arrivals thanks to the large number of budget airlines it hosts, alternating with Tokyo's Narita airport for the top slot every few years. The airport provides direct services to 74 cities in 24 countries and regions and is accessible by train to downtown Osaka in 30 minutes. Osaka is also served by Shinkansen (bullet trains) from Tokyo, Nagoya, Kyoto and Sanyo. An hour's train journey from Osaka is the Unesco site of Nara, famed for its giant Buddha, lush parkland and tame, freely wandering deer.
Excursions
River cruises – Groups can take cruises down the Tombori River, which runs through the southern region of Dotonburi. Night cruises will regale groups of up to 20 with bright lights of the electronic and mechanical displays stationed along the canal, including the famous "Glico man" billboard.
Helicopter tours – Osaka has several operators offering 10-20 minute tours of the city by day or night. From 3,000 metres up, groups of three to five can enjoy Osaka sights including Japan's tallest building, the Umeda Sky Building, Osaka Castle, Shitenno-ji temple, Universal Studios and the Kyocera Dome baseball stadium.