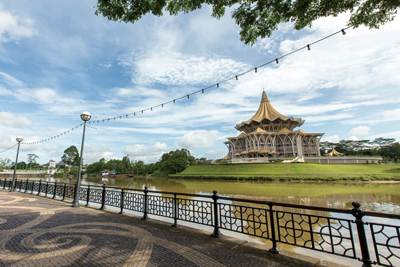 USPs
Destinations more remote from the main conference circuit are at last coming into their own. The Malaysian Borneo state of Sarawak finds common ground with the likes of Australia's Tasmania and Uluru (Ayer's Rock) for meetings themed around what is special to those destinations. In the case of Sarawak it's the rainforests, Borneo's legendary tribes, orangutan sanctuaries and renewable energy, which are attracting conferences on topics ranging from hydropower to adventure travel.
Kuching, the state capital and a gateway to Borneo, has advantages compared to other emerging destinations that are considered remote. It benefits from direct international air routes and frequent services to other cities in Malaysia.
Sarawak's convention bureau played no small part in securing the ICCA Congress 2016, which saw around 835 meeting professionals from 62 countries gather at Borneo Convention Centre Kuching.
Remote destinations are also tapping into indigenous culture. In Sarawak this includes the Tribal Wisdom Speaker Programme.
Venues
BCCK – Borneo Convention & Exhibition Centre Kuching underwent a revamp prior to the ICCA Congress. Among its new offerings is a "meetings on the river" service called Sayang Sarawak. Groups of up to 50 can host meetings or events aboard a cruiser on the River Sarawak from a pier across from the facility.
bcck.com.my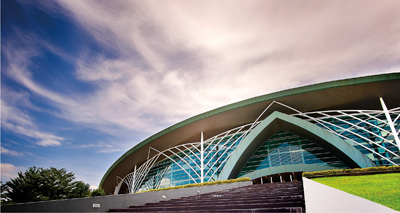 Kuching Waterfront – Marquees can be arranged alongside walkways on the banks of the River Sarawak across from Kuching City Hall. Caterers, entertainment and fireworks were on show with a Malaysia Gastronomic theme for the ICCA Congress welcoming reception. The riverside walkway meanders to Kuching's downtown district and is a favourite spot for musicians, food vendors and souvenir stalls.
Hotels – International brands in Kuching include Hilton, Sofitel Pullman and Intercontinental, alongside several regional luxury hotels. There are more than 6,700 rooms in the three- to five-star categories.
Connections
Kuching International Airport has direct flights to Hong Kong and Singapore, but Kuala Lumpur serves as the primary international gateway to Sarawak. There are also daily flights from Kuching to Penang and Kota Kinabalu. Water taxis are now operating in Kuching, connecting the downtown promenade with the convention centre.
For large groups, Sarawak Convention Bureau can arrange signage and welcome desks on arrival at Kuching or Kuala Lumpur international airports. The bureau can also supply details of local DMCs and tour operators if groups want to experience more of Borneo.
Excursions
Sarawak Cultural Village – The park, 35km from Kuching, gives visitors a chance to meet members of Sarawak's indigenous tribes and see first-hand their handicrafts and culture.  There is also a Chinese village. The complex also has event capability and hosts the annual Rainforest World Music Festival.
Damai Beach Resort  – This is the cultural village's neighbouring facility on the Santubong peninsula and forms part of a network of resorts and spas that blend into the rainforest scenery. There is a grand ballroom and six meeting rooms at the Damai Puri Resort & Spa with outdoor recreation facilities available for group activities across the properties.
damaibeachresort.com