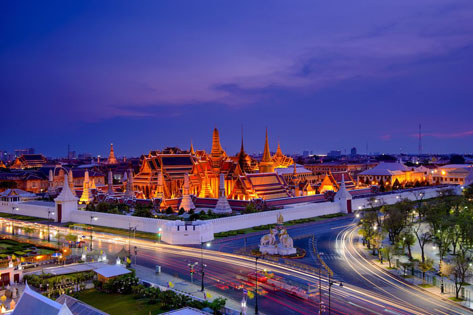 Business event organisers considering Thailand will naturally come across qualities such as high standards of service, an inherent friendliness, wonderful food, alluring beaches and gala venues full of character.
As the kingdom's economy gradually makes its mark among its neighbours in the Association of Southeast Asian Nations, conference and incentive organisers will also become aware of Thailand 4.0 – a growth model aimed at edging the country into a value-based economy.
For event organisers, the most significant example of this change is set to take shape south of Bangkok around the province of Chonburi and the Eastern Seaboard provinces. An Eastern Economic Corridor is being developed to transform the region from one dependent on manufacturing, notably auto and heavy machinery, into a hub for creative industries and innovation.
While Thailand 4.0 is beckoning to the growing economies of Southeast Asia, to the north of Bangkok and into the Mekong Delta region China's investment looms large.
A rail network linking Kunming, in China's southwestern province of Yunnan, with Thailand, Malaysia and eventually Singapore is among the projects that will change the way meetings and incentive organisers stage events across the region.
Work is already underway in Vietnam, Laos and Cambodia for sections of the network with Bangkok eyed as the hub for the route through northern Thailand before it stretches southwest of the capital through Hua Hin and on to the Malay peninsula.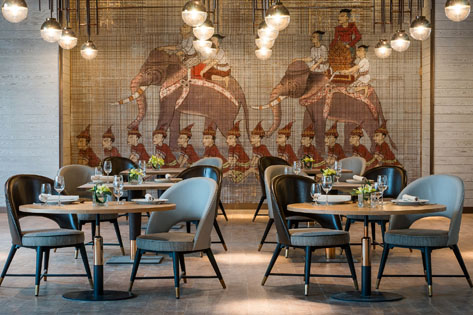 As the three routes – serving Yangon, in Myanmar; Vientiane, in Laos; Cambodia and Vietnam – reach further into Thailand over the next three years, planners can expect the options for incentive travel to change as much as the Thai economy, from Chiang Mai and the northern provinces, to the central hub of Bangkok.
On either side of the Gulf of Thailand, Hua Hin and Pattaya are being offered for conferences and corporate incentives, while Phuket, on the Andaman Sea, will see the island endure as a favourite corporate retreat as properties open.
Hua Hin
If any town in Thailand can boast a railway heritage – and royal one at that – it's Hua Hin. A line from Bangkok along the coast was first built in the 1920s to bring the royal family down to their summer retreat. Today it serves cargo and passenger trains, but is destined for another golden era when the central route of the Kunming to Singapore high-speed network travels through Hua Hin.
An ornate railway station with a royal waiting room within walking distance of pristine beaches is not the only attraction in town. Holiday Inn Resort Vana Nava Hua Hin opened in April billed as Thailand's only fully integrated MICE resort and is already attracting domestic business event groups.
The resort's hotel tower houses a pillarless 600 sqm ballroom on the ground floor, which is divisible into two and has a ceiling at 8.5 metres. Four function rooms suitable for breakouts are on the mezzanine level including a boardroom with natural light.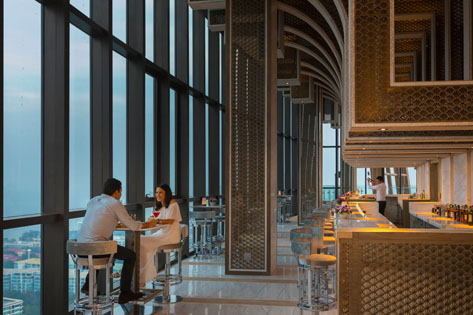 The tower is topped by the Vana Nava Sky Bar on the 27th level, which was the scene for a celebrity-studded launch heralding the tallest hotel in Hua Hin and the highest event space in town, 100 metres above ground.
Sky Bar – or Sky 27 as it's becoming known – features a glass-floored observation deck and function space for up to 100 guests and offers a fine vantage point for sunsets over the hills. Among Sky 27's innovations are its mixologists pairing cocktails with specially prepared dishes.
While the main section of the tower's infinity pool overlooks the Gulf beaches, one of the mains sights from Sky 27's observation deck before the hills roll out towards the Myanmar border is Vana Nava Water Jungle. The aqua-themed park is integrated with the hotel and offers a variety of unique venues for teambuilding, gala dinners and event offsite meetings.
Lagoon event ideas
A man-made caved tunnel leading from the Water Jungle's wave pool has three bars and is suitable for a cocktail event for 100. Water levels at the wave pool can be minimised to create a unique banquet space.
At the other side of the caved event area is the Surf Zone, which can also be hired out for 100 guests – ideal for a beach-themed event.
Four function rooms are also available on the level above the water park's general dining area, which can be used for small meetings or private dining space.
True Arena
Delegates staying at the Holiday Inn Resort Vana Nava not only have access to the resort's Water Jungle, but also another project in owner Suwat Liptapanlop's portfolio. The former deputy prime minister is one of Thailand's leading developers, a keen tennis fan and a senior figure in the sport.
True Arena forms part of Suwat's vision for Hua Hin. As far as sport goes, he wants the facility to be the leading centre for tennis in Southeast Asia, and with top-ranking stars and events having graced the arena's 11 courts, which includes the region's only sunken court as the centerpiece, it's practically game, set and match for Hua Hin.
Tennis stars and officials from sporting bodies such as the ITF and ATP attended welcome receptions on the arena's Pool Deck during international tournaments. While former world No.9 and Hua Hin local Paradon Srichaphan runs an academy at True Arena, the sporting and teambuilding options do not stop at tennis. Two Fifa-sized soccer pitches, and indoor sports hall and two levels of fitness facilities are also available for corporate hire.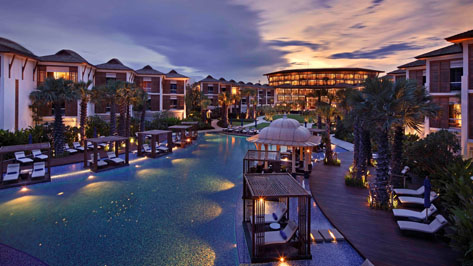 HUA HIN HOTEL UPDATES
One of the unique venues suitable for corporate retreats of executive quality that is coming to the attention of Thai meeting planners can be found at a former servants quarters in the grounds of the Intercontinental Hua Hin.
The Residence was restored seven years ago into a two-storey mansionette for VIP guests or prestige meetings and events, with two suites a private lawn and pool.
The major MICE development at the Intercon, however, is a meetings and events annexe connected by a bridge over Hua Hin's high street at a building called the Bluport Wing. Approval has recently been granted for the bridge to be air-conditioned with an exit leading into the wing's mezzanine floor to give delegates staying at the main Beach Wing added convenience.
The extension is connected to the upscale Bluport shopping mall. The wing's Tamarind ballroom has a capacity for 200 and leads onto a lawn featuring a long wooden table making the space ideal for breakouts or teambuilding. Events have been hosted for Chanel and Porsche.
Elsewhere, Minor Hotels rebranded an existing resort as Avani Hua Hin last November and in so doing took over the largest ballroom in town at 900 sqm.
Centara Grand Hua Hin is one of the Centel hotels due to be refurbished in a major investment programme.
Dusit Thani Hua Hin provides a host of welcome reception and entertainment activities involving the hotel's staff, ranging from streetfood treats and a Baywatch-style extravaganza to traditional Thai longboats reenacting a Rama legend on the property's lake.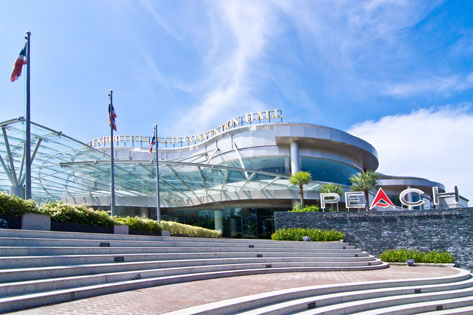 PATTAYA
Visitors to the Eastern Seaboard city of Pattaya are spoilt for choice when it comes to hotels. But for planners organising a 500-strong Nu Skin group from Indonesia and the Philippines it came down to location, service and luxury.
While Pattaya Exhibition and Convention Hall (PEACH) was the venue for Nu Skin Star Academy 2017, Royal Cliff Hotels (below) with 1,020 guest rooms across four properties, all within a few minutes walk from PEACH, was the natural option during the three-day event.
That Pattaya is being eyed as part of a "MICE Triangle" and a destination for b-leisure (business, then leisure) will surprise some non-Thai meeting planners. Thailand Convention and Exhibition Bureau sees the resort town as one point of a triangle shared with Bangkok and connected across the Gulf of Thailand to Hua Hin by fast ferry.
The idea is less surprising to Thai planners and DMCs who acknowledge how the raucous nightlife area grew out of the Vietnam War era, but point to the luxury residential developments, hotels and marinas that cater to higher – and more sophisticated – ends of the market.