ADELAIDE
South Australia's wine and produce – with the state boasting the most and the best of the country's vineyards – has been a mainstay of Adelaide Convention Bureau's message to international event planners.
This has proved a success for Adelaide with incentive groups touring vineyards and enjoying the city's character and surrounding scenery. City restaurants have been able to better promote the area's food and wine, largely thanks to an easing of licensing restrictions in recent years, and the opening of outlets – ranging from gin to tapas bars – in the Victorian lanes in the centre of the city.
Besides food and natural wonders, there is a community of medical and technical expertise with health sciences being to the fore with the building of SAHMRI – the South Australia Health and Medical Research Institute – forming
a BioMed City, all a short walk from Adelaide Convention Centre, hotels and parkland. Health and medical science aren't Adelaide's only draws when it comes to knowledge capital: those qualities deemed essential in attracting association conferences representing the professions.
There is also the legacy of Adelaide's success in securing scientific conferences that gave rise to the decision to base the Australian Space Agency in the city. This followed the International Astronautical Conference at Adelaide Convention Centre in 2017 attended by about 4,500 delegates. The event saw delegates spend more than A$1.2m was spent during tours of the Adelaide Hills, Barossa Valley, Kangaroo Island and the Murray River, among other sites.
The second phase of SAHMRI is expected to be completed at BioMed City 
in 2021. The facility will house the southern hemisphere's first proton therapy
 unit for the treatment of cancers. Adelaide's transition into new industries continues a short walk from the convention centre and biomed precinct 
to an "innovation neighbourhood" called Lot Fourteen, where the Australian Space Agency HQ will be built.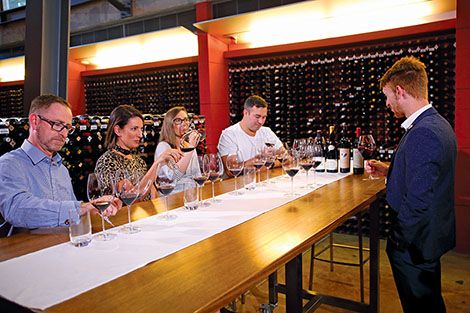 BRISBANE
Waterfront cities worldwide have undergone a transformation as authorities seek to rejuvenate what is prime residential and commercial land, while preserving buildings that once served as warehouses and maritime offices. In the case of Brisbane, the opening of Howard Smith Wharves brings additional event space to what is already an established conference city thanks to links between the convention centre, the city's events marketing teams and local medical and scientific research institutions.
The former dockside features the Art Series Hotel, with 166 suites and original artworks from Australian portrait painter Vincent Fantauzzo. The largest of the Howard Smith Wharves' venues is Howard's Hall, which can be combined with East Lawn for large events to seat and host 1,164 for cocktails.
There is also the Rivershed – a unique venue with exposed timber beams – which can be divided into two smaller spaces. Bougainvillea House is one 
of four houses available for hire as venues at the wharves, while the Felons Brewing Company offers tours and a teambuilding centre around its coffee-bean roasting and brewing.
Brisbane Convention and Exhibition Centre is joining forces with Rydges Hotel South Bank to provide new opportunities for smaller- and medium-sized conferences. South Bank Conferences provides premium onsite accommodation for delegates with dedicated access to the BCEC venue.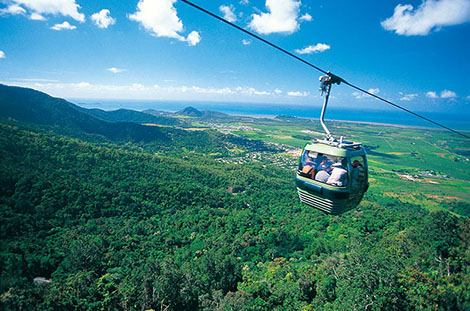 CAIRNS & GREAT BARRIER REEF
North Queensland's tropical climate and the natural wonder that is the Great Barrier Reef come to mind when Cairns is mentioned. But as more conference and incentive planners are finding out, Cairns has the infrastructure and organisational prowess to host large events.
There is already a strong connection with Amway and other direct-marketing sales teams from across Asia, largely thanks to the unique experiences Cairns offers delegates. This was seen most recently when more than 6,000 delegates from Amway China arrived in phases for a leadership seminar in June. Among the attractions enjoyed were the Skyrail Cableway over lush tropical forest, the Rainforest Nature Park, event space at the new Cairns Aquarium and a gala dinner at the Australian Armour and Artillery Museum.
Work on expanding Cairns Convention Centre
is due to start in May 2020, but its surrounding
area already offers planners ample room for accommodation and post-conference relaxation. Among the options are Hemingway Brewery Cairns Wharf, located at Cruise Liner Terminal, in a heritage- listed building.
Teambuilding and brewery tours can be conducted at Hemingways, which has indoor and outdoor seating options with capacities of 1,000 in banquet seating and 800 for cocktails. All this with views across Trinity Inlet and in walking distance of the convention centre.
In addition to Cairns, the region has two more unique coastal precincts: Palm Cove, an intimate beach destination overlooking the Coral Sea, and Port Douglas, offering a chic village atmosphere and gateway to Daintree rainforest.
Cairns Airport will see a A$55 million upgrade of its domestic terminal. Flights are also increasing with Singapore Airlines subsidiary SilkAir moving to daily flights to give from more access from Europe and Asia. Work is also about to start on expanding Cairns' shipping channel.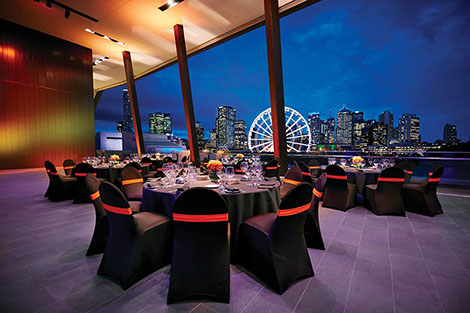 GOLD COAST
If officials at a resort destination want to learn how they can extend their reach into the corporate events and meetings market, studying the success of Gold Coast would serve them well. Gold Coast's hotels and surfing culture arose through a post-war construction boom as Australians sought out resort getaways. This earned the city good revenue, but it was prone to seasonal and economic changes of fortune.
Thanks to a shift in marketing strategy, the Queensland destination now straddles both the leisure and business events market with marine and sports science attracting associations, while its resorts, theme parks, retail projects and activities continue to impress incentive groups from Asia.
One of the turning points came with Gold Coast's successful bid for the 
2018 Commonwealth Games. Infrastructure, security, a reliable network of suppliers and a sense of fun laid the basis for the bid, while a growing expertise in conferences and the creativity of local event-support services and venues, helped continue a business-events legacy from the games. Among them is Miami Marketta, a burlesque-style operation featuring food, entertainment and outlets such as a traditional barber in a venue that can be hired exclusively by groups.
At the airport, a A$85 million upgrade to expand capacity was completed in time for the Commonwealth Games, while a second phase to extend the terminal is underway. Direct flights to Asia destinations include Hong Kong, Guangzhou, Hangzhou, Nanjing, Taipei, Tokyo and Osaka.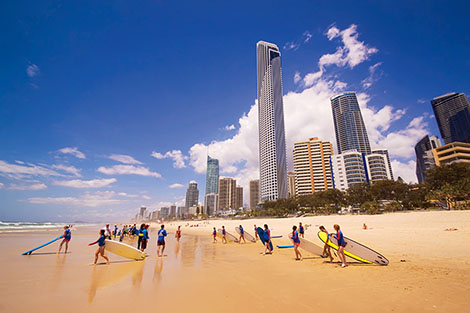 MELBOURNE
Due to its cutting-edge capability in hosting conferences, events and incentives, Melbourne is considered one of the world's leading knowledge capitals. Over the years, the city's convention bureau has successfully capitalised on the expertise working across its universities and private sector. Under its former chief executive, Karen Bolinger, Melbourne Convention and Exhibition Bureau pioneered ambassador programmes with local academics and other experts who also represented the city in the bidding process for association conferences.
As with ICC Sydney, Melbourne's main conference venue, the MCEC, has become inherently identified with the city's business events and conference industry. MCEC has also used its influence to promote sustainability, not only throughout its South Wharf venue but also among its network of F&B suppliers.
Work on a 20,000 sqm expansion at the centre was completed in time for a large medical conference in July last year. In addition to a retractable 1,000-seat theatre, the extended space also features a banquet room and the Goldfields Café and Bar. Meanwhile, at Melbourne and Olympic Parks – the home of Australian tennis – a new function and media space called Centrepiece is set to be completed in late 2021, which will feature a 2,000 sqm pillarless ballroom.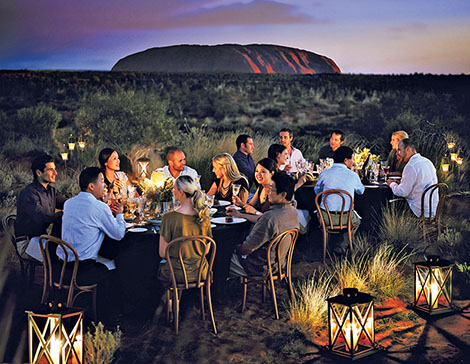 NORTHERN TERRITORY
AIME 2019 drew to a close with new faces among the buyer contingent, most noticeably a horse and working dogs taking centre stage. Star of the show's new pavilion, however, was Australian country music singer and rancher Tom Curtain who rode in one of his trusty steads complete with guitar.
Curtain led the Northern Territory Convention Bureau's showcase lunch featuring Aboriginal cuisine and morsels that included crocodile and mud crab. This gave delegates a feel for the 'Top End' of Australia, where interest among planners is beginning to turn, along with that of hotel groups.
Marriott International, for instance, has announced a new Westin for 2020. The eight-storey property will offer easy access to Darwin Convention Centre and Waterfront Precinct. Groups reward ideas in Darwin include helicopter flights, sunset cruises and airboat ride along the harbour. Further south, Alice Springs provides an authentic – and mesmerising – outback experience coupled with quality meeting facilities.
Read more: Singapore buyers taste Australia's 'top end'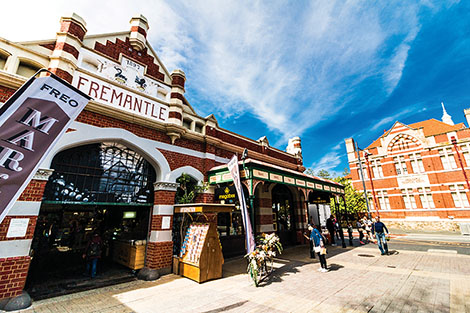 PERTH AND WA
Western Australia has long had a stream of tourists, but a large proportion of those were on visit to relatives who settled in and around Perth. With Perth Convention Bureau eyeing the success of Australia's eastern cities in attracting association conferences and business events, WA's traditional source of visitor revenue looks set to become more diversified in the months ahead.
Perth's selection as host city for Dreamtime 2019, Tourism Australia's incentive showcase, should prove to be a game changer in attracting a greater share
of business event groups to the region. Yet Perth is not falling short in hosting national and international conferences in 2019 with figures showing 36 having been secured up to October.
More space for groups visiting the city is also on the way. Development along Elizabeth Quay is set to see the opening of
a 204-suite Ritz-Carlton in The Towers project in October. Beyond central Perth, Western Australia is famed for sights such as Margaret River, Rottnest Island and the historic City of Fremantle.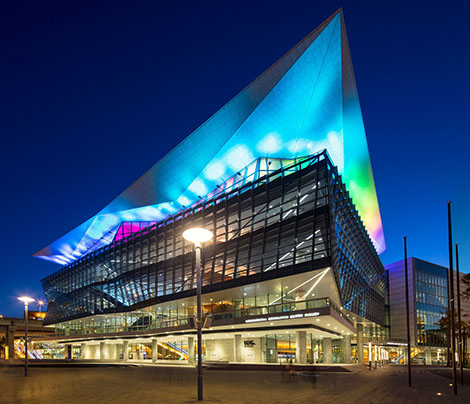 SYDNEY
The transformation of Darling Harbour has seen
ICC Sydney not only becoming vital in attracting exhibitions, conferences and entertainment, but
also an institution that drives the city's business events agenda. Beginning with policies on sourcing sustainable and nutritious food for conference attendees, ICC Sydney has created programmes that connect groups with the city's experts in business, science and other fields.
The reach-out efforts also link visiting groups with indigenous communities and encourage networks for entrepreneurs and investors.
Elsewhere, in what will be a new town centre for Sydney, Infinity Convention Centre is due to open in September as part of a development by Crown Group that also features a 90-room hotel.
Photos, from the top: riding a camel train in Northern Territory with views of Uluru; a sommelier master class in Adelaide; Skyrail Cableway in Cairns; Brisbane night views from the BCEC's Skyroom terrace; ready to surf in
 Gold Coast; Uluru dining backdrop; Fremantle markets, near Perth; ICC Sydney