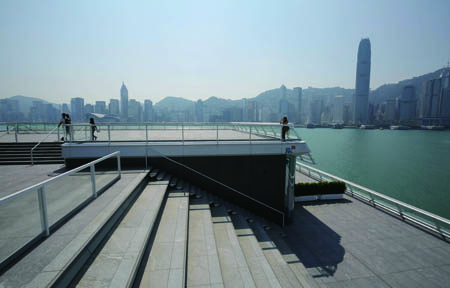 Grassroot organisers, new hotels in former warehouses and workspaces that double up as startup bases by day, and networking venues by night, form part of the changing events landscape in Hong Kong.
In a city criticised for not making space available to the public or for hire, there has been some progress with Central Harbourfront. What is happening across at Ocean Terminal, Tsim Sha Tsui, where a public viewing platform with event decks has opened, also gives hope.
The city is also seeing a re-energised events community, a significant portion of which is led by the local chapter of the International Live Events Association (ILEA). With an eye on closer economic integration between Hong Kong and mainland China being promised with the completion of the seabridge and tunnel link to Zhuhai and Macau, the local ILEA leadership sees opportunities across the Pearl Delta region.
"Hong Kong, Macau, Shenzhen and Qianhai have grown over the past 40 years to become one of the most dynamic economic regions in the world," said Sam Shei, the boss of Showbiz Creations and the president-elect of ILEA Hong Kong, said in a message to members.
"The Pearl River Delta comprises only 1 per cent of the land mass of China, yet generates over 25 per cent of the country's GDP."
Shei said the Pearl Delta is no longer just about the Canton Fair and industrial trade shows. Technology and innovation events such as RISE, alongside forums for influential international brands such as Forbes and the corporate world are growing.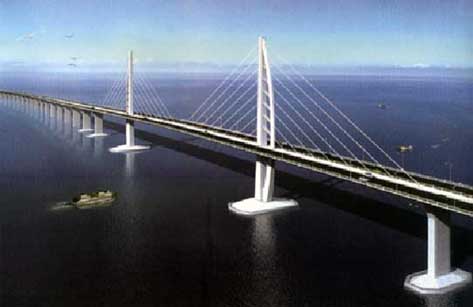 Live events specialists in the city previously looked towards the Hong Kong government for a greater understanding of the need to accommodate creative corporate events. The feeling now, however – at least among the local ranks of the ILEA – is that prospects can be tapped in the upcoming "Greater Bay" area which comprises Hong Kong, Shenzhen, Macau, Zhuhai and other areas of the Pearl Delta.
While established agencies look to the China market, more young professionals – particularly from the corporate world – are attracting keen audiences with networking and TED-style events of their own.
One of them is WE (west meets east) Club, which recently hosted Hong Kong+, featuring more than 10 speakers ranging from Allan Zeman, chairman of the Lan Kwai Fong Group and designer Douglas Young, to startup entrepreneurs Jen Loong, of Wandersnap, and Horace Lam, of UberEats.
With a new wave of young digital-savvy entrepreneurs on the rise, the venue scene is also changing as disruptors combine workspaces with networking venues. Event organisations that have used these spaces for forums and networking include MCI Hong Kong and ILEA.
Among this new crop of small-scale business event venues are The Hive, in Wan Chai and other locations; The Smithfield Collective, in Kennedy Town; The Work Project, Causeway Bay. For instance, Metta – based in California Tower in the nightlife precinct of Lan Kwai Fong – hosts forums on topics ranging from corporate governance to developing digital products.
Retro Spot was one of the pioneers of connecting space with people and ideas when it opened in Quarry Bay in 2012. Founder Bonnie Yip said the aim wasn't just to create co-working space, but to also introduce investors to Retro's members.
City hotel updates
The Murray, Hong Kong, a Niccolo Hotel, opened in mid-January as the Wharf Hotels group's new flagship Niccolo property. Among the 1,900 sqm of meetings and events space is a semi-alfresco area called The Arches (below right). With a capacity for up to 350 guests, it will have views of St John's Cathedral – which dates back to 1849 – and Hong Kong Park.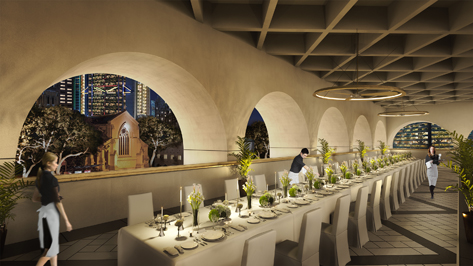 Alongside The Arches will be Cotton Tree Terrace, spanning 130 sqm and providing a relaxed setting for up to 100 guests. At the hotel's Garden Level will be The Murray Lawns, offering 150 sqm of landscaped event space for up to 100.
The 425 sqm Niccolo Room on the 25th level is targeted at conferences, galas or weddings, and can be partitioned to create a pre-function room or up to eight individual spaces, each outfitted with wall panels that slide back to reveal 65' flat-screen televisions.
The 336-guest room Murray will be followed by Sun Hung Kai Properties' 671-guest room Hotel Vic on the Harbour, in North Point, in what will be a busy year for hotel openings including the 393-room Rosewood, in Tsim Sha Tsui, and an Ocean Park Marriott.
JW Marriott Hotel Hong Kong has unveiled a renovated ballroom. The level-three 743 sqm venue has a capacity of 1,100 for receptions and up to 672 for banquet. There is a ceiling height at 4.5 metres and the ballroom space can be divided into six individual salons with private entrances and LCD signage. Sino Gold Coast Hotel has also completed upgrades that include a refurbished Grand Ballroom.
Marco Polo Hotel Hong Kong's exterior has been given a facelift while its sister properties at Harbour City, Tsim Sha Tsui, have also been undergoing upgrade work. Prince Hotel unveiled a new lobby recently and Gateway Hotel is due to open an additional club floor. All three properties, which operate under the one roof in Canton Road, are being positioned to attract more meetings and events.
New wave in new towns
With space at a premium in business districts along the north of Hong Kong Island, more visitors have been seeking affordable hotels in the territory's new towns and up-and-coming locations.
Regulations on the use of industrial buildings have been relaxed to allow development of hotels. This has seen properties able to meet the demand from mainland China visitors while also helping rejuvenate local districts.
Courtyard by Marriott Hong Kong Sha Tin is one international brands that helped pave the way. Its opening in 2013 followed negotiations between the government and property owners Nan Fung to lift the industrial-use-only limits on the area.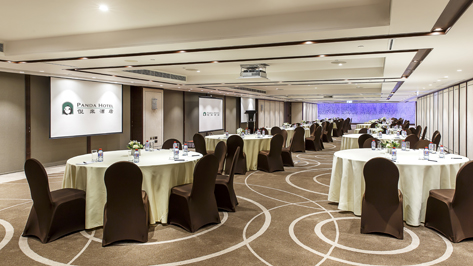 In Tsuen Wan, to the west of Kowloon peninsula, Panda Hotel is one of the more established properties. With 911 guest rooms, and recently renovated event spaces such as the Crystal Rooms (above), it has been joined in the area by a new wave of hotels that have been converted from former indiustrial buildings. These include the 409-room Silka Tsuen Wan, developed by Dorsett Hospitality, and the 160-room Hotel Ease, from the Tang's Living Group.
Though surrounded by this new wave of accommodation, the Panda can lay claim to being Tsuen Wan's MICE hotel with the Panda Grand Ballroom, and its newly revamped meetings venues extending to The Terrace and a further set of Crystal Rooms on teh 30th level.
To the southwest of Tsuen Wan, Sheraton will be one of the big names destined to open in 2018 in the town of Tung Chung, on Lantau island, near Hong Kong International Airport. A Four Points by Sheraton and the Sheraton Hong Kong Tung Chung Hotel are expected to open on July 1.