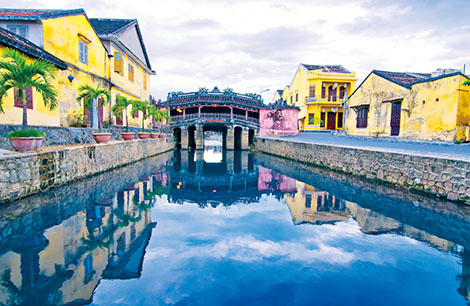 CENTRAL Vietnam shares a history common with some other parts of the Mekong: post-colonialism, ideological conflict and the ravages of modern warfare. Neighbouring China has also emerged from a traumatic modern history, and now the world watches its success with homegrown investors, big name hotels and international event planners keen to offer their clients unique experiences.
Danang is steadily building its incentive and business event credentials, but conference infrastructure has only recently shown signs of making the city a more formidable rival to coastal cities across Asia.
One of the openings in the past year helping Central Vietnam make bold strides in this direction is the Sheraton Grand Danang Resort. Though the 258-guest room and suite property officially opened in January 2018, an all-out effort was made beforehand to get its Conference Centre ready in time to host a gala dinner for world leaders attending the Apec Vietnam 2017.
The high-level meetings in November 2017 saw Danang's hotels swing into action in sync with the city's security and event apparatus. While the Sheraton Grand's 1,267 sqm freshly completed Grand Ballroom was the venue for the gala, the Intercontinental Danang Sun Peninsula Resort held Apec's CEO Summit, with more sessions at Ariyana Danang Exhibition and Convention Centre.
More on Danang and Central Vietnam
Another contribution to Danang's rising stature is its airport, about a 25 minute drive from the Sheraton Grand, and where a new 50,000 sqm terminal opened in May 2018. The number of direct flights to key markets, including Hong Kong, Korea, Japan and Singapore, has grown and the terminal's capacity is expected to cope with four million arrivals each year. Qatar Airways is planning to add Danang to its network, a move that will extend Central Vietnam's marketing reach worldwide.
Danang is number 52 in the ICCA rankings with 12 meetings held in 2017 recognised by the International Congress and Convention Association. This puts the city only two places behind Perth, Australia, and alongside Chengdu, Nanjing, Tianjin and Tel Aviv, while Jakarta is listed one place ahead.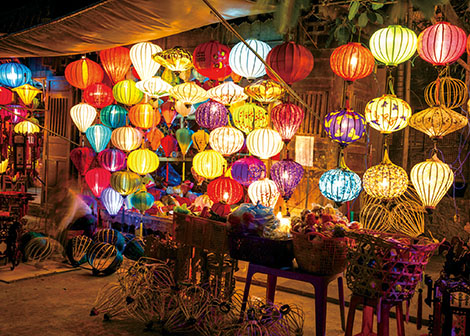 ITINERARY
Hoi An Old Town
While modern Danang boasts resorts looking out to the East Vietnam Sea, all the action during the 16th and 17th centuries – at least as far as traders were concerned – centred on Hoi An.
Annual trading fairs at the time lasted for between four and 12 months and attracted Chinese, Japanese, Dutch and Indian traders who left a legacy that has made the old town a Unesco World Heritage Site. In the case of the Japanese, one of the legacies was a covered bridge, while the homes of Chinese merchants show the strong connection between Hoi An and provinces such as Fujian.
Group organisers can arrange tickets through the official tourism office at the entrance to Hoi An Old Town, or through DMCs such as Buffalo Tours.
Lune Performing Centre
The delights of Hoi An do not stop at the Old Town and the way its river is lit at night with boats adorned with lanterns.
Just over a bridge from age-old streets is Lune Performing Centre, home to a creative modern-dance troupe inspired by Vietnam's Cham culture and that of other minorities.
One of the productions, Lang Toi – My Village, was performed before a thousand delegates at the Apec CEO Summit Gala Dinner.
The moon-shaped auditorium at Dong Hiep Cultural Park Project is on an island connected by two bridges to Hoi An Old Town.
Precious heritage
Vietnam has 54 officially recognised ethnic groups and, for an insight into these people, groups can visit the Precious Heritage Museum. The art gallery has space available for small corporate groups but primarily serves as the base for photographer Rehann's ongoing project to document Vietnam's minorities. Rehann's portraits detail the characters and their traditional cultural dress while exhibits at the gallery chronicle how the French-born photographer located the tribes. Some like the Ro Mam required official permission to be contacted, while others such as the Ou Du number only 376 people.
As Vietnam grows economically, one of the consequences is younger people moving to the city and leaving behind a traditional way of life. Rehann's pictures in the Precious Heritage and artifacts the tribes have presented to him offer hope that their culture may be preserved.
Dining
One of the choices for groups seeking local cuisine in an Indochine setting is Ngon Villa. Housed in a French colonial-era home, the restaurant is part of the Viet Deli group and also offers cuisine from north and south Vietnam.
For a group gathering and the choice of western cuisine, The Grill at the Sheraton Grand Resort provides a wine reception area, long tables in the main restaurant and a show kitchen. The Grill also opens out to a spacious lawn that provides views of the hotel's pools and waterways that lead to the beachfront.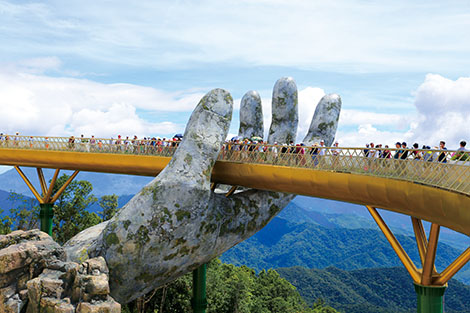 Ba Na Hills
By stark contrast to Hoi An in terms of scale and mass-market appeal is Sun World Ba Na Hills Resort, which rises high above a national park and golf course both owned by the same Vietnamese-Ukrainian developers.
For post-conference and incentive groups Ba Na Hills can make a unique itinerary stop and many groups will be grateful to planners who can devise an itinerary that evades the more brash holiday-camp style entertainment with seasonal variations for Halloween, New Year and Oktoberfest. There is even a Munich-style beer hall that comes alive with holidaymakers dancing to an electrified oompah band from the Ukraine. For added variety, salsa dancers from Brazil and hip-hop performers from the US keep the fun going.
A cable-car system with five routes takes visitors 1,500 metres above sea level over a national park. One route gives views of a mountainside rock face still showing the marks of bombardment from the years of conflict described in the US as the Vietnam War, or the American War when remembered in Vietnam.
Ba Na resort is built around a former French colonial hill station that served as a retreat to the Truong Son Mountains for expats seeking respite from the hot summers. French-style structures dating back to 1919 have been undergoing restoration since the resort was developed. The latest attraction is the Golden Bridge (above) a popular selfie-stick spot. A funicular railway can take groups down to a section with meeting and event facilities.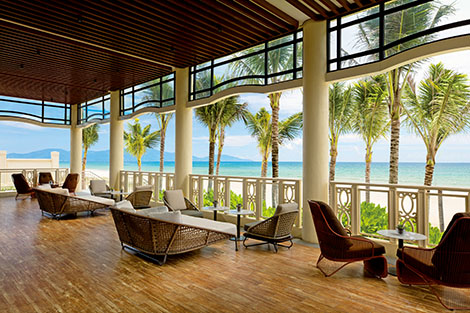 ON THE GROUND
Buffalo Tours
+84 24 3828 0702
Sun World Ba Na Hills
+84 236 3791 999
Lune Performing Centre
+84 845 181 188
Ngon Villa Hoi An