CHINA'S Golden Week in October may well glisten for Thailand if travellers from the People's Republic are able to fly to their favoured destination once authorities ease Covid-19 restrictions
The newly released China Thailand Travel Sentiment Survey 2020, conducted in mid-April by C9 Hotelworks and Delivering Asia Communications, focused on key demand factors in the kingdom's reopening of its tourism economy.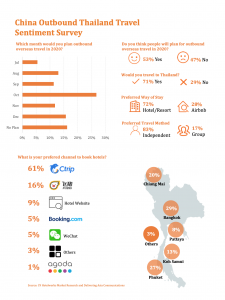 A comprehensive new survey of consumers in China's first-tier cities has concluded that 53 per cent of respondents would like to travel overseas within 2020.  
And the most popular months for trips abroad for the remainder of the year are August, October and December. The first week of October is known as Golden Week in China and kicks off with the country's national day. As levels of affluence have risen in China, so too has the demand for overseas travel, with Thailand being among the most popular destinations. 
The researchers said that another positive message from the findings was that 71 per cent of the Chinese consumers who responded said they would like to visit Thailand.
Thailand is among the Asia travel markets hit hard by Covid-19 with the wider tourism, hotel and travel sector accounting for 12-15 per cent of GDP to Southeast Asia's second largest economy.
Thailand had 39.8 million international visitors in 2019 with China accounting for nearly 11 million arrivals.
The China survey also found that 83 per cent of potential visitors would choose independent travel as opposed to a group tour, suggesting a shift in market trends.
Respondents ranked their favoured destinations as Bangkok, Phuket, Chiang Mai, Koh Samui and Pattaya, with over 75 per cent of demand pinpointed in the top three destinations.
C9 Hotelworks managing director Bill Barnett said: "We expect Thailand's reopening trajectory to initially be dominated by the domestic storyline but move quickly into inter-regional travel punctuated by the outbound China sector who are ready and willing to visit the country as demonstrated by the survey results."
More from C9's Bill Barnett: Love for Bangkok Unshaken
Barnett said that amid the downturn brought on by Covid-19, airline activity shown on Flightradar24 "clearly reflects how China's considerable regional and low-cost airline (LCC) sector has gotten back into the air.
"While undoubtedly there will be a lingering global fear factor for travellers in the wake of the virus outbreak, Thailand's favourable door-to-door flying time and vast network of approved routes to the [Chinese] mainland supports lead indicator.
"Another is the appreciation of the Chinese yuan against the Thai baht. After reaching lows in Q3 and Q4 of last year, driven down by an economic slowdown and trade war, the currency has continued on an upward rise in 2020, which equates to greater value for Chinese tourists to Thailand," said Barnett.
Delivering Asia Communications CEO David Johnson said there were also changes in the demographic profile of travellers from China.
"The new China traveller is younger, more independent and more digitally influenced than ever," said Johnson.
"Covid-19 has had a profound impact on travel consumer mindsets and this generation has a burning desire to experience the world and new digital strategies are needed to reach them."